Attack On Titan Just Set An Incredible Guinness World Record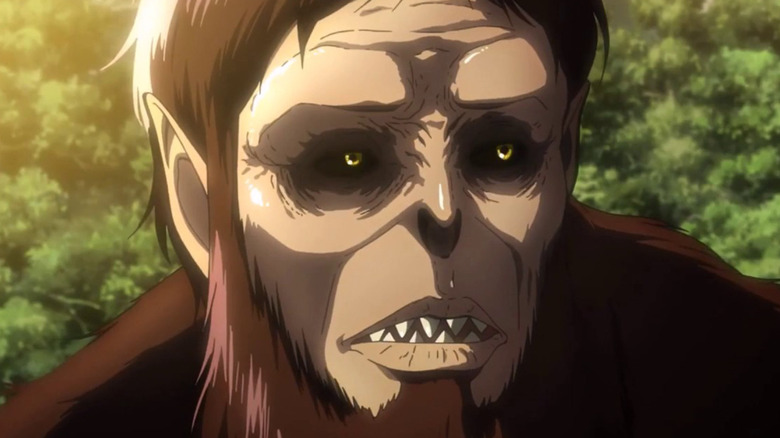 MBS/NHK General TV/Adult Swim (Toonami)
Japanese media holds a lot of records. "Pokemon," for example, was determined to be the world's most profitable media franchise in 2019. It was trailed by "Hello Kitty," another Japanese property, in second place (via Business Insider). "Attack on Titan," a Japanese series about a city besieged by bloodthirsty giants that live beyond an imposing border wall, isn't quite popular enough to have made that list. Nevertheless, "Attack on Titan" remains one of the more successful anime series of the past decade or so, ranking as the most popular TV series in the United States upon the debut of its final season (via Parrot Analytics). An American movie adaptation of the series is even purportedly in the works. That's not the only record "Attack on Titan" holds, however.
Like many successful anime series before it, "Attack on Titan" is based on a series of comic books. Author Hajime Isayama conceived of the core conflict in "Attack on Titan" following an altercation with a physically imposing foreigner. The idea of being unable to communicate with an adversary struck Isayama as worthy of adaptation into a comic book series.
One explanation for "Attack on Titan" not achieving "Pokemon" level success despite its popularity is the fact that it's aimed at a considerably more mature audience.vWhen "Attack on Titan" was available on Netflix, it could be counted among the darkest shows on the streaming platform, animated or not. It's definitely not intended for a general audience. That said, while "Attack on Titan" may not be breaking financial records, the series ultimately earned a Guinness World Record for an entirely different sort of achievement.
A comic for titans, about titans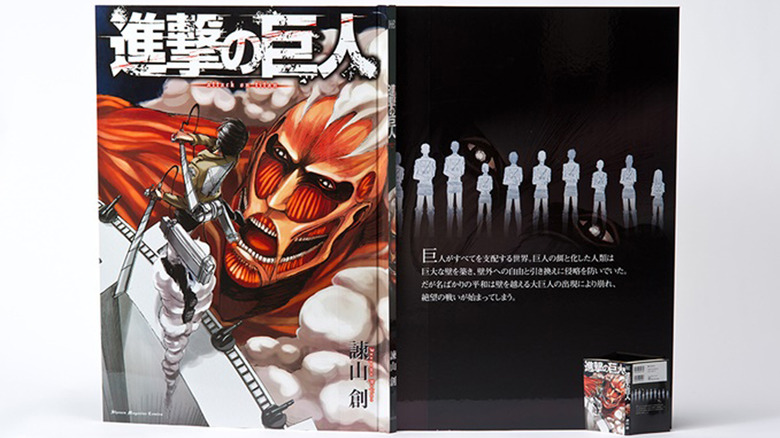 Kodansha
In May 2021, Guinness World Records officially certified a special edition of the first volume of the "Attack on Titan" manga as the largest comic book ever published (via CrunchyRoll). This special release was designed with the series' titans in mind, presenting what a tankobon (which describes a typical, individual volume of a manga series) might look like if it were large enough for a titan to read. In total, the record-breaking special edition of the first volume of "Attack on Titan" is one meter long and 70 centimeters wide. Converted into feet, the comic book is roughly 3.3 feet long and 2.3 feet wide.
In order to officially qualify as a published comic book and not a one-off oddity, "Attack on Titan" publisher Kodansha was required to sell 100 copies of the titan-sized volume. Each individual unit, meanwhile, was priced at 165,000 yen, which is equivalent to about $1,516. The entire run sold out in about two minutes.
Kodansha ultimately coordinated this stunt with the publication of the final chapter of the "Attack on Titan" manga in March. The final batch of episodes of the "Attack on Titan" anime, meanwhile, will be released this coming Winter.