How Donald Trump Affected The Season 11 Finale Of Bones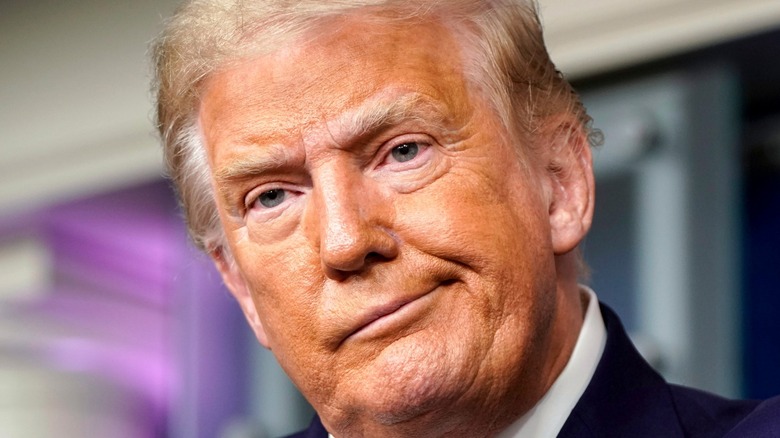 Shutterstock
While it may not be the best "Bones" season finale — or the worst — the last episode of Season 11, titled "The Nightmare in the Nightmare," was a big one for longtime fans as it brought back a beloved, controversial character. Unfortunately for fans, however, the reveal didn't come after the expected hour of forensics procedural television. Instead, they got a political speech that lasted for over an hour.
Throughout the episode, Dr. Temperance "Bones" Brennan (Emily Deschanel) deals with the titular nightmares while the team tries to catch the serial killer nicknamed The Puppeteer, who's recently changed up their MO with a victim tailor-made to call out Brennan herself. After some evidence gathering, it all appears to lead to an old friend: the earliest intern on the series, Zack Addy (Eric Millegan), who's been in a psychiatric ward ever since he apprenticed under another serial killer, the Gormogon. In a shocking twist, Zack kidnaps Brennan at the end of the episode.
However, many fans didn't get to see any of the buildup live as it broadcast, only catching the last 20 minutes. They can thank another controversial figure: Donald Trump.
The cast wasn't happy about Trump overtaking their slot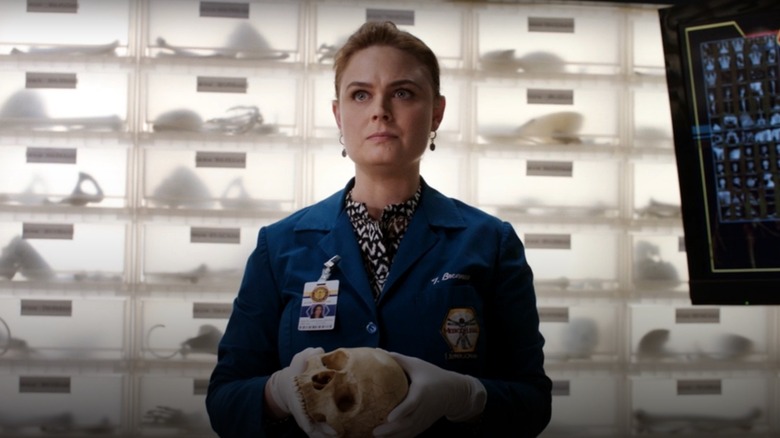 Fox
After the tumultuous events of the following years, it's easy to forget what made 2016's Republican National Convention so memorable: Melania Trump's plagiarized speech and Donald Trump's record-length presidential nomination acceptance — 76 minutes — that went far longer than anyone predicted. On July 21, the Season 11 finale of Fox's "Bones" was set to air immediately afterward.
However, fans tuning in to "Bones" in western time zones didn't get to see any of the episode until 40 minutes past the scheduled air time, because Trump was still talking. Emily Deschanel was upset and took her thoughts to Twitter: "Um....how is anyone gonna understand what is going on when you start an episode in the middle?! Nobody planned for trump to speak so long?" Of course, back then, people didn't know Trump's habits quite as well as we do now.
Deschanel followed up by writing, "Politics shmolitics they should have just forgotten about the convention and shown @BONESonFOX !! #fail." She also commended her fellow co-star David Boreanaz for directing the episode. He had his own choice words to say, referencing Trump's slogan in his tweet: "Epic fail @FOXTV with the west cost feed and season 11 finale of @BONESonFOX . You Made America pissed off again. #Mess."
It certainly would have been confusing to suddenly see Zack kidnapping Bones without any of the episode's previous story beats. To make up for it, Fox re-aired the finale a week later (via Deadline). Now, however, fans can watch every season of "Bones" on Hulu, and thankfully, without any interruptions from a president.