Twitter Can't Stop Talking About The Tuca & Bertie Season 2 Trailer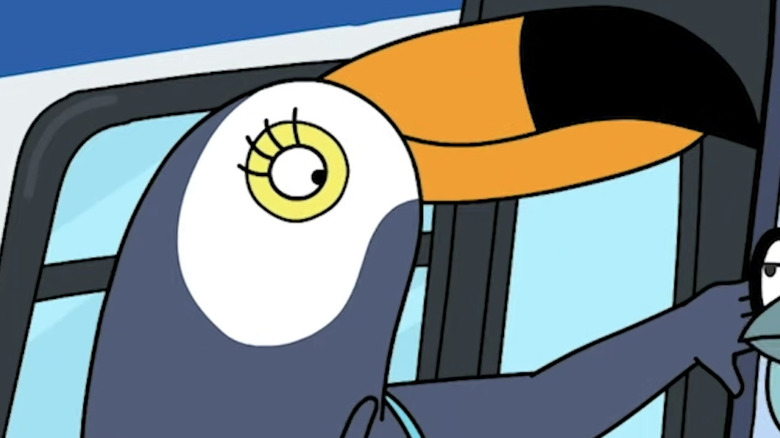 Adult Swim
Whenever a beloved TV series gets canceled it's easy to feel let down, but if our current age of streaming and social media have taught us anything, it's that shows can be revived after cancelation. Such is the case with the critically acclaimed animated series, "Tuca & Bertie."
"Tuca & Bertie" is a slice of life show from the mind of showrunner and illustrator Lisa Hanawalt of "Bojack Horseman." The show centers around Tuca (Tiffany Haddish), an adventurous toucan, and Bertie (Ali Wong), a shy, anxious songbird, as they both make their way through their 30s in Bird Town. The show premiered on Netflix in 2019, and was soon ranked as one of the 25 best shows of the year by The A.V. Club. It currently holds a stellar 98% critics rating on review aggregator Rotten Tomatoes. But all that critical success couldn't keep it alive, as Netflix ended the show after only one season, likely due to poor viewer statistics (via Vulture).
While many shows have been canceled by a network and saved by a streaming service, this is one of the instances that worked the other way around, as Adult Swim heard fans' outcry and stepped in to resurrect the series. Now the show is set to launch its Season 2 premiere on the popular late-night programming block on June 13, and fans couldn't be happier. Many took to Twitter to express their joy over the new trailer.
Fans were overjoyed at the 11th-hour renewal of Tuca & Bertie, and the new trailer only adds to the excitement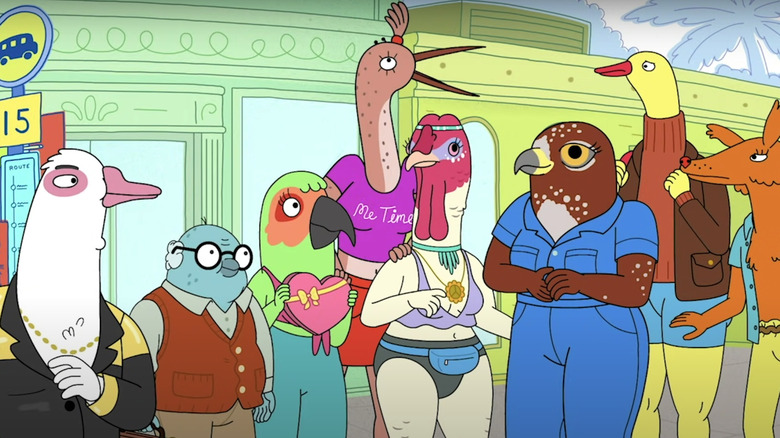 Adult Swim
User @everything_is_w wrote, "Thank y'all so much for picking it up. I was heartbroken when Netflix dropped it." 
User @Rigbone64 wrote, "Love to see these birds back!" 
And another user, @poyntermarcsman, wrote to Aaron Long, the show's supervising director who also animated the promo: "It looks so good. Tuca & Bertie is a series, I can tell everyone had so much fun working on."
So what can fans expect for Season 2?
In the trailer we see a nervous Bertie worrying to her therapist about losing her boyfriend Speckle (Steven Yeun) and Tuca to a bikini-clad "super chill girlfriend" who knows how to surf and never shits as well as an excited Tuca welcoming a bunch of birds onto a Sex Bus.
There has not been much information released about the plot of Season 2, but according to a press release, Bertie will be "busy excavating her inner ghouls with the help of a therapist," Tuca will "stuff hers behind the toilet" because "right now she's just too busy trying not to be single anymore!" The release adds that "Speckle is building a new house but soon finds he's driven to the brink of insanity."
That sounds just fine to @LeaC_Official, who wrote: "I can't overstate how happy and excited I am that Tuca & Bertie is coming back. The first season hit me like a truck, and this next I think will as well. It's just so good to have a show that authentically has strong female leads & goes over issues women & AFAB people experience." Here, here.