Tuca & Bertie Fans Just Got The Best News Ever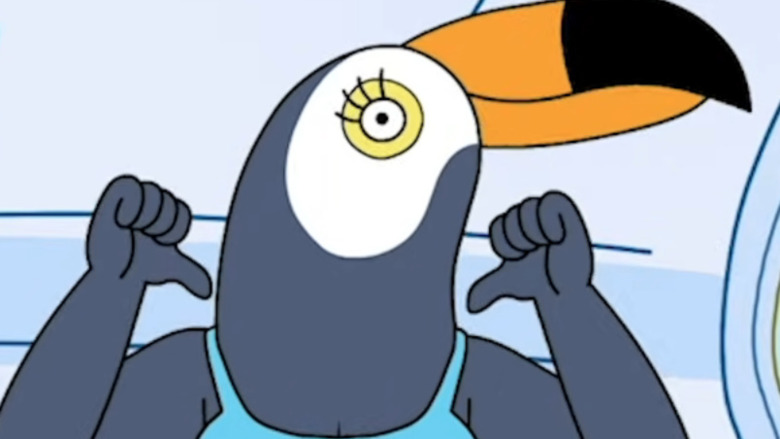 Adult Swim
The whimsical animated series "Tuca & Bertie" charmed critics and garnered a devoted fan base with its cheery, playful animation and genuine depiction of women's friendship and sexuality. Now, after a long wait, the show has been confirmed to be coming back this June, with just as much absurdity and realism as ever before.
In "Tuca & Bertie," Tiffany Haddish ("Girls Trip") plays the freewheeling, impulsive Tuca, while Ali Wong ("Always Be My Maybe") co-stars as the anxious baker Bertie. Created by "BoJack Horseman" producer Lisa Hanawalt, the sitcom kicks off with Tuca moving out of their shared apartment, as Bertie's architect boyfriend Speckle, played by "Minari" star Steven Yeun, moves in. Despite being widely considered one of the best Netflix shows released in 2019, the streaming site swiftly canceled "Tuca & Bertie" after Season 1. 
Thankfully, it looks like Adult Swim was not willing to let the series go without a peep, and they picked it up for a second season. Now, Variety has reported that fans will be able to gather around their TV sets on June 13 at 11:30 PM to watch the "Tuca & Bertie" Season 2 premiere on Adult Swim.
Bertie is heading to therapy, while Tuca is looking to date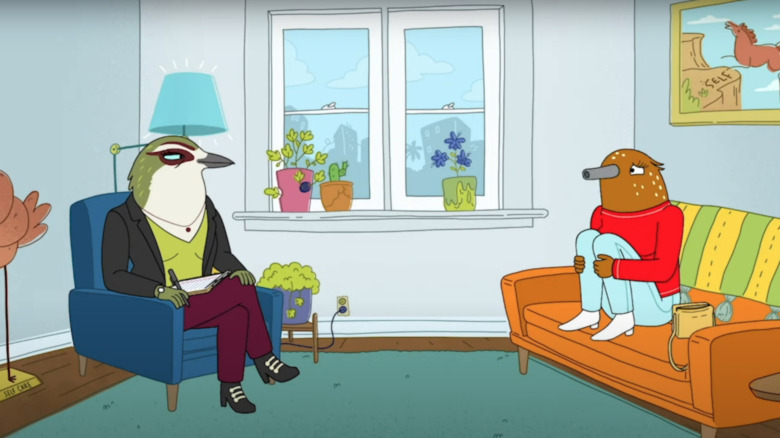 Adult Swim
The end of Season 1 of "Tuca & Bertie," as you might recall, saw a lot of big changes in the air for the bird best friends, which Season 2 will finally be able to explore in detail: Bertie opened her own bakery, while Tuca reconnected with her sister and moved in with her family. 
Now, we have finally got an update on what they've been doing since then: Adult Swim released a sneak peek of the season, which showed Bertie unraveling her anxieties in therapy and attempting to fix herself, while Tuca is inviting half a dozen potential partners onto her "Sex Bus" to gauge interest in dating them. Meanwhile, Variety reports that Speckle is busy trying to build a house, though the process of doing so is threatening to unravel his sanity.
Lisa Hanawalt, the show's creator and executive producer, has said: "We're so excited to be on Adult Swim! I can't wait for the world to see our girls Tuca and Bertie — and our main man Speckle — getting into some fresh nonsense this season." The second season will be 10 episodes long, just like its first season, which is still available on Netflix.