New Images From Marvel's What If...? Will Get You Hyped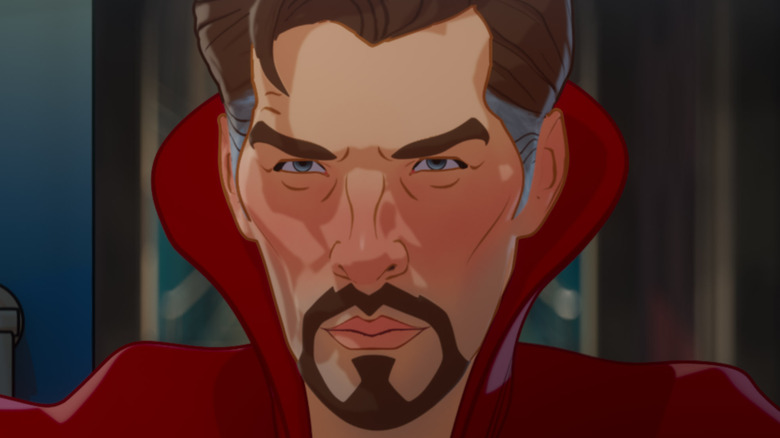 Marvel Studios/Disney+
Thanks to Disney+, Marvel fans no longer have to turn to the silver screen for a taste of their favorite universe. With the rousing success of "WandaVision" and "The Falcon and The Winter Solider" and fans eagerly anticipating the soon-to-be-released "Loki," it's clear that the streaming giant's commitment to new Marvel content is well-received.
The Disney+ MCU shows also offer viewers a whole new arena for fan theories, which have been a mainstay for Marvel enthusiasts since well before the inception of the MCU. In 1977, Marvel began releasing their successful "What If...?" comic series, starting with "What if Spider-Man had joined the Fantastic Four?" (via The Direct). Comic enthusiasts welcomed the opportunity to see some of their favorite fan theories play out. Now, Marvel is continuing the legacy with the upcoming "What If...?" Disney+ series, rumored to premiere sometime in August 2021. Leaning into the overarching theme of alternate realities seen in Phase 4, the series explores what would happen if our favorite Avengers made some very different choices.
This upcoming animated series is sure to please both die-hard comic readers and MCU lovers alike. Disney has finally released some new images from the series, and fans are more excited than ever.
What if Peggy Carter became Captain Carter?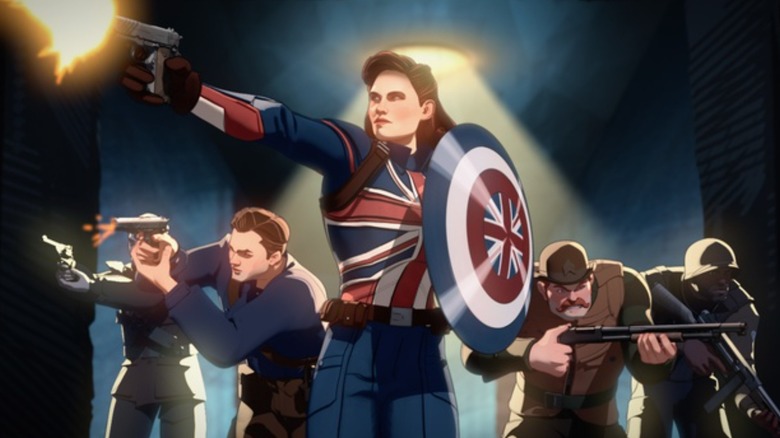 Marvel Studios/Disney+
One confirmed storyline of "What If...?" features Peggy Carter as Captain Carter, with Hayley Atwell reprising the role. In this alternate reality, Peggy takes the super soldier serum instead of Steve Rogers, and she dons a uniform and shield with the British Union Jack flag, rather than Captain America's iconic stars and stripes. Details of the episode are unknown, but Disney has released an image of Peggy leading the Howling Commandos into battle, mimicking the similar shot of Steve and the legion seen in "Captain America: The First Avenger" (via The Direct).
Samuel L. Jackson and Jeremy Renner are back as Nick Fury and Hawkeye, respectively, for "What If...?" as well. The details of their storylines are unknown, but the background in the released image looks similar to footage from the Thor-inspired episode.
We also got a glimpse of Doctor Strange, too. As time travel is the sorcerer's forté, he could be appearing in the main MCU timeline or one of many alternate the series will explore.
Disney has been slowly doling out details about "What If...?," leading to much fan speculation and excitement. As Marvel has shown, anything goes in Phase 4, and we can't wait to see how crazy this show may get.