The Internet Can't Stop Talking About The Trailer For The Aretha Franklin Biopic Respect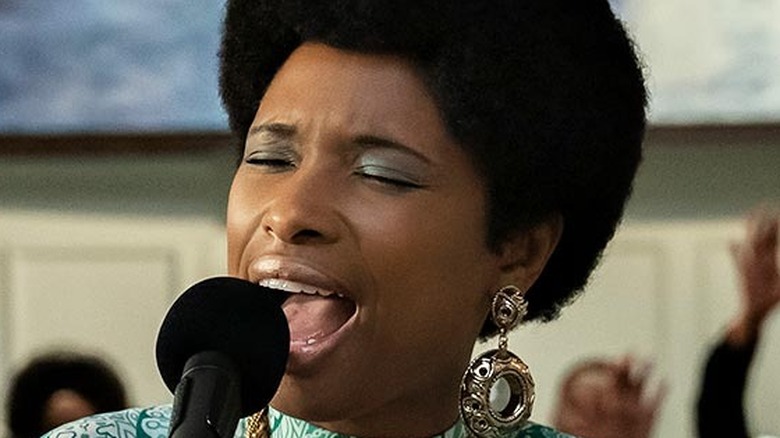 United Artists Releasing
Aretha Franklin has one of the most iconic voices in the history of soul, R&B, and pop music. She is an icon whose songs speak across generations and whose words have the power to inspire almost anyone. Born in Memphis, Tennessee on March 25, 1942, Franklin began her singing career when she was only 10 years old on gospel caravan tours with her father. She remained a performer right up until shortly before her death on August 16, 2018. The upcoming Aretha Franklin biopic, "Respect," is named after the first song that made her a No. 1 star on the pop charts and, naturally, people have strong opinions about the upcoming film, for which the latest full trailer has been released.
"Respect" boasts an electric cast, with Forest Whitaker playing Aretha's father, C.L. Franklin; Marlon Wayans playing husband Ted White; and Jennifer Hudson as Aretha herself. "Respect" also features a female director in Liesl Tommy and two female writers in Tracey Scott Wilson and Callie Khouri.The talent is there, Aretha Franklins's life story is captivating — but how do people feel about the trailer so far?
People are already predicting major awards for Respect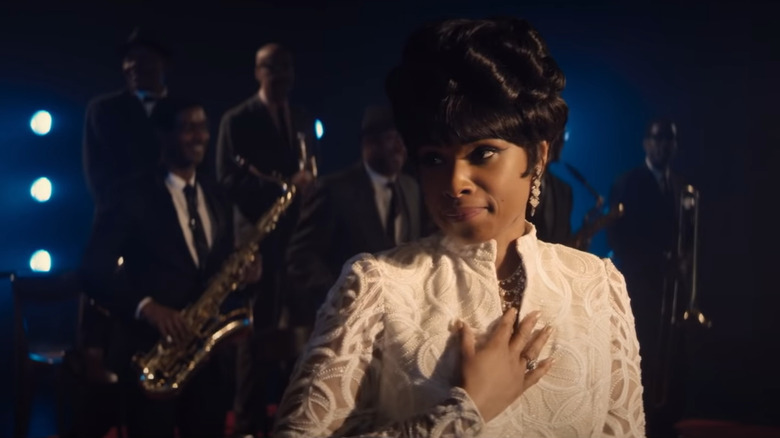 United Artists Releasing
To put it simply, people are very excited for "Respect." Even though this is the second fictionalized telling of Aretha Franklin's story, there seems to be something about this film that has people over the moon and the excitement for Jennifer Hudson's performance specifically seems to be a common refrain. "Bestill my palpitating heart," tweeted @BeachCat31. "I grew up in the Motown years. Aretha, the Queen of Soul, now & forever JH was BORN for this part!" 
"Y'all might as well give JHud her Oscar NOW for this," tweeted @ChaMoStew, and they are not alone. "Just give Jennifer Hudson the Oscar now," wrote @KevinYounge. "Jennifer Hudson coming for that Best Actress Award, Audra McDonald coming for Best Supporting Actress, Forest Whitaker coming for Best Supporting Actor, and Yes, Marlon Wayans can turn in a legit performance," tweeted @movie_charles.
Even though movie theaters have slowly started to open back up, there are plenty of people who still haven't gone to the movies yet in 2021 — and "Respect" might be the movie that changes things. "Just saw the trailer for #RespectMovie and @IAMJHUD as Aretha is seriously tempting me to ignore my pledge not to enter a movie theater this year," tweeted @SandraM440. Unsurprisingly, the people involved with "Respect" are showing their own excitement. Executive producer Stacey Sher tweeted, "What an amazing experience to watch this talented group of actors and filmmakers work every day! Cannot wait for you all to see it on the big screen."