The Nicole Kidman Crime Drama Hidden Gem You Can Watch On Hulu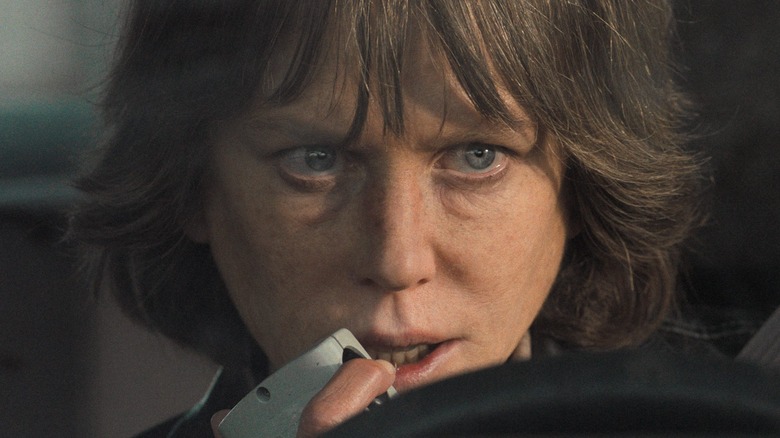 Annapurna Pictures
One of the most underrated crime dramas of the past five years is director Karyn Kusama's "Destroyer," a gritty L.A. noir that features an outstanding central performance from Nicole Kidman. The 2018 film was a box office disappointment, grossing $5.6 million (per Box Office Mojo) on an already modest $9 million budget. But just because a movie wasn't a hit on initial release doesn't mean it's not worth watching; thankfully, streaming services have been giving movies just like "Destroyer" a much-deserved second chance. The film has definitely benefited from word-of-mouth since leaving theaters. "Destroyer" is the kind of movie you tell your friends about — if your friends are also into bleak and violent crime thrillers.
"Destroyer" tells the story of LAPD detective (Erin Bell), a bitter alcoholic, whose personal life has completely fallen apart. As the film starts, she arrives at the crime scene of a John Doe murder, and she knows who the victim is. Dye-stained cash is circulating around the Los Angeles underworld, which Erin takes to mean that gang leader Silas (Toby Kebbell) is active again. Sixteen years prior, Erin and an FBI agent named Chris (Sebastian Stan) infiltrated Silas' gang as undercover agents. Erin and Chris fell in love, but Chris was killed in a bank robbery gone wrong — the same robbery that produced this dye-stained money. Erin wants revenge, so she starts tracking down other members of the gang in order to get to Silas.
Sound exciting? The film is now available to stream on Hulu, and many viewers are taking the streamer up on the proposition.
Destroyer is a great, gritty crime drama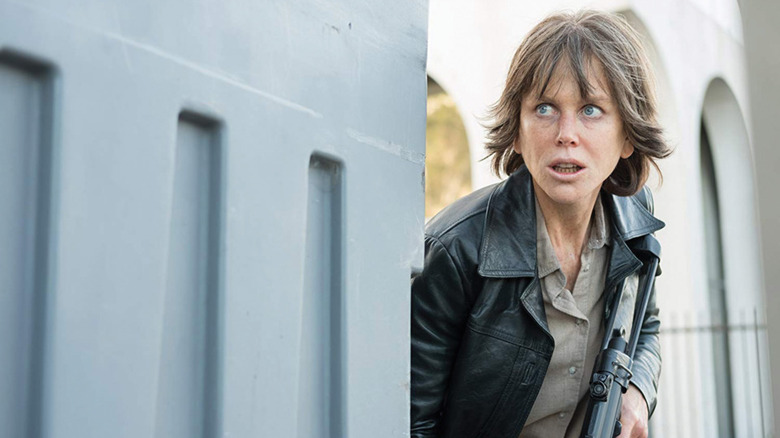 Annapurna Pictures
Nicole Kidman is the best part of "Destroyer." She's nearly unrecognizable under makeup that makes her look extremely haggard, and her no-holds-barred performance as a woman consumed by rage and regret is overpowering. Kidman's Erin Bell doesn't care what happens to her; she just wants to channel her anger into the destruction of something evil, and that makes her incredibly powerful.
"I don't feel so far away from her," Kusama told the New York Times about the character. "I don't think I would have made the movie if I didn't relate to her." She feels her movie is an emotionally authentic look at a broken person in a way that cinema needs. "We need to explore those people," she said. "And we really need to explore those women."
The cast also includes Tatiana Maslany as Silas' unstable girlfriend, Bradley Whitford as a crooked lawyer, and the ubiquitous character actor Scoot McNairy as the adoptive father of Erin and Chris' daughter. The film was written by Phil Hay (Kusama's husband) and Matt Manfredi, who also wrote Kusama's previous film, the excellent psychological thriller "The Invitation."
"Destroyer" has a 74% "Fresh" critics score on Rotten Tomatoes, and a 50% audience score. It's a dark and brutal movie that's not for everyone, but if it sounds like something you'd appreciate, you need to check it out on Hulu.