Rick And Morty, Aqua Teen Hunger Force, And More Are Getting Spin-Offs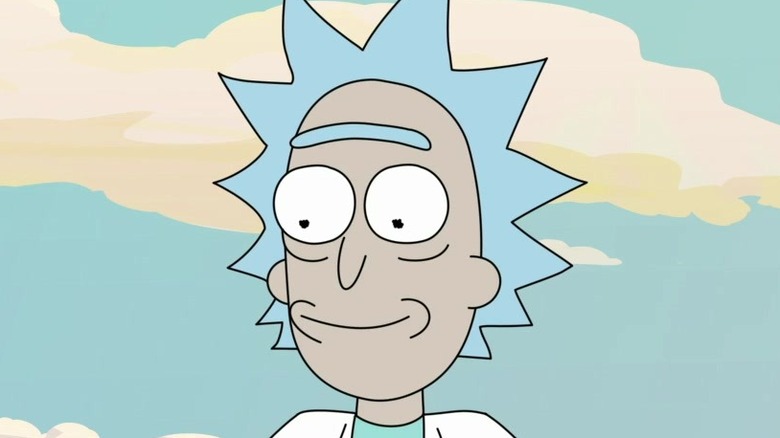 Adult Swim
It has never been a better time to be an Adult Swim fan. Between the recent announcement that the shows "The Venture Bros.," "Metalocalypse," and "Aqua Teen Hunger Force" are all getting movie sequels and the premiere of the latest "Tuca & Bertie" Season 2 trailer, there's more exciting content in the pipeline then you could shake a meatwad at. If those announcements got you hyped we hope you're not tired of hearing good news because the network has something else in the works.
Adult Swim just revealed that four of their best-loved shows are getting the spin-off treatment. For each spin-off, there will be 8-10 episodes available digitally and set in the worlds of "Rick and Morty," "Aqua Teen Hunger Force," "Robot Chicken," and "Your Pretty Face Is Going to Hell" (via Variety).
Each new mini-series will be a proper spin-off that shines a light on popular side characters or introduces new ones into the show's already established universe. The spin-offs are set to air sometime in the 2021-2022 season and Adult Swim has given fans a tease of what to expect to tide them over.
What to expect from the Adult Swim spin-off shows
From exploring the fates of fan-favorite characters to new perspectives on old classics, the upcoming Adult Swim spin-off shows sound like they are poised to give fans of each series exactly what they are craving.
According to The Hollywood Reporter, the continuing adventures of characters like The Plutonians, Handbanana, The Cybernetic Ghost of Christmas Past, and MC Pee Pants will be explored in the "Aqua Teen Hunger Force" spin-off series aptly titled "Aquadonk Side Pieces." The original series, which follows the adventures of anthropomorphized fast food orders, ran for 11 seasons and one movie before coming to an end in 2015. In addition to "Aquadonk Side Pieces," the series also has another forthcoming film for fans to look forward to.
Similarly, the "Rick and Morty" spin-off is called "The Vindicators" and follows the adventures of the titular superhero team which was memorably introduced in the Season 3 episode "Vindicators 3: The Return of Worldender." The "Robot Chicken" series will use its stop-motion animation style to focus on a hero of sorts as well, albeit one who will be making his debut on the digital spin-off series. "Alabama Jackson" was created and voiced by the actor Donald Faison and sees the titular character stuck in a series of time-travel blunders.
Finally, "Your Pretty Face is Going to Hell: The Animated Series" is about as straightforward as it sounds. Imagine the workplace satire but animated and, Satan willing, even more over-the-top.
Keep your eyes peeled for these new spin-offs, which will start arriving in 2021.