New Set Photo From MODOK Has Twitter Freaking Out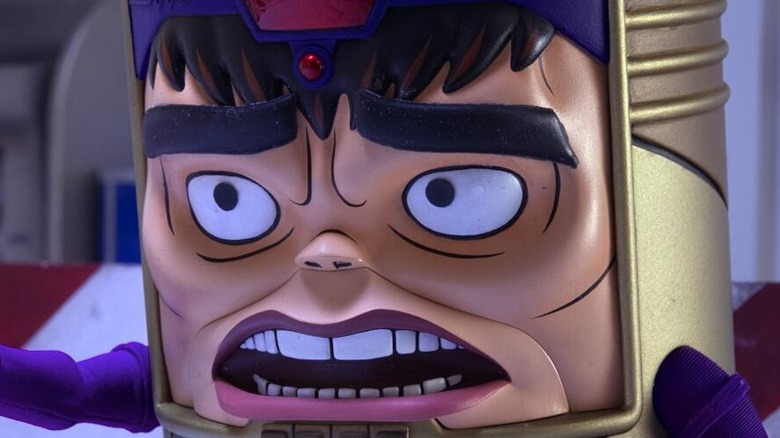 Marvel
Comic book fans have been waiting a long time to see a MODOK TV show come to life, and they'll finally get their wish on Friday, May 21, when Hulu's new 10-episode animated series about the megalomaniac supervillain finally hits the streaming service. Patton Oswalt, who co-created the series, lends his voice to the title role.
In the show, MODOK, which stands for "Mental Organism Designed Only for Killing," has been ousted from his position as the head of the evil organization AIM. That, in combination with a failing marriage, has him headed for a midlife crisis. It's a strange but surprisingly heartfelt show, one that should scratch the Marvel itch as fans wait for "Loki" to premiere in June. (The show is not connected to the MCU, though.)
As we head into the final days before the show's debut, series co-creator Jason Blum has been building up excitement and anticipation for the series on Twitter. Just a couple days after offering fans a look at all the work that went into the stop-motion animation, he shared a photo of Oswalt in an actual MODOK costume, claiming it was taken during his mo-cap performance. 
"The motion capture physical performances were long, grueling days but @pattonoswalt made #modok come alive before our eyes," he wrote on Twitter.
How fans reacted to seeing Patton Oswalt in a MODOK costume
Fan reactions to Blum's tweet immediately began pouring in, with many trying to figure out if it was an elaborate joke or not. @LordMunkton wrote, "Hang on... I thought it was stop motion. What do they need motion capture for?" Echoing that sentiment, @jm_deutsch tweeted, "Is this a joke? I assumed this show was just some type of fancy computer work made to look like California Raisins style claymation."
Meanwhile, some fans just went along with it and expressed their enthusiasm. "I'll pay 100 dollars for a version of the show that is just this. No additional effects required," joked @EvilKeaton. "This might be the best set photo ever taken in the history of film and television," added @JakeLloydBacon. 
Other Twitter users really just loved to see how much fun Oswalt seemed to be having in this role. "The Venn Diagram of @pattonoswalt performing Modok and Patton appearing to be f**king around in his basement having the time of his life seems to be a single, beautiful circle," tweeted @tomoftheplains.
Regardless of whether or not the MODOK team built an entire suit for a Twitter gag or for some strange live-action-esque part of the show, Blum's photo ultimately did its job: Fans are now freaking out and on the edge of their seats with anticipation for the show. Well played, sir. 
All 10 episodes of "Marvel's MODOK" debut Friday, May 21 on Hulu.