These Behind-The-Scenes MODOK Photos Are Quite Revealing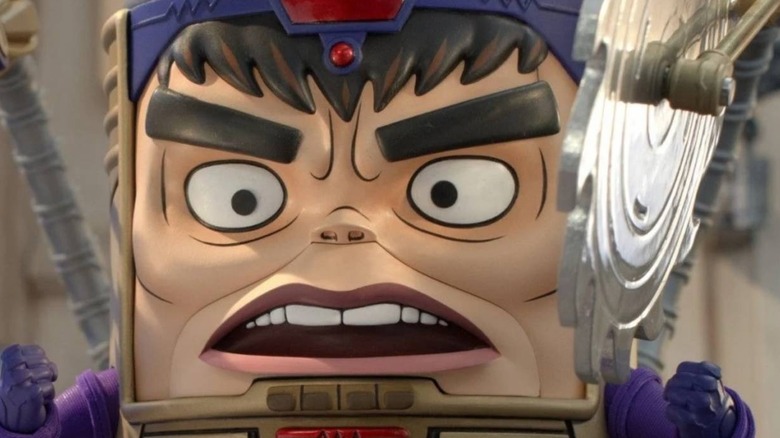 Hulu
When thinking of Marvel villains who could work in a sitcom-like setting, the giant head that is MODOK would probably be last on the list. And yet, that's precisely what we're getting. Based on what the critics are saying about Hulu's MODOK so far, not only does voice actor Patton Oswalt do an incredible job bringing humor and nuance to the character, but the show as a whole also has a lot more heart than you would expect out of a series whose protagonist can summon whizzing saws at whim. 
All 10 episodes of the first season will be available to stream on Hulu on May 21. It's the perfect time for it to debut seeing as how we're currently in a Marvel lull after "The Falcon and the Winter Soldier" ended but before "Loki" begins on Disney+ on June 9. However, in the event you still can't wait any longer to see new stories related to robots, wizards, and aliens, then you need to head over to Twitter to see what "MODOK" series co-creator Jordan Blum just teased. It's a slew of behind-the-scenes photos that show all of the intensive work that went into making the stop-motion animation a reality. 
The photos show off mini-Asgard and a tiny Third Eye Blind concert
As an animated Hulu Original series separate from the rest of the Marvel Cinematic Universe, "MODOK" can go to weird places not even "WandaVision" could venture into. That's readily apparent from the four photos Jordan Blum shared on Twitter. If anything can be observed from these pictures, it's that a ton of work went into designing the characters and sets. Stop-motion animation is notoriously difficult, but it looks as though the crew has managed to create a brilliant world that's bound to delight Marvel fans.
One of the most intriguing photos is a set of Asgard, complete with a glowing Bifrost Bridge. We know that Jon Hamm will provide the voice of the show's Tony Stark, aka Iron Man, but there hasn't been any word on whether Thor could make an appearance. It's unclear how much exactly Asgard will factor into the plot of "MODOK," but hopefully, the LED-infused bridge gets plenty of screen time because it's a true wonder to behold. 
Another interesting set that comes into play is the stage for a Third Eye Blind concert. As a master supervillain who still has his fair share of problems, MODOK certainly has the kind of semi-charmed life that Third Eye Blind sings about. Actor Sam Richardson is in the foreground of that particular behind-the-scenes photo; he'll provide the voice of MODOK's henchman Gary on the show. No word yet on how much of a Third Eye Blind fan Gary is. 
Judging from the comments below the pictures, the hype is real for the newest Marvel series. Get ready to binge-watch "MODOK" as soon as it drops on Hulu this Friday, May 21.