The Best Time Joey Broke Character On Friends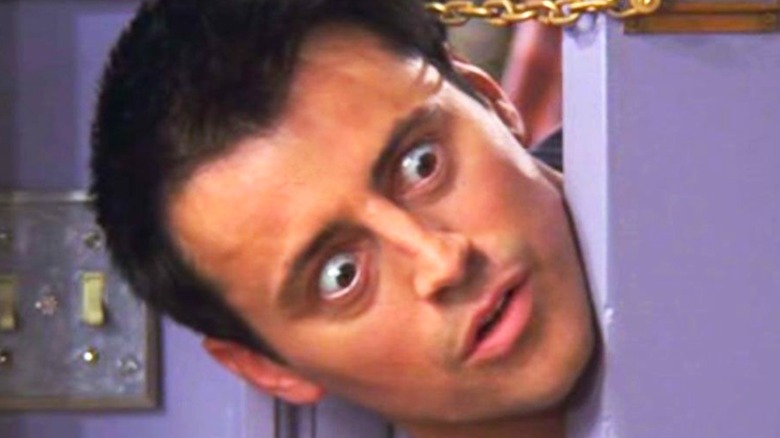 NBC
It's safe to say that "Friends" is one of the most iconic television shows of the 90s. Starring Jennifer Aniston as Rachel Green, Courteney Cox as Monica Geller, Lisa Kudrow as Phoebe Buffay, Matthew Perry as Chandler Bing, Matt LeBlanc as Joey Tribbiani, and David Schwimmer as Ross Geller, the show followed the best friends who hung out at Central Perk as they went through a multitude of life-changing events together. And soon, fans are finally getting to catch up with the beloved gang in a "Friends" reunion special on May 27.
Though the cast of "Friends" mastered comedic timing on the show, there were plenty of moments in which cast members broke character or hilariously messed up their lines — and they're free to watch with a quick YouTube search. One of the best blooper moments belongs to Joey, who was famously known for being a bit goofy, though he was well-intentioned. This is the best time Joey broke character on "Friends."
The one where Joey falls
In the "Friends"  Season 2 Episode 18, entitled "The One Where Dr. Ramoray Dies," Joey enrages the writers of "Days of Our Lives," the soap opera he stars in, after telling an interviewer that he writes his own lines. In the final cut of the episode, Joey excitedly runs into Central Perk to show Phoebe the interview in a copy of Soap Opera Digest before revealing his foolish lie. While the scene was hilarious because of Joey's blunder and its repercussions, the bloopers are almost as funny as the actual scene.
The blooper reel shows Joey tripping upon entry into Central Perk — a real life fall that actor Matt LeBlanc really couldn't play off. He stood there awkwardly while the cast, crew, and audience erupted into laughter around him. The next few takes of the scene are equally side-splitting, as LeBlanc continues to mess up; he can't compose himself after the initial fall, and then he knocks over the chair he's meant to sit on. The end of the blooper reel shows Matthew Perry joining in on the action — he ruins the shot by launching himself at LeBlanc right as he sits on his chair, causing yet another pause for laughter.
Though Joey's revelation that he ruined his own career is funny in and of itself, the fact that the scene took so many takes makes the whole thing that much funnier.