The Guest Writer Teases Mysterious Follow-Up To The Cult Film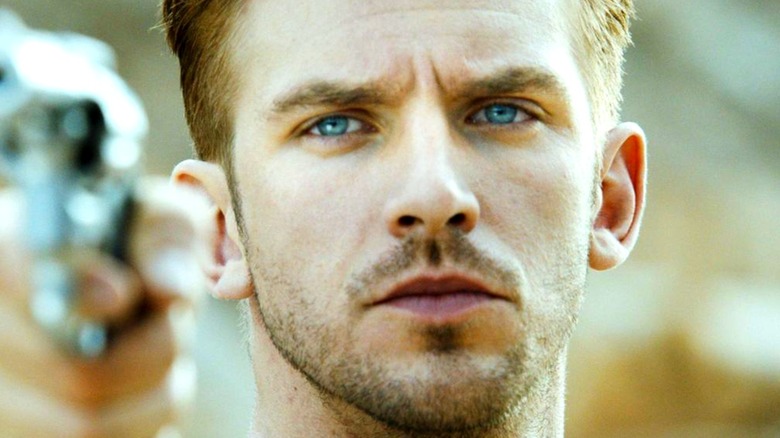 Picturehouse
It's been nearly a decade since Adam Wingard's "The Guest" wowed at the 2014 South By Southwest film festival, and in the years since, the film has become one of the most legit cult sensations of the 2010s, so much so that its many die-hard fans have been clamoring for a follow-up for years. It seems enough time has passed for Wingard and "The Guest" screenwriter Simon Barrett to finally tackle that follow-up, with the writer himself recently confirming that more madness is on the way.
For those not steeped in the giddy, B-movie glory of "The Guest," the film follows a mysterious man named David (Dan Stevens) who shows up at the home of a family grieving the death of their son during the war in Afghanistan. Claiming to be the son's best friend, David quickly works his way into the family's good graces, particularly the teenaged kids Anna (Maika Monroe) and Luke (Brendan Meyer). But when bodies begin to pile up around town, it becomes clear that David isn't exactly who he says he is, and he may be more dangerous than anyone realizes. From that setup, Barrett and Wingard spin a stylish, twisty little thriller delivered in a distinctly '90s action movie fashion. 
Though "The Guest" didn't break any box office records upon release, the film has continued to find fans in the streaming realm, while boasting a 91% Rotten Tomatoes score, to boot. When asked about a possible sequel during a recent interview with Comicbook.com, Barrett admitted that the boundless goodwill toward the film has stoked the creative fires for a sequel to "The Guest," which is very much in the works: "I can give you a very concrete answer to that question, which is, we are doing something related to 'The Guest.'"
The follow-up to The Guest may not be exactly what fans are expecting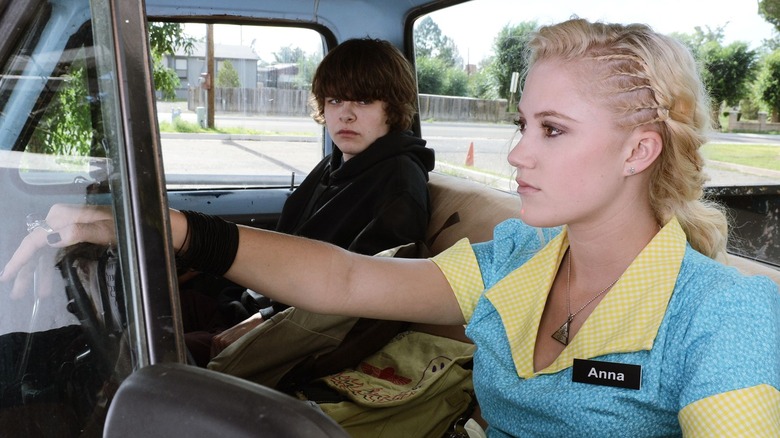 Picturehouse
That confirmation is obviously great news for fans of "The Guest," but those fans may want to temper their expectations about the further adventures of David, Anna, and Luke, as Simon Barrett went on to tease that "something related" to the original film won't be what fans think and will definitely not be a feature film. 
"[I]t is concretely happening, but it is not a feature film or a comic book, because I think that's what people would expect us to do. And I think that's the thing that no one actually wants us to do, because I think if we actually made a feature film version of 'The Guest 2,' or realistically, the graphic novel version would just be a cheaper version of trying to achieve kind of the same thing narratively," Barrett said. He continued by explaining why he and Adam Wingard are avoiding a straight cinematic sequel for their beloved film: "I think that's an easy mistake for filmmakers to fall into, is this notion of like, 'Oh, I did this thing and people liked it. So I should do more of that, in a direct way.' I think you really have to be careful of the fact that that fandom that you have, especially with a film like 'The Guest,' it's a precious thing. And people like 'The Guest,' I think partially, because there isn't a 'Guest 2,' and we didn't ruin it."
Logic aside, the open-ended finale of "The Guest" sort of felt tailor-made for a sequel, even if that was never part of the plan. As it is, Wingard and Barrett are clearly out to again subvert conventions with their follow-up. And however they choose to do that, fans of "The Guest" should be beyond stoked to see what craziness they're cooking up.