Army Of The Dead Star Nora Arnezeder Reveals What It's Like Working With Zack Snyder And Dave Bautista - Exclusive Interview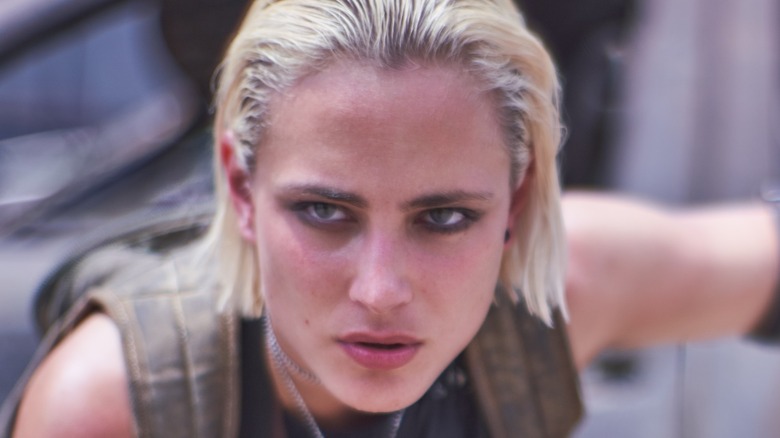 Netflix
Even though Nora Arnezeder grew up in Paris and has spent most of her career in French film and television, that didn't stop director Zack Snyder from finding the actor and casting her in a pivotal role for his new zombie heist thriller "Army of the Dead."
Breaking into French television in 2006 with a guest role on the crime series "Commissaire Valence," Arnezeder appeared in a string of three American films — "The Words," "Manic" and "Safe House" (opposite Ryan Reynolds) — in 2012. Arnezeder has moved back and forth between the U.S. and Europe since, guest-starring in such American series as "Mozart in the Jungle" while acting in productions such as the sci-fi thriller "Tides," which was released in Germany in March.
"Army of the Dead" — which is now playing in select theaters ahead of its May 21 Netflix debut — is no doubt Arnezeder's biggest American role yet, and she couldn't be more thrilled about it. In the film the actor plays Lily, aka "The Coyote," a highly skilled gun for hire who guides those who are willing to risk their lives into the walled-off, zombie-infested confines of Las Vegas. It is there that the Coyote turns people loose in their hopes of scoring money from abandoned slot machines and casinos so they can start a new life, even if the chances of surviving are slim. The odds don't matter to zombie war veteran Scott Ward (Dave Bautista) and his band of mercenaries, though, since they're looking to lay waste to any zombies who get in their way in order to retrieve $200 million from a casino vault on the Las Vegas Strip — with a mere 32 hours to complete the job.
In an exclusive interview with Looper, Arnezeder talks about the layers of her complicated character, working with Snyder and Bautista, and the crazy-scary zombie tiger that has everyone buzzing, as well as some of the lighter moments in the movie.
Entering the Zack Snyder experience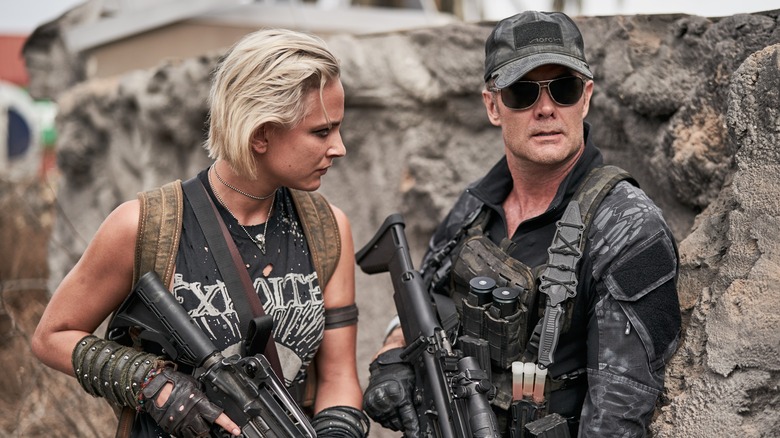 Netflix
Growing up in Paris, at what point did you become familiar with Zack Snyder's films — specifically the film that I really felt redefined the zombie genre, "Dawn of the Dead"?
I was of course, aware of Zack's work, for sure, "Justice League," and "300," and "Dawn of the Dead." I really believe Zack reinvented the zombie genre with "Dawn of the Dead," and he's re-reinventing it with "Army of the Dead." That's his specialty. He's really amazing at it.
He had a long stretch in between zombie films, and probably a lot has been percolating up there in his mind, and he's got other projects, too. But again, you're right — it's amazing that you can redefine the genre once, much less twice.
Yes. Basically, with this one and the zombies, they have emotions. They're faster, they're organized, and they really feel like humans. You know what I mean? In a way, you can almost have empathy for them. And I think that my character is not only a zombie killer, she also has some sort of empathy for them, which creates some interesting obstacles.
Becoming 'The Coyote' and turning away from princess roles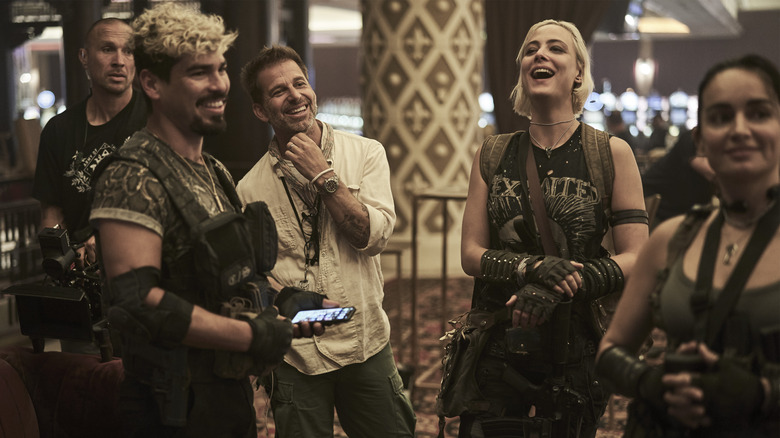 Netflix
I love your character's nickname, "The Coyote." It's a badass nickname, but you're also a badass with a conscience, which I think is really great. I mean, the extra layers that your character has, trying to help people start new lives by bringing them into this forbidden area to maybe jack a slot machine ... And not only do you really care about people, but you also care about giving scumbags exactly what they have coming to them, which I like, too. What your character does is such rarity for a zombie movie.
Yeah. She really cares about people, for sure, but she starts off quite lonely. She's a lonely individual in a way, and she really has an interesting arc to the character, where ... how can I put it? She really learns how to team up. It's a real interesting arc. There's a real discovery. She's kind of an antihero in the beginning, and there's a real discovery along the way, that working with people together can actually humanize her even more.
Absolutely. I'm always curious about how one project leads to the next. Now, granted, you have a lot of different credits in France, but you do have American films like "Safe House" as well as the streaming series "Mozart in the Jungle." Did Zack give you any idea where he found you? I just think you're so perfect for this, and I'm just wondering if there was a particular role in your past that maybe led to this role.
I started acting when I was 15 years old, and the roles that directors would give me would be princesses, and love interests. I mean, I'm so grateful for every director who wanted to work with me and who gave me the opportunity. But at some point, I got tired of it. I just needed something. I grew as an individual, as a human being, and I didn't want to play princesses anymore and love interests. And to me, it was about time to switch to something else. I did a lot of work on myself. And I don't know, directors started to be interested in me for different kinds of roles, like characters who were in charge.
I played an astronaut in a movie called "Tides," that was in [the Berlin Film Festival]. And unfortunately, I couldn't be there because of COVID, but it's a movie that's really dear to my heart, and I play a strong character. When I did the audition for "Army of the Dead," I guess Zack saw me and that kind of character in charge. That character, Lily, could definitely have been written as a male character. You know? It does not say. Only her name is feminine in a way.
Nora Arnezeder says she learned a big lesson from Dave Bautista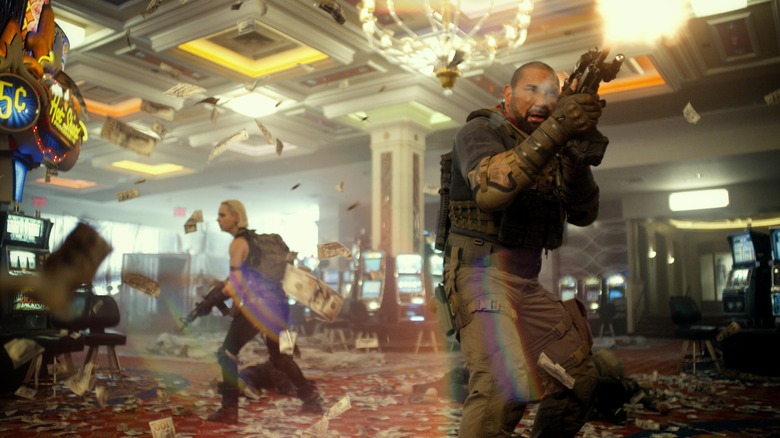 Netflix
The Coyote does take charge in the movie, and you have a great group leader as well, with Dave Bautista's character. What kind of leadership does Dave provide on the set? Because it seems to me that he's this unifying guy. I mean, not only is his character unifying, but also, he seems on set to be the sort of person to rally everybody and make this movie feel real.
We went to  zombie boot camp, but holding guns is not something I'm very comfortable with. So, on the first day on set, I remember we were doing a picture, a backstage picture, and my rifle was pointed at Dave for a second, because I'm not really familiar with them. And Dave was like [motions shaking her head], looked at me and he pushed my gun. He was like, "No." I was like, "All right. It's going to be interesting. I'm going to learn a lot from these amazing actors who are so used to be playing these warriors in movies." What I love about Dave is that he really carries a lot of vulnerability. He's not only the muscle guy, but he's also a real amazing actor. I really believe he's a very serious actor who's carrying a lot of depth — natural depth.
Army of the Dead has its share of lighter moments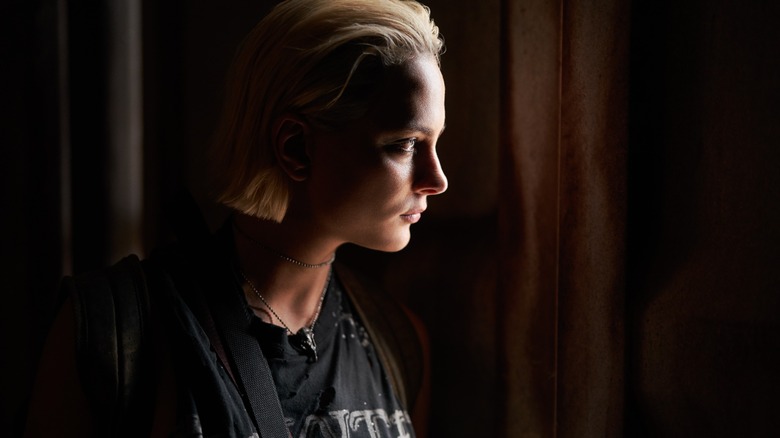 Netflix
Obviously you're there on the set, experiencing "Army of the Dead" up close and personal, and as such, you get a look at the movie magic. But I can't help but think, looking especially at the zombie king and queen, that it must be a little bit frightening and maybe give you nightmares even though you know in your mind that they're actors under there.

Okay. I'm going to be honest with you. On set, so the makeup was incredible. They would spend hours in the makeup chair, getting ready. They were so convincing, and it was very helpful to have them on set. But then we would drink at night, have cocktails with them. And so, it was kind of a fun ... When you were actually acting on set, it wasn't that scary. It was impressive. You know what I mean?
So did you share drinks with them while they were in makeup?
Oh, no, no, no, no, no. Never when we work. Rule. Only in France, not in America! [Laughs]
Your character has the cool responsibility of telling the origins of the zombie tiger, from a famous duo in Las Vegas. But do you recall seeing that completed, rendered shot of the zombie tiger for the first time? I mean, that's the talker. Everybody loves the zombie tiger and being scared by it.
It's impressive. We didn't see the zombie tiger because they added it after. But we actually had a real actor playing the tiger, and he was moving like a tiger, and it was amazing — very impressive.
Yeah, absolutely. Plus, I have to say you have the great line in the film, which isn't giving too much away — but there must be a particular joy in saying, "One more step, and I'll blow her head off, or well ..."
"More ..." [Smiles]
"More off." Lines like that just must make the character that much more satisfying to play.
There's a saying in French that says humor is the politeness of desperation. Sense of humor is for politeness of desperation. Does that make sense to you?
Oh, yeah. Absolutely. Sure.
I think any comic relief is actually a part of life. When we go through struggle, when we go through hard times, there's always ... Nothing is all dramatic. You can have a comic relief that really helps the drama.
Also starring Ana de la Reguera, Omari Hardwicke, Ella Purnell, Matthias Schweighöfer, Raúl Castillo, Hiroyuki Sanada, Garret Dillahunt and Tig Notaro, "Army of the Dead" is now playing in select theaters nationwide and debuts on Netflix May 21.