Why Matilda From Awake Looks So Familiar
This content was paid for by Netflix and created by Looper.
There's no rest for the weary in "Awake." In this riveting new film, a catastrophic global event takes down all the world's electronics and deprives mankind of the ability to sleep, turning every day into a waking nightmare. Without being able to recharge, the world's population becomes increasingly unhinged. Soon, every corner of the world erupts into chaos. And yet, there's hope: Ariana Greenblatt stars in the film as Matilda, a mysterious little girl who might just be the key to stopping the madness. See, unlike everyone else, Matilda has no trouble falling asleep, and it's up to her mother Jill ("Someone Great" and "Carmen Sandiego" star Gina Rodriguez) to guide the girl to safety — and potentially save the world. 
As you watch this harrowing ordeal unfold, you might recognize Greenblatt from other projects. After all, Greenblatt is one of the most prodigious young actresses in the business, and she's stolen the scene in several high-profile pictures in the recent past. Here's why Matilda from "Awake" looks so familiar.
A TV comedy sensation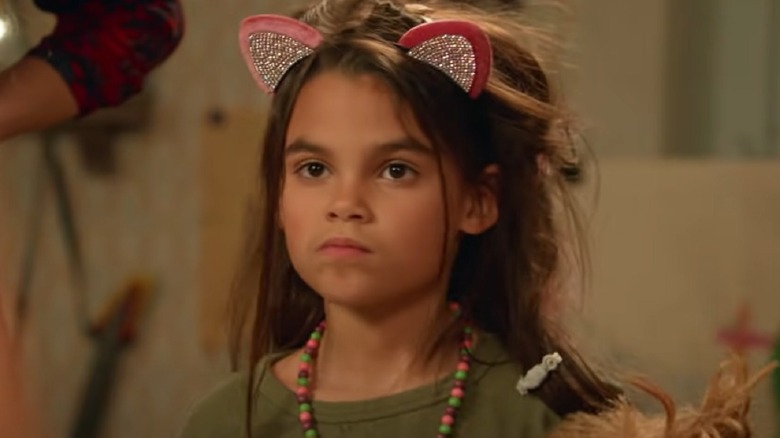 Disney Channel
After taking on a few guest roles in kids' shows like "Liv and Maddie: Cali Style" and "Legendary Dudas," Greenblatt got her first big break on the Disney Channel family comedy series "Stuck in the Middle," which ran for three seasons from 2016 to 2018. Greenblatt stars in the show as Daphne Diaz, who, despite being the youngest of seven children, is hardly a pushover when it comes to dealing with her elder siblings.
Greenblatt imbues Daphne with an indomitable spirit and an unshakable sense of self-confidence. As Greenblatt plays her, Daphne knows what she wants, knows how to fight for it, and isn't going to give up for anything. Between her delightfully strange sense of style, her no-nonsense attitude, and her relentless pursuit of attention, Daphne is a complete and highly memorable character, and Greenblatt's performance makes every single scene she appears in a must-watch.
A hilarious new holiday star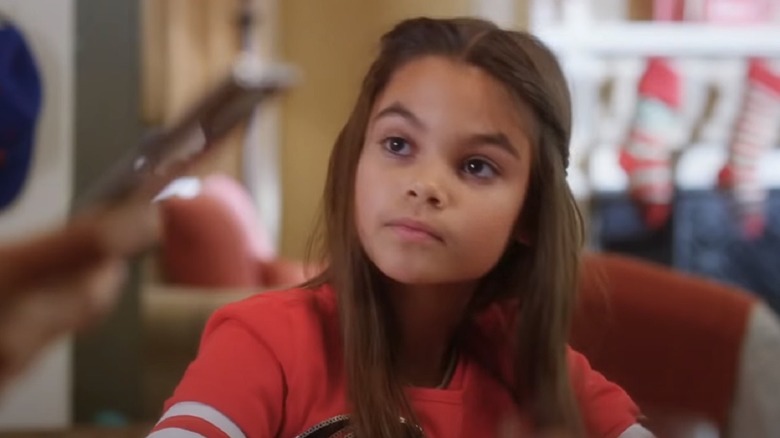 STX Films
Greenblatt made her feature film debut in the 2017 comedy "A Bad Moms Christmas." The film, which is a sequel 2016's delightfully rowdy "Bad Moms," features a trio of mothers who commiserate over their holiday woes, which only get worse when their own mothers come to visit. Greenblatt stars in the pic as Lori Harkness, the daughter of Jay Hernandez's Jessie, the love interest for Mila Kunis' Amy.
Even though Greenblatt is surrounded by stars like Kunis, Kristen Bell, Kathryn Hahn, and Susan Sarandon, the young actress stands out as a comedic tour-de-force. In fact, Greenblatt may be responsible for one of the film's most hysterical moments, in which Lori confronts Amy about the adult noises and four-letter words she heard coming out of her father's bedroom. Not only does this pic prove that Greenblatt can hold her own among A-list talent, but it also reveals her knack for adult-friendly comedy, breathing new life into the phrase "from the mouths of babes."
An MCU flashback favorite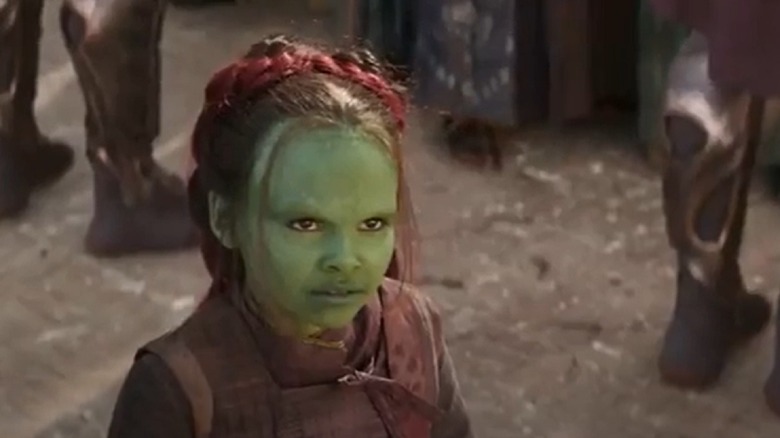 Marvel Studios
It's not often that an actor gets a chance to become a part of the Marvel Cinematic Universe when they're barely into double digits, but that's exactly what happened to Greenblatt when she joined the cast of the 2018 blockbuster "Avengers: Infinity War." Greenblatt appears in the superhero epic as the younger version of Gamora, who uses her tiny fists to fight back when Thanos and his Black Order attack Zen-Whoberi and cut the planet's population in half. 
While Thanos and his minions are merciless in mowing down the Zehoberei, Thanos takes notice of Gamora's fighting spirit and decides to adopt her as his own daughter — and to make her his personal assassin. As young Gamora, Greenblatt deftly captures actress Zoe Saldana's ferocity, but she also reveals the character's vulnerability, making the character's backstory and her forced familial relationship with Josh Brolin's Thanos into a true tragedy.
A gift for gab with gorillas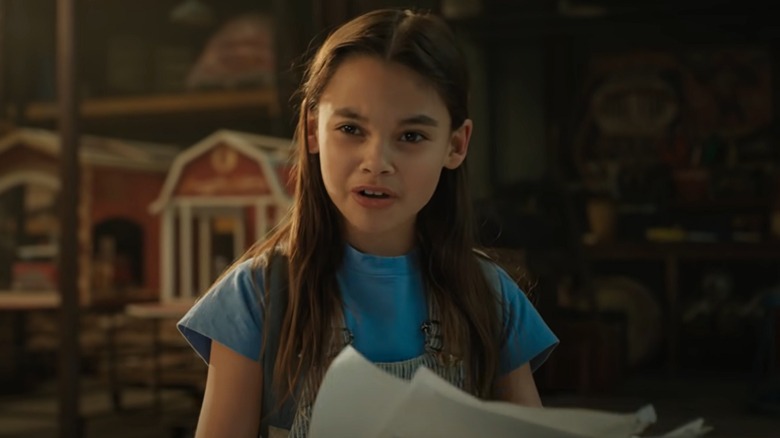 Walt Disney Pictures
Greenblatt's career continued with a standout role in the 2020 action-adventure film "The One and Only Ivan," which tells the story of a gorilla who is trapped at a shopping mall circus and yearns for freedom. Greenblatt stars in the film as Julia, the daughter of the circus' custodian, who develops a strong bond with this special animal and encourages him to use art to express himself.
Greenblatt is also an animal lover and has a fondness for art, so she had a lot in common with her character from the get-go, and it wasn't hard for her to find the beating heart of the role right away. Greenblatt also had experience working opposite a CGI character thanks to her "Infinity War" stint, allowing her to bring real emotion to moments in which her scene partner didn't actually exist. In "The One and Only Ivan," not only does Greenblatt show what a talented thespian she is, but she also proves that she's a total pro when it comes to unusual production scenarios.
A love for monsters
Paramount Pictures
Another great showcase for Greenblatt's talent is "Love and Monsters," which made its international debut on Netflix in April. As in "Awake," Greenblatt plays a shrewd survivor of an apocalyptic event in the movie, although this crisis is a little different: in "Love and Monsters," radioactive fallout turns all of the world's cold-blooded creatures into giant monsters. Yikes.
Greenblatt's Minnow is the companion to Michael Rooker's Clyde, and is accompanying him on a mission to find a new safe haven when they cross paths with Dylan O'Brien's Joel. While Clyde and Minnow have both endured terrible tragedies, they refuse to give into defeat. Instead, they become experts on all of the creepy-crawlies wandering the world, and know exactly how to hack it in the newly wild outdoors. As always, Greenblatt has screen presence to spare, and she is completely convincing as a young woman who is as tough and tenacious as her older sidekicks.
A lot more to come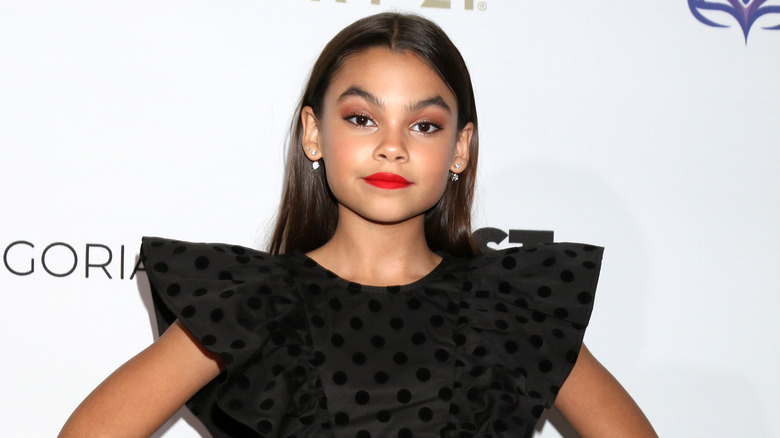 Shutterstock
As much as she has accomplished already, Greenblatt is still a star on the rise. In addition to "Awake," audiences will soon see Greenblatt as Young Nina in the upcoming musical drama "In the Heights." She also voices Tabitha in the upcoming "Boss Baby" sequel "Family Business," which will allow her to show off her singing skills in addition to her voice acting.
Greenblatt is also signed on to star opposite Adam Driver in the upcoming sci-fi thriller "65," which is written and directed by "A Quiet Place" scribes Scott Beck and Bryan Woods. Last but not least, Greenblatt will play Tiny Tina — a character that Greenblatt considers to be "the deadliest 13-year-old in the world" — in Eli Roth's star-studded adaptation of the video game "Borderlands." In other words, while you've undoubtedly seen Ariana Greenblatt before her jaw-dropping turn in "Awake," you'll also see plenty of this precocious star in the future.