The Ghostbusters Star You Didn't Know Directed Episodes Of The Office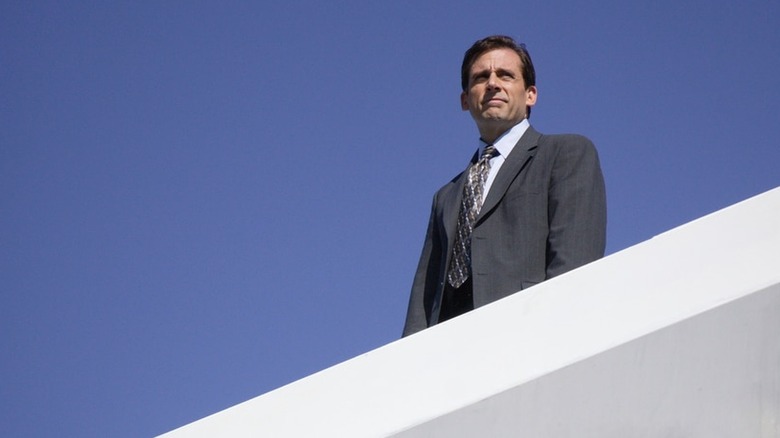 NBC
Throughout the nine seasons of "The Office," you may have noticed a few familiar names directed one or two of your favorite episodes. Of course, the cast themselves have had their fair share of episodes taken in their own direction, topped by B.J. Novak with five episodes. There have also been occasions where Hollywood superstars took the opportunity and direct a couple of episodes of the hit NBC series. A few well-known guest directors include Jon Favreau ("Elf," "The Mandalorian," and "Iron Man"), J.J. Abrams ("Star Trek" and "Star Wars"), and Bryan Cranston, who doesn't have a lot of directing experience but starred in "Breaking Bad."
The list is quite extensive. Many fans may not realize that multiple episodes were directed by one of the stars from the 1984 "Ghostbusters." In fact, that resulted in one of the most powerful moments from the entire series, when Pam walked across the hot coals in Season 3's "Beach Games" episode.
So who is the Ghostbusters star you didn't know directed episodes of "The Office?"
The only television episodes Harold Ramis ever directed
If you looked closely at the credits over the years, you might have noticed his name a couple of times. Harold Ramis, who starred in "Ghostbusters" and "Stripes," directed four episodes of "The Office." Three were directed in Season 3 (via IMDb): "A Benihana Christmas" (Episode 10), "Safety Training" (Episode 19), and "Beach Games" (Episode 22). Ramis returned for one last episode in the sixth season to direct "The Delivery: Part 2" (Episode 18), where Jim and Pam have their baby. These happen to be the only television episodes Ramis directed before his death in 2014.
Prior to directing these few episodes of "The Office," he directed several comedies that became household names, including "Caddyshack," "National Lampoon's Vacation, and "Groundhog Day." A talented actor as well, Ramis came to fame as Egon Spengler in "Ghostbusters" and "Ghostbusters II." He also portrayed Russell Ziskey in 1981's "Stripes." He would write, direct, produce and act in many films following, with 2009's "Year One" being the last in which he did all four.
Now, fans can't help but appreciate these very few "Office" episodes he was gracious enough to bless with his direction. They likely have a bit more sentimental value now that Ramis is no longer with us.