15 Best John Candy Movies Ranked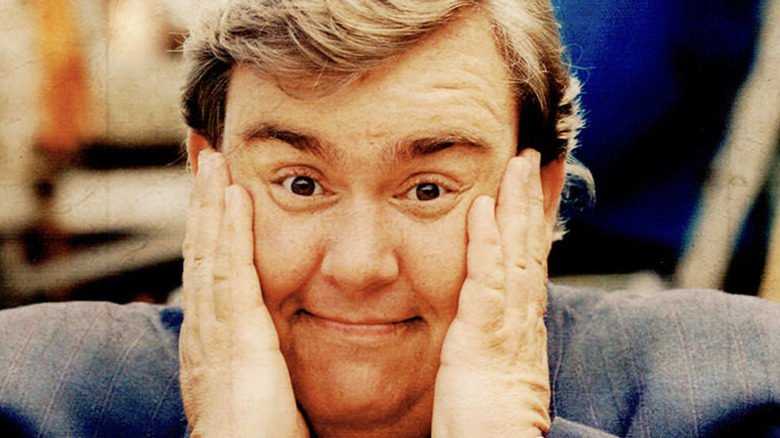 Kypros/Getty Images
The world lost a giant when John Candy passed away in 1994, from a heart attack at the age of 43. In his all-too-brief life, the Canadian-born funnyman created a body of work that continues to endear him to new generations of fans.
Candy first came to fame with "SCTV," the Canadian alternative to "Saturday Night Live" that also launched the careers of Catherine O'Hara, Eugene Levy, Joe Flaherty, Andrea Martin, Rick Moranis, Dave Thomas, Harold Ramis, and Martin Short. The sketch show brought Candy two consecutive Emmys for writing in 1982 and 1983.
Movie fans remember him best for his collaborations with John Hughes, with whom he made seven films. Hughes gave the actor some of his best roles, playing into his persona as a lovable lout with a heart as big as his smile. Candy could do it all, from the sublime to slapstick, and he proved it in one hit comedy after another throughout the '80s and early '90s.
Unfortunately, we'll never know how many more classic funny moments Candy could have provided us with had his life not been cut short (is there any doubt he would have had at least a cameo on "Schitt's Creek"?). Thankfully, he left behind a rich filmography to remember him by. Here's a look back at John Candy's 16 best movies, ranked in order from worst to best.
15. Canadian Bacon (1995)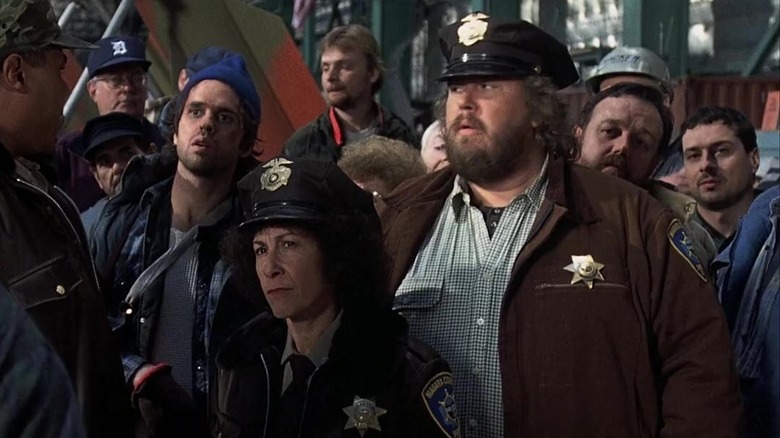 Gramercy Pictures
Although it was filmed before "Wagons East!," "Canadian Bacon" was Candy's last released film. It's a nominally better swan song (there are some funny bits observing the differences between Americans and their Canadian neighbors), it's still remembered as a stinker with a 13% Rotten Tomatoes rating.
The first and only fictional script penned by documentarian Michael Moore, it's a political satire starring Alan Alda as a wildly unpopular US President who boosts his approval ratings by starting a Cold War with Canada. Candy played Sheriff Bud Boomer, who kicked off the conflict by criticizing Canadian beer at a hockey game in Ontario. Things spiral out of control, and soon Bud and his pals begin taking the conflict a little too seriously, leading to a full-on battle with our neighbors to the north.
All of this is mounted with the subtlety of a "Saturday Night Live" sketch, which would be fine at about five minutes or so. But stretched out to feature length, jokes about the differences between Canadians and Americans can wear a little thin.
14. Brewster's Millions (1985)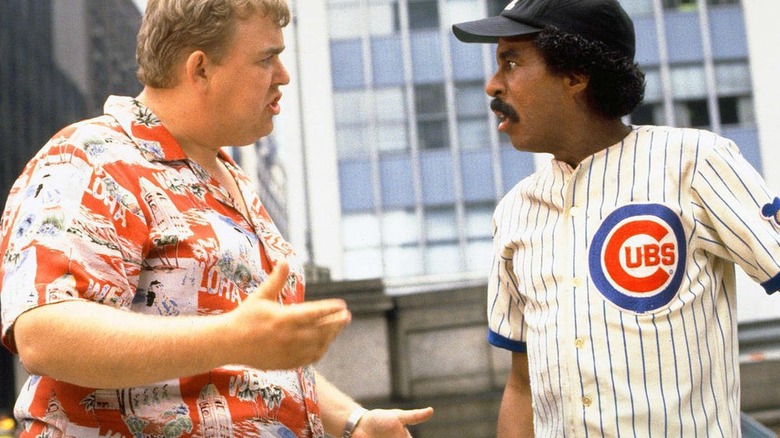 Universal Pictures
You'd think the pairing of Candy and Richard Pryor would mine comedic gold. Unfortunately, "Brewster's Millions" somehow managed to bounce that check. Not that it's completely without laughs; after all, any movie featuring two comedy's legends is bound to have some chuckles.
Directed by Walter Hill, it's the seventh(!) cinematic adaptation of George Barr McCutcheon's 1902 novel about a man who must spend a fortune in order to inherit one. Pryor played Montgomery Brewster, a minor league baseball player who would receive $300 million from his late great-uncle if he can somehow spend $30 million in 30 days. Shouldn't be too difficult, right? Well, that's where the jokes come in.
Candy plays his best friend (and battery mate) Spike Nolan, perpetually perplexed by his buddy's spending habits (one caveat of the deal is Brewster can't tell anyone about it). Although reviews at the time noted that most of the comedy is oddly muted, the film really comes alive when the two leads are sharing scenes and swapping punchlines. Candy always had a knack for playing off his co-stars, and he turned out to be a great counterpoint for Pryor's larger-than-life antics.
13. The Great Outdoors (1988)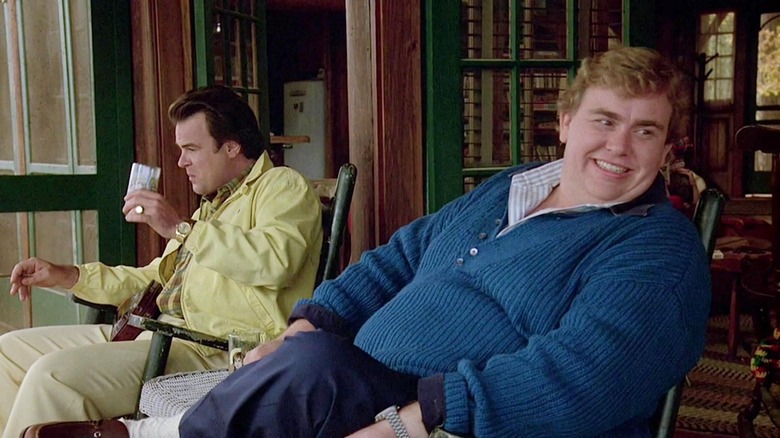 Universal Pictures
"The Great Outdoors" tells a story you've seen several times before: An uptight city slicker retreats to nature, only to be rudely interrupted by an obnoxious nincompoop. But what's notable here is that the roles are reversed, with Candy playing the tightly-wound guy and Dan Aykroyd starring as his off-putting counterpart. Everything else, however, is pretty standard stuff (as critics at the time pointed out).
Written by John Hughes and directed by Howard Deutch, "Outdoors" starred Candy as a Chicago businessman looking to unwind in the country with his wife (Stephanie Faracy) and sons (Chris Young and Ian Michael Giatti). But their weekend getaway was upended by the arrival of Connie's sister (Annette Bening, in her film debut), her dopey husband (Aykroyd), and their twin daughters (Hilary Gordon and Rebecca Gordon).
While it's great fun to look back today and see Candy play against his usual comedic persona opposite fellow Canadian Aykroyd, the gags are as tired as a weary camper.
12. Spaceballs (1987)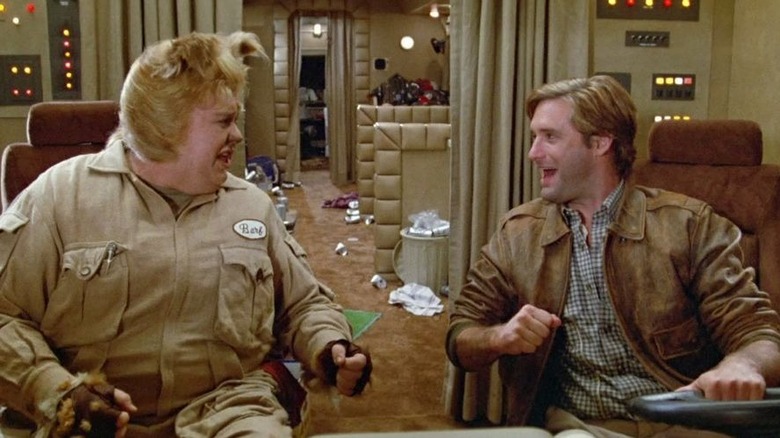 Brooksfilms; Metro-Goldwyn-Mayor
Released four years after "Return of the Jedi" looked like it had wrapped up the Star Wars movies for good, "Spaceballs" was met with derision from critics, even if some pop culture demos came to adore it. In the time since its 1987 release, the Mel Brooks flick's cult following has only grown — and looked even more clairvoyant in its depiction of a film franchise eager to slap its name on sequels, prequels, TV shows, specials, lunch boxes, toilet paper, yogurt and anything else it can merchandise.
Spoof-meister Brooks pulled out all the stops sending up the most successful franchise in movie history, centering the story on a Han Solo-knockoff named Lone Starr (Bill Pullman) and his half-dog, half-man sidekick Barf (Candy). Daphne Zuniga played the beautiful Princess Vespa, who had to be saved from the evil Dark Helmet (Rick Moranis). Brooks himself pulled double role as President Skroob, ruler of the evil planet Spaceballs, and as the wise sage Yogurt. Please, please don't make a fuss — he's just plain Yogurt.
Star Wars fans can still get some solid chuckles in the many riffs on the original series, from the evil Pizza the Hutt to greetings of "May the Schwartz be with you." Candy was a hoot as the friendly man-dog (or "mog," for short), who, by his own admission, is "my own best friend."
11. The Blues Brothers (1980)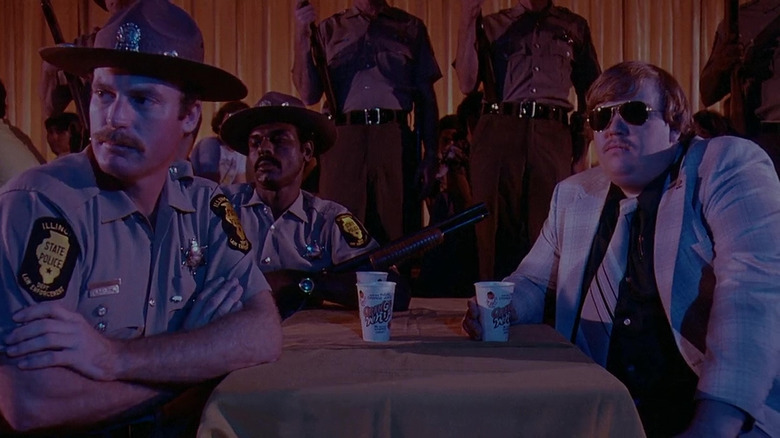 Universal Pictures
Arguably the best "Saturday Night Live"-inspired film ever made, "The Blues Brothers" also featured one of Candy's first cinematic performances.
The main show here, obviously, was the brothers Jake (John Belushi) and Elwood (Dan Aykroyd) Blues. Fresh out of prison, the duo are determined to get their band back together — but the plot is little more than a vehicle for big musical numbers, bigger car chases and memorable comedy bits, all of which are mounted with impressive skill by director John Landis.
There's also a ton of iconic cameos, most notably from music legends like Ray Charles, James Brown, and Aretha Franklin. Candy has a relatively small role as Burton Mercer, a parole officer chasing the brothers as they race around the country in a dilapidated police car on their "mission from God." 
Catching up to the Brothers Blues at one of their gigs, Candy delivered his first of many instantly-quotable movie lines when he ordered orange whips for his fellow officers. According to cinematic legend, the movie's set designer was related to someone who worked for the company that made the beverage, causing Candy and Landis to put the now-defunct beverage in the film (although if you ask most bartenders, they can whip you up an alternative with rum, vodka and orange juice).
Between the beverages, the sunglasses and a spectacular chase sequence, it all ends with Candy's car flying into a semi, causing Candy's character to famously pick up the police radio and report: "Hi, this is car 55. We're in a truck."
10. Little Shop of Horrors (1986)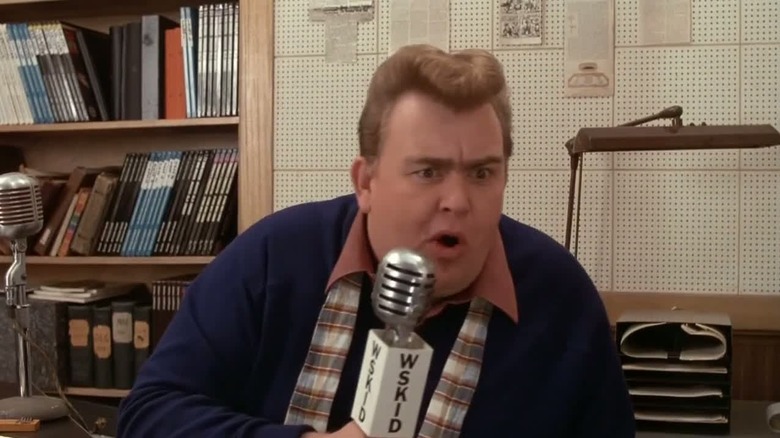 The Geffen Company; Warner Bros.
Among the many great pleasures of Frank Oz's remake of "Little Shop of Horrors" are the cameo appearances by prominent '80s comedians (including Jim Belushi, Christopher Guest, and Bill Murray). So you'd better believe Candy would pop up at some point, and as was often the case, he made a giant impression, even with limited screen time.
Rick Moranis starred in the film as Seymour Krelborn, a nerdy florist shooting to stardom thanks to a giant singing plant with a taste for human flesh named Audrey II (voiced by Levi Stubbs of The Four Tops). As part of his media tour, he appeared alongside his talking fly trap on "Weird World," a radio program hosted by Wink Wilkinson (Candy). 
Candy clearly had a lot of fun affecting the style of a 1960s disc jockey, from his pompadour hairdo to the various sound effects that rolled effortlessly off his tongue. It's also a hoot watching Candy playing opposite his fellow "SCTV" alum Moranis, with whom he'd later reunite on "Spaceballs."
9. Home Alone (1990)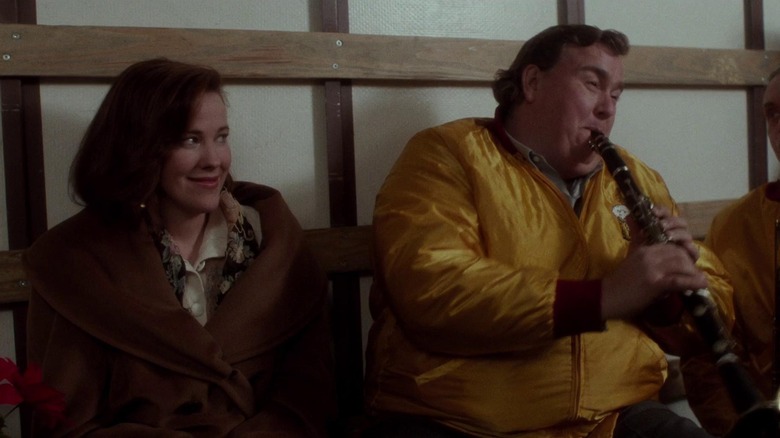 20th Century Fox
Everyone remembers this holiday classic for the various tortures little Kevin McCallister (Macaulay Culkin) inflicted on two burglars (Joe Pesci and Daniel Stern) trying to break into his house while his family was away for Christmas. But this being a John Hughes movie, it was inevitable that Candy would pop up at some point, no matter how briefly.
Realizing she's left her youngest child home alone, frazzled mother Kate (Catherine O'Hara) cut short a Paris vacation to return to Chicago. In a key scene, she's stuck in Scranton, where nice guy polka king Gus Polinski (Candy) offered her a ride — the cameo undoubtedly engineered as a subtle nod to the Schmenge brothers, "SCTV" polka characters played by Candy and Eugene Levy who even starred in their own very funny HBO movie, "The Last Polka." 
Not only did Candy improvise all his own lines opposite his former "SCTV" co-star O'Hara, but he filmed his entire sequence in just one day (and for very little money, at that).
8. Cool Runnings (1993)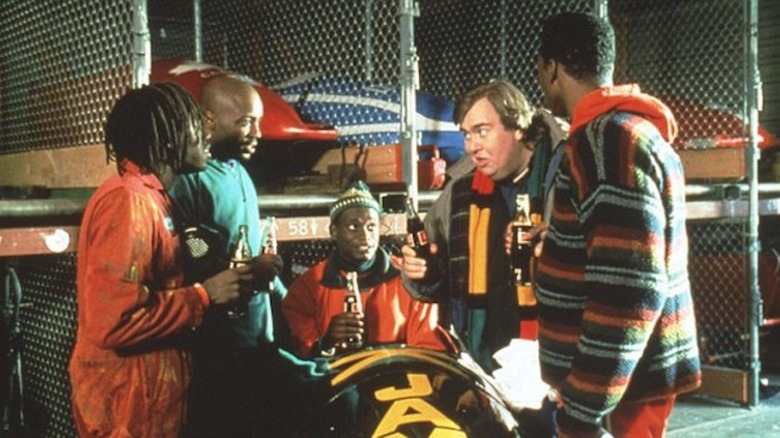 Walt Disney Pictures
It's almost contractually obligatory that a popular actor play an inspirational coach or teacher at some point (just ask Samuel L. Jackson, Michelle Pfeiffer, Hilary Swank, Keanu Reeves or Antonio Banderas  — for starters), and Candy took his turn when he branched out with "Cool Runnings." Sure, it's a Disney film inspired by a true story, but it's certainly more dramatic than, say "Who's Harry Crumb?" The film was a surprise hit at the box office, but its reputation really grew on home video, with lots of viewers discovering it on VHS.
Candy was cast in the fictionalized role of Irving "Irv" Blitzer, a disgraced former Olympian searching for a chance at redemption. The character would find it coaching a ragtag group of Jamaican bobsledders — so unsuited for the event that they had to practice on wheels in their warm climate.
Despite the well-worn cinematic trappings of the role, Candy won audiences over with his warmth, humor, and bravado. As Roger Ebert said in his review, he "has a couple of stirring speeches that he somehow delivers as if every word were not recycled from other films." It takes a special kind of actor to make you feel like you're hearing a coach's inspirational oration for the very first time — and Candy certainly had a knack for finding golden moments in the most unlikely places.
7. National Lampoon's Vacation (1983)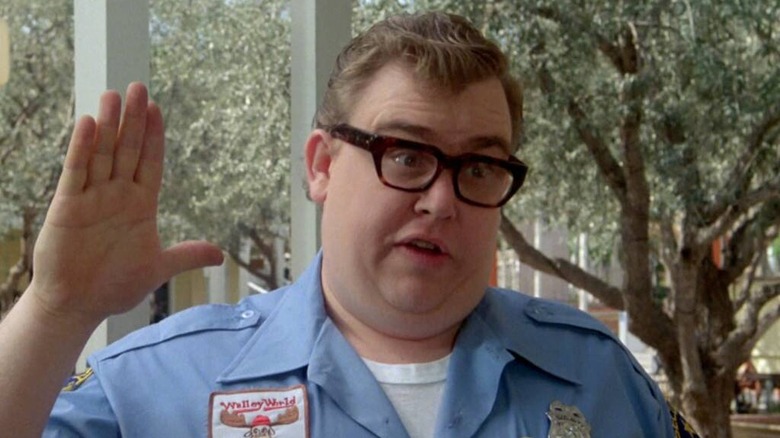 Warner Bros
The first entry in National Lampoon's "Vacation" series still serves as a cautionary tale for anyone planning a family road trip — and it's seemingly impossible for any dad to pull into an amusement park, kids in tow, and not say something like "Here we are kids. Wally World!". 
In this comedy classic, inept-but-well-meaning suburban dad Clark Griswold (Chevy Chase) dragged his family across the country to the California amusement park, with everything going wrong at every turn. But the promise of sunshine and fun kept the wood-paneled family station wagon pressing on — even if it did have the words "honky lips" spray-painted on its side and a dead grandma tied to the roof.
When the Griswolds finally arrived, they were greeted by an empty parking lot and the friendly face of security guard Lasky (Candy), who memorably informed them (in another classic Candy line) that the moose out front should have told them the park is closed for repairs. Needless to say, Clark did not take the news well, taking Lasky hostage ("We're not really violent people, this is our first gun") so they could go on the rides.
Candy's role was actually a last minute addition when the film's original ending tested poorly. Director Harold Ramis called in a favor from his former "SCTV" alum, and we're all better off for it. This also kicked off a longtime collaboration between the actor and Hughes, who penned the script.
6. JFK (1991)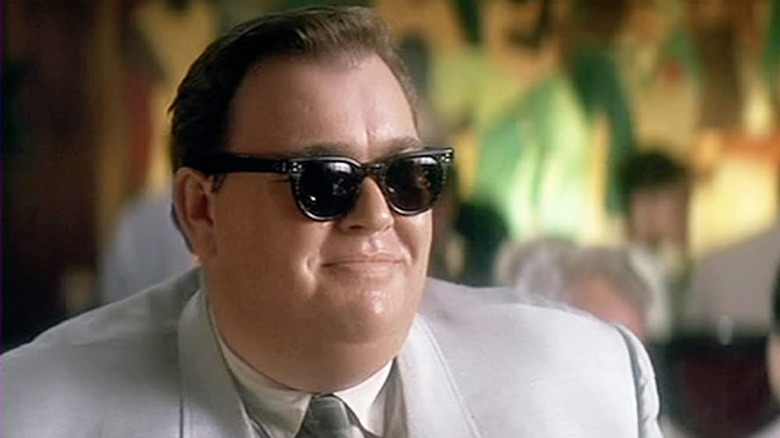 Warner Bros
Candy didn't get too many chances to stretch his dramatic acting muscles, but he seemed to be getting more interested in them as his career progressed. A brief appearance in Oliver Stone's paranoia panorama "JFK" gave audiences a brief glimpse at the kind of serious performances he was capable of. 
Appearing in the film as Dean Andrews, one of several colorful characters encountered by New Orleans D.A. Jim Garrison (Kevin Costner) during his investigation into the assassination of President Kennedy, Candy played a fast talking, crab-swilling lawyer with a few dirty secrets about local businessman Clay Shaw (Tommy Lee Jones), who may or may not have been involved in the assassination. Sweating through his white suit as Garrison pressed him for information, he unraveled another layer of the onion around Shaw and his cohorts David Ferrie (Joe Pesci) and Guy Bannister (Ed Asner), allegedly involved in the CIA's plot to lay the blame entirely on Lee Harvey Oswald (Gary Oldman).
You can certainly nitpick the facts of Stone's film (and several critics at the time did), but there's little denying three things: The film was hugely entertaining, gave birth to a wave of conspiracy-fueled alternative-fact narratives that is still felt today, and included another vibrant Candy performance.
5. Stripes (1981)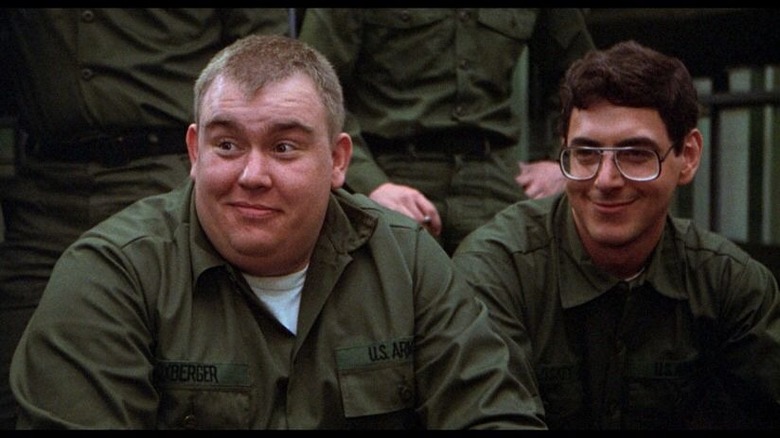 Columbia Pictures
One of the original men behaving badly comedies, "Stripes" was the most raucously funny military satire since Robert Altman's "M*A*S*H" (1970). It was also a great early showcase for Candy, who at times stole the show from Bill Murray — which is no easy feat.
The premise: Murray was cast as a Kentucky cabbie tired of his humdrum life. Deciding to shake things up by joining the Army, he convinced his English teacher buddy (Harold Ramis) to come along with him. But upon arrival at boot camp, they run afoul of the drill sergeant (Warren Oats) and hilarity ensues.
Candy showed up as a sweet natured recruit named Dewey Oxberger ("Ox" for short). His most memorable scene is when the boys sneak away to take in a little mud wrestling, with Ox getting into the ring with four ladies, all of whom end up losing their tops. It's a hilarious sequence that showcases Candy's knack for physical comedy — who, much like Chris Farley and John Belushi, had amazing physical comedy chops for their size.
4. Uncle Buck (1989)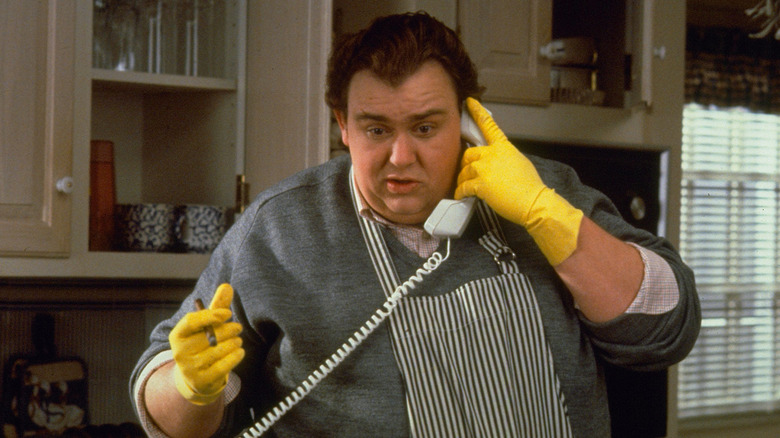 Universal Pictures
Candy became as important a muse to John Hughes throughout the 1980s as Molly Ringwald, earning increasingly juicier roles in his films. That culminated with the vehicle "Uncle Buck," an oftentimes crude family comedy made heartwarming by its leading man's charms.
Candy's Buck was a lifelong bachelor spending his days eating junk food and betting on horses. Tasked with looking after his brother's three kids, the cigar-chomping, beer-drinking, bowling ball-toting Buck needs to grow up fast — or at the very least, find middle ground with the children. 
Thanks to Candy's endearing screen presence, you almost don't care that the script offers little surprises. Chasing down boyfriends, chewing out sour-pussed school administrators, dodging the advances of randy neighborhood housewives, Candy made instantly-classic scenes out of material that it's nearly impossible to imagine most other actors being able to do anything with. Which is perhaps why they've tried to make "Uncle Buck" into a TV show twice, and keep failing miserably.
3. Only the Lonely (1991)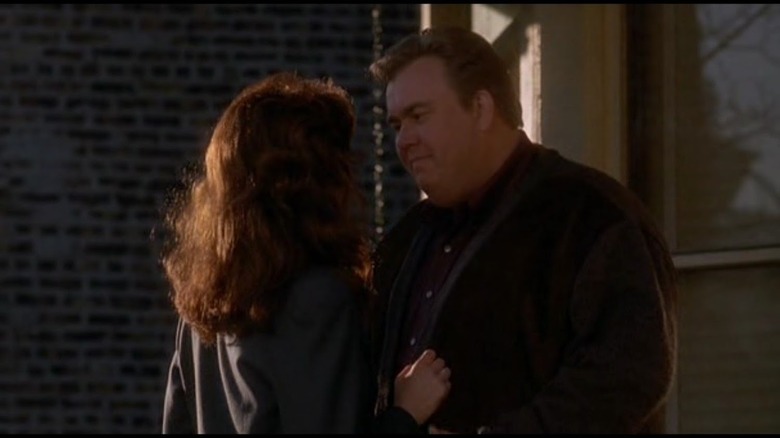 20th Century Fox
It's little surprise that "Marty" was an inspiration for "Only the Lonely". Like that 1955 Best Picture Oscar winner, this Chris Columbus comedy concerned itself with the romantic yearnings of a lonely schlub (Candy) who believed true love would always evade him. And just like Ernest Borgnine in "Marty," Candy won the hearts of audiences with his empathetic performance.
Starring as Danny Muldoon, Candy played a Chicago cop still living with his overbearing Irish mother, Rose (Maureen O'Hara, who came out of retirement for the role). After meeting a mousy funeral home cosmetician (Ally Sheedy), they fall for each other, much to the consternation of his mom.
"Only the Lonely" was just as old-fashioned and nostalgic as the Roy Orbison song that supplied its title. But what made it really special was Candy's performance as a sweet natured goof doing his best to make the two women in his life happy. Watching the movie today, it makes you wish there had been dozens of romantic comedies starring this lovable character. Thankfully, we got at least one.
2. Splash (1984)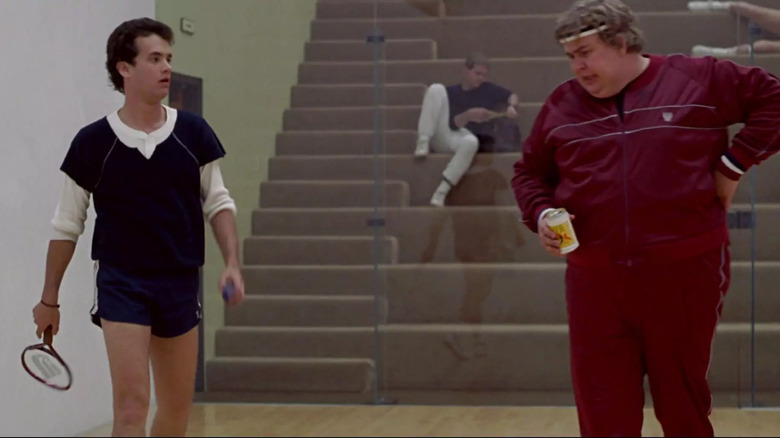 Touchstone Picture
After a string of memorable bit roles, Candy had a major breakthrough with Ron Howard's fantastical romantic comedy. Sure, Tom Hanks and Daryl Hannah were the main attraction, but Candy stole every scene he was in, with a juicy supporting part that played to his unique talents.
Hanks played Allen Bauer, a New York fruit and vegetable salesman who keeps drowning in Cape Cod, only to be saved by a literal mermaid (Hannah) each time. When the mermaid fell in love with Allen and followed him back to the city — sprouting legs to follow him around on land — the delightful story played out in surprising, crowd-pleasing ways.
Candy was cast as Allen's womanizing brother, Freddie, making the most of a role that would help shape his comedic persona as a lovable oaf. Even critics like Roger Ebert, who decidedly did not like this movie, couldn't help but be charmed by his performance. (Other reviewers were much more favorable.)
1. Planes, Trains and Automobiles (1987)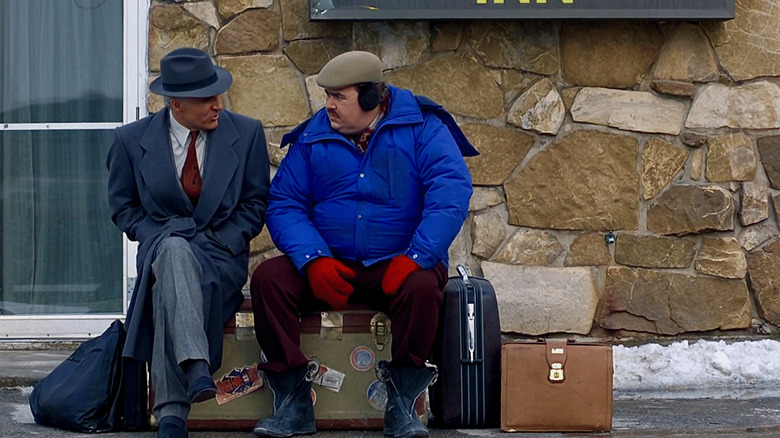 Paramount Pictures
"Oh, he's drunk. How would he know where we're going?" 
"I have two dollars ... and a Casio."
"The last thing I want to be remembered as is an annoying blabbermouth."
Proving once again that John Candy might have the highest quote-to-movie-role ratio in comedy history, John Hughes' "Planes, Trains and Automobiles" tops the list of Candy classics — and for many, comedies in general.
Looking back now, it's a shame Candy only made one movie with Steve Martin, because their chemistry in this film seems like it could have placed them alongside names like Abbott and Costello, Laurel and Hardy, Martin and Lewis or Hope and Crosby.
A classic screwball road comedy, "Automobiles" utilized each actor's comedic strengths while also tapping into their inherent humanity. With Martin cast as Neal Page (a buttoned-down businessman desperately trying to get from New York to Chicago to spend Thanksgiving with his family) and Candy counterbalancing him as Del Griffith (an over-eager, ramshackle shower curtain ring salesman who latches onto his journey home, only to endear himself in the most annoying of ways),the film was a funny and touching holiday classic that still deserves at least one annual watch every holiday season.
There are too many masterful comedy moments to count (most notably when the two share a bed together and find Del's hand isn't actually between two pillows), but what really made this film an all-timer was the generous amount of heart added to the laughs. As Del's loving spirit gradually chipped away at Neal's cynicism, it all built to a genuinely moving finale showing off the very best of Candy's screen persona: goofy, clumsy, and above all else, lovable. 
You can't help but watch "Planes, Trains and Automobiles" with a perpetual smile slapped on your face, even when the ending (and perhaps, thoughts of John Candy's all-too-brief movie career) tugs at your heartstrings.