Emma Thompson Reveals The Most Difficult Part Of Her Role In Cruella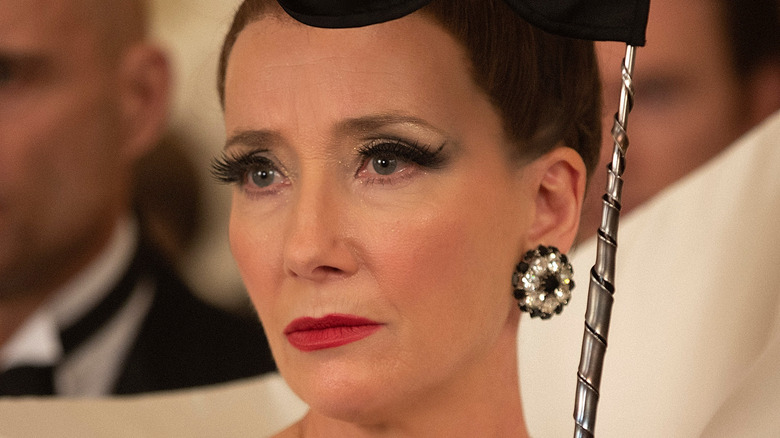 Disney Enterprises, Inc./Walt Disney Studios Motion Pictures
"Cruella" lands in theaters on May 28, and the film's leading actors Emma Stone and Emma Thompson have been dishing about their respective roles as Estella de Vil and Baroness von Hellman. Thompson's Baroness is the head of a fashion house where Stone's Estella works as a young designer with big dreams. Lovers of fashion are sure to be fond of the film, as it'll feature many pieces inspired by the punk rock era of 1970s London.
The trailers for "Cruella" (as well as various other sneak peeks) have teased a handful of over-the-top wardrobe pieces for both Stone and Thompson's characters. Despite being stunning, though, some of the costumes don't look like they'd be very fun to wear for 16-hour days on set. During a recent digital press conference that Looper attended on May 15, the "Cruella" stars discussed what it was like to wear the extravagant pieces, and Thompson had a few choice things to say about what it was like to sport the Baroness' high-fashion garbs day in and day out.
Emma Thompson's Cruella wardrobe proved to be quite a challenge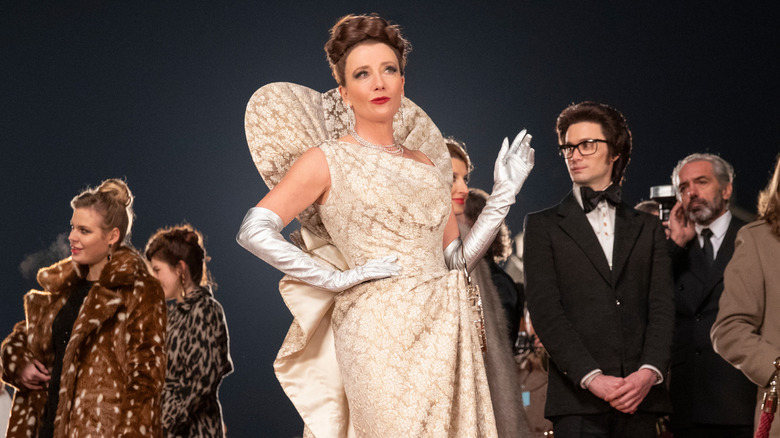 Laurie Sparham/Walt Disney Studios Motion Pictures
The wardrobe pieces for "Cruella" are truly works of art, but they were also quite difficult to work with at times — at least for Emma Thompson. The famous Brit noted during the "Cruella" press conference that getting in and out of wardrobe was one of the most difficult parts of playing the Baroness. Thompson then joked that it wasn't as hard for Emma Stone because she didn't need to wear corsets like Thompson did.
According to Thompson, "peeing was hard and involved a team of people," and "the underwear was a big ol' deal." She also joked about wearing her corset and how her body was constantly being moved around in order to accommodate the garment. "The flesh moves like toothpaste in a tube," Thompson said with a laugh when discussing how her body adapted to the corset. Stone confirmed that Thompson's looks were much more elaborate and "had such structure," which would necessitate some complex and uncomfortable undergarments. "She had really, very intense, shapely costuming going on," said Stone.
Another issue with the "Cruella" wardrobe for Thompson was the height of the shoes the Baroness wears. The actress said she doesn't wear anything higher than flip-flops in her everyday life, so having to spend all day in high heels was quite the challenge for her.
"Cruella" is set to hit theaters and Disney+ (with Premier Access) on May 28.