This Is What Penny Saeger From My 600-Lb Life Has Been Up To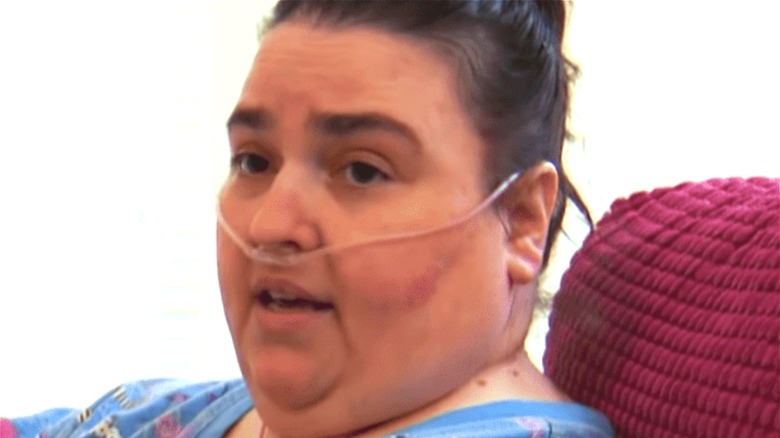 TLC
Penny Saeger shared the beginning of her weight loss journey on Season 2 of "My 600-lb Life." When she first visited Dr. Nowzaradan, Penny weighed 530 pounds and was completely bedridden. Her husband Edgar struggled to be her caregiver and her eight-year-old son Liam was only able to interact with his mother if he visited her bedside. Penny seemed determined to lose weight to qualify for gastric bypass surgery. She was assigned a diet limited to 1,200 calories per day and lost 40 pounds after just one month on the new diet plan. Her progress proved to Dr. Now that she was a strong candidate for gastric bypass surgery. Her family, who feared her son would bury her before he turned 10, was hopeful about Penny turning her life around, considering the strong commitment she showed at first.
Unfortunately, directly following surgery Penny stalled in her weight loss. After four months of minimal progress, Dr. Now felt Penny was better off at home with supplemental assistance. Penny's remained relatively tight-lipped about her progress since her episode premiered, but a few updates may have provided some insight into what Penny has been up to since "My 600-lb Life."
Penny's kept her life under wraps
It's doesn't seem that much changed for Penny after returning to her home in Maryland. Although she felt she had a good handle on her eating habits and support from her family, Penny's weight did not lessen. She refused to attend follow-up appointments or cooperate with a physical therapist and nutritionist. Social media updates from the reality TV participant have been few. Her Instagram account was last updated in 2014, a few months after her episode first aired, but viewers lambasted Penny for her behavior on the show by commenting on the collage of her son Liam. 
On Twitter, made a post in 2015 celebrating her marriage anniversary. Scant evidence seems to indicate that she's still with her husband Edgar — he posted a family portrait in 2016 on Facebook and reposted it in 2020. The photo shows a smiling Penny with oxygen tubing. She appears slightly different since her time on "My 600-lb Life."