The Truth About Parker Schnabel And Tyler Mahoney's Relationship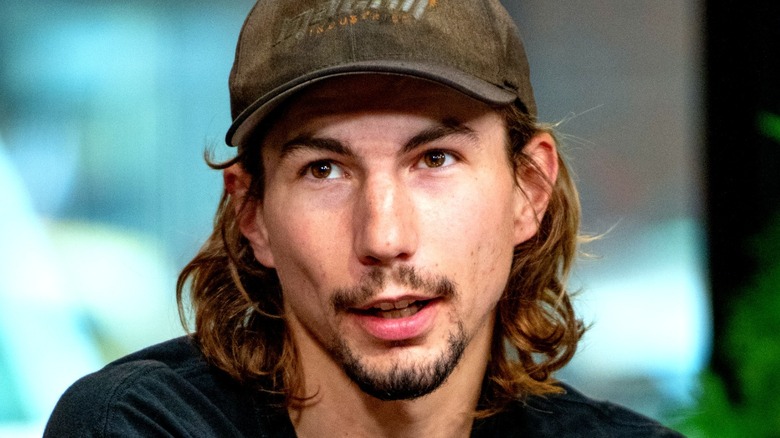 Discovery
The breakout star of Discovery's "Gold Rush" has been Parker Schnabel, the young gold miner who got his start on his grandfather's operation as a child and first appeared on the show when he was only 16. Despite, or perhaps because of, his brash personality, Parker quickly became a central figure after he took control of his grandfather's mining company, which eventually led to his spinoff show, "Gold Rush: Parker's Trail."
That spinoff was initially just a five-episode miniseries that followed Parker and his crew as they attempted to follow the famous Klondike Trail, searching for any gold that prospectors missed during the actual gold rush of 1898. The show was such a success that the Discovery channel commissioned a second season, in which Parker searched for gold while traveling across Guyana and then a third that took them through Papua New Guinea. In the fourth season of "Gold Rush: Parker's Trail" Parker traveled to Australia to hunt for gold with a new companion – Tyler Mahoney.
Over the nine episodes of Season 4 of "Gold Rush: Parker's Trail," Tyler Mahoney, the young gold miner, model, and star of Discovery's "Aussie Gold Hunters," showed Parker where to look for the valuable metal on everyone's mind in her native Australia. Considering the pair of similar ages and compatible interests, plenty of fans began to speculate about whether the two might have become an item. Here is the truth about Parker Schnabel and Tyler Mahoney's relationship.
Parker Schnabel and Tyler Mahoney are apparently not together, at least for now
Fan speculation about the nature of Parker and Tyler's relationship was bound to happen when they teamed up to film Season 4 of "Gold Rush: Parker's Trail." After all, Parker had been conspicuously single ever since he split up with his previous Australian girlfriend, Ashley Youle.
So when Parker and Tyler set out across Australia, fans and most likely the Discovery camera crew that accompanied them were hoping the pair might develop some feelings for one another. While the two found some adventures in the Australian desert while they were looking for gold, as noted on Tyler's Instagram, it appears that they did not find romance. It certainly never occurred on camera during the show's filming, and there have been no indications from either party, through official channels or social media, that they have been seeing one another. However, Parker has been notoriously camera-shy regarding his relationships, to the point where the crew that was filming him when he was with Ashley Youle had an ongoing bet as to who could catch the couple kissing on camera firsts, according to a clip posted by Discovery.
However, as fans on Reddit have observed, Parker ended up buying a claim in Australia at the end of "Gold Rush: Parker's Trail," giving him an international mining operation and another reason to return to the country. With his new investment, Parker may have more opportunities to interact with Tyler in the future, so fans will just have to wait until Season 12 of "Gold Rush" to find out more.