The iCarly Revival Finally Has A Premiere Date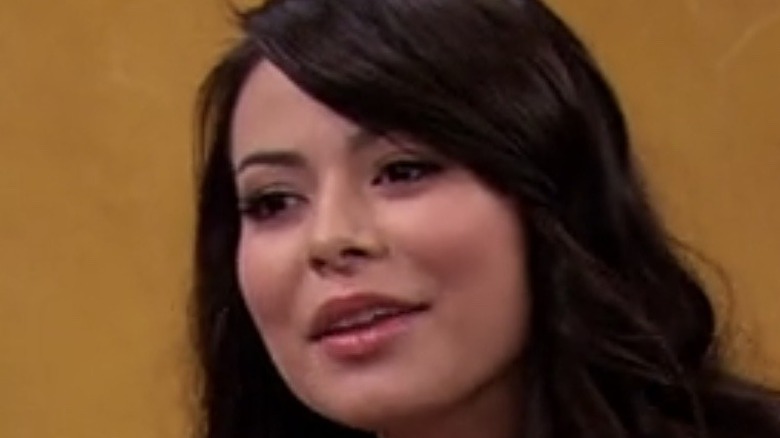 Nickelodeon
Fans have known for some time that a revival of Nickelodeon's most highly-rated sitcom, "iCarly," was coming to Paramount+ some time soon. The project was first revealed in December 2020, when TVline reported that the series would be back, featuring some of the regulars from the 2007-2012 show. Miranda Cosgrove, Nathan Kress, and Jerry Trainor were all slated to return; in fact, Cosgrove posted an image on Instagram of the three together on what appears to be the set of the new show in late January.
In March, the streaming service announced on Twitter that filming had begun on the 13-episode first season, which catches up with some of the TV series' favorite characters. They're now in their mid-20s, and we'll find out how they're navigating life in Seattle years after Carly Shay (Cosgrove) made it big online with her teen-friendly web show. Today, there's additional news from the production, letting fans know when Carly, her goofy yet artistic big brother Spencer (Trainor), and best guy friend Freddie Benson (Kress) will be watchable again.
The iCarly revival will release on June 17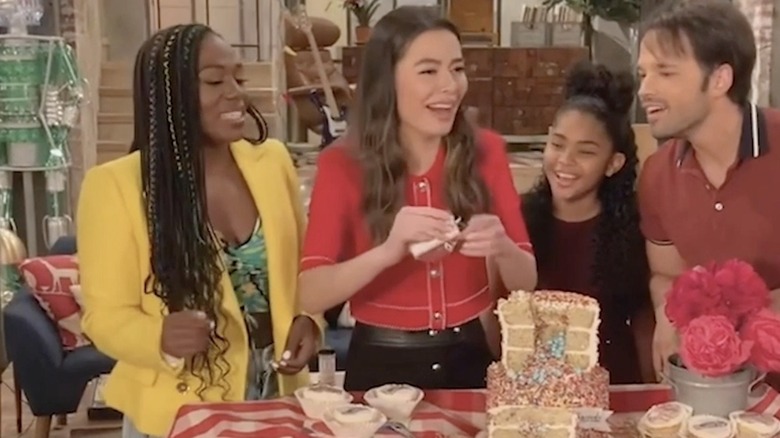 Paramount+
The Wrap reported on May 6 that ViacomCBS announced the time frame for the show's debut. However, Paramount+ today revealed the actual date through a video (via Variety) which shows Cosgrove celebrating her 28th birthday. When she cuts the cake, there's a note inside that reads, "'iCarly' premieres June 17th on Paramount+."
Sharing the moment on set with Cosgrove are her fellow co-stars, which include new cast members Laci Mosley as Carly's roommate and best friend Harper, and Jaidyn Triplett, who plays Freddie's stepdaughter Millicent. Jeannette McCurdy, who played the other member of the original "iCarly" threesome, Sam Puckett, has retired from acting and called her early roles "embarrassing" in a podcast that she hosts (via Entertainment Weekly). There's no word on whether some other recurring members of the cast, including Noah Munck as Gibby, might return, although Mary Scheer (as Freddie's mom) is also back.
In an interview with EW, Cosgrove said that almost ten years removed from the original show, Spencer has become wealthy, Carly lives in a different apartment in the same building, and Freddie has gone through several divorces and returned to live with his mom). "She hasn't done 'iCarly' in a long time, and she decides to start it up again in the pilot," Cosgrove told the publication. "So we're exploring what her new show is. And even though it's 'iCarly,' it's not the same as it was before."
We're expecting plenty of Easter eggs. The set is modeled after the old one, so it could feature some of Spencer's old art, the loft where Carly and friends filmed their show, and more. Spaghetti tacos, anyone?