The New Trailer For Halloween Kills Has Fans Seriously Hyped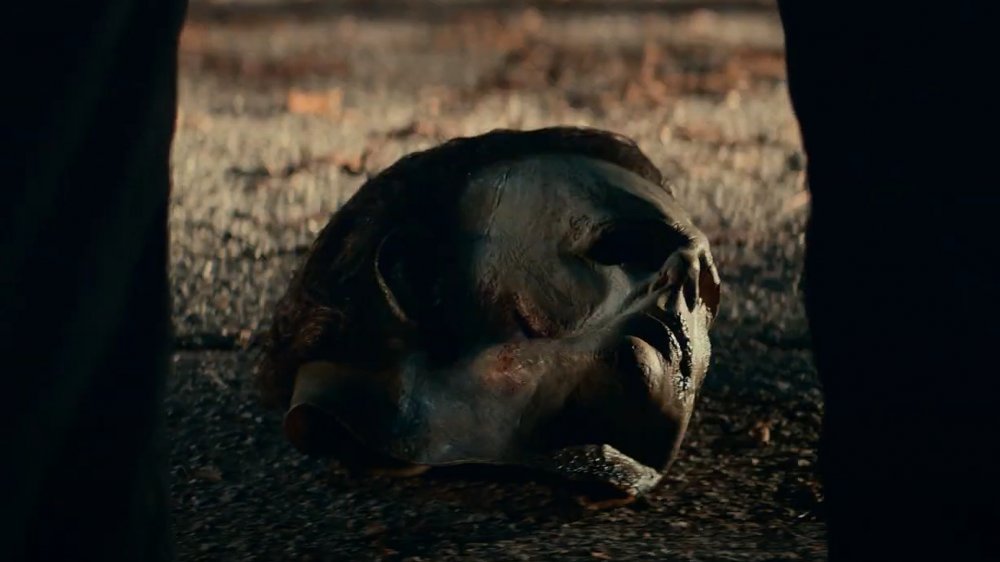 Universal Pictures
40 years after John Carpenter's classic horror film Halloween was released to theaters and changed the face of slasher movies forever, David Gordon Greene brought Michael Myers and Laurie Strode (Jamie Lee Curtis) back for 2018's Halloween. Gone (for the time being) was any continuity related to the original film's many sequels — Laurie and Michael were no longer siblings, there was no longer a cult dedicated to Michael Myers, and there was nary a Rob-Zombie-style talking Michael in sight.
The 2018 Halloween was a massive success, bringing in $255 million from a $10 million budget and priming the franchise to continue, with two more films planned: Halloween Kills and Halloween Ends.
Halloween Kills was originally slated for release around Halloween 2020, but has since been delayed a full year, leaving fans desperate for more Michael Myers. Thankfully, we've been trick-or-treated to a fresh new teaser, and fans are already obsessed with everything that happens in it.
Some familiar faces from Halloween past have fans excited
"Next Halloween, when the sun sets and someone is alone, he kills," says Strode in a voiceover for the new Halloween Kills teaser. Not only are Laurie, her daughter, and her granddaughter back, not only did Michael survive their attempt to burn him alive, but some very familiar names and faces are returning — and that's the thing that's got fans excited the most in this trailer.
The first face you might recognize is that of Nancy Stephens, appearing for the fourth time as Nurse Marion Chambers. It was Chambers who Michael Myers attacked during his hospital escape early in the original Halloween, kicking off Dr. Loomis' (Donald Pleasence) pursuit of the killer.
While Chambers does appear in Halloween II and Halloween: H20, we can be sure so far that the continuity of those sequels will continue not to matter, since Chambers was killed off by Michael in H20.
Chambers isn't the only character from the past returning. The two children who Laurie rescues from Michael in the original Halloween, Lindsey Wallace (Kyle Richards) and Tommy Doyle (Brian Andrews), are back as well. Richards, who has been a regular on The Real Housewives of Beverly Hills on Bravo for ten seasons, is set to reprise her role. Tommy Doyle, however, is getting recast... again. When we last saw the character in 1995's Halloween: The Curse of Michael Myers, he was played by Paul Rudd. This time, however, Doyle will be played by famous former Brat Pack star Anthony Michael Hall.
There's plenty of lightning-quick violence to enjoy in the trailer, but it's all that lore that's got us stoked. Halloween Kills opens on October 15, 2021.