Get Your First Look At Kevin Smith's Masters Of The Universe: Revelation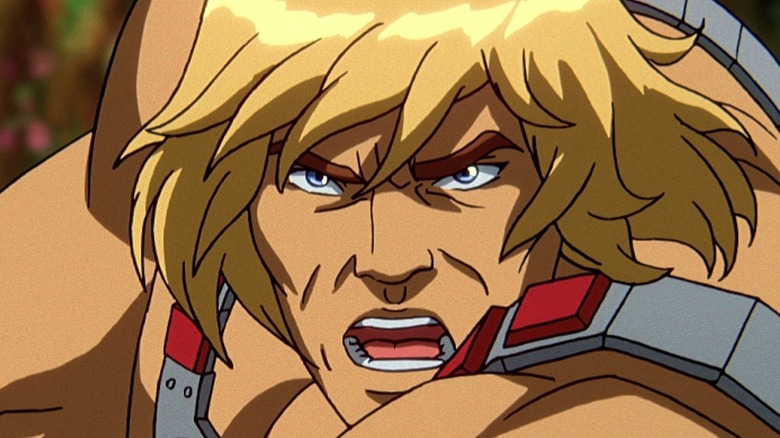 Netflix
"He-Man and the Masters of the Universe" is one of those intellectual properties which is equal parts mocked and revered. For people of a certain age, there's an unironic adoration of the original 1983 animated series and all the many corresponding toys. Even when jokes are made about obnoxious characters (looking at you, Orko), inconsistent animation, and, yes, the fact that the primary goal of the series was to sell more toys, there's still always a lot of love for a show that made kids feel like, with the power of Grayskull, they, too, could have the power.
It's no surprise that Kevin Smith, whose sophomore film "Mallrats" paid loving homage to all things comics and cartoons long before the MCU existed, is the guy who's bringing the latest, more-adult iteration "Masters of the Universe: Revelation" to life. It's been nearly two years since Smith was first announced as the showrunner for He-Man's latest mature adventures back in August 2019, and understandably, people are chomping at the bit to find out just what the new He-Man is going to be like.
Thankfully, Entertainment Weekly just dropped exclusive images and tons of brand new info from Smith himself all about "Masters of the Universe: Revelation." Let's dig into everything we know now.
The enormous cast is excited to dive in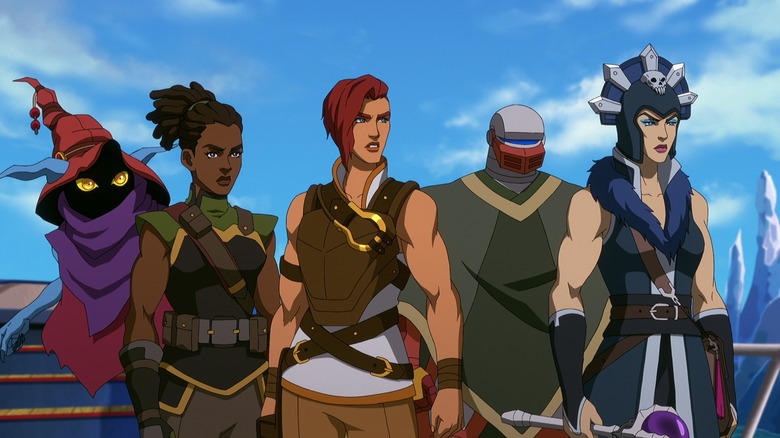 Netflix
Quick catch up in case you were unaware — the cast of "Masters of the Universe: Revelation" is absolutely bonkers. Prince Adam/He-Man is being played by "Supergirl" actor Chris Wood, and playing opposite him as Skeletor is the legendary Jedi Master himself, Mark Hamill. The remainder of the cast includes Alicia Silverstone, Sarah Michelle Gellar, Lena Headey, former animated Batmen Kevin Conroy and Diedrich Bader, former Black Flag and Rollins Band singer Henry Rollins, and, as you might expect, queen of animation Cree Summer. Even the original Skeletor, Alan Oppenheimer, is back as Moss Man.
Of all those actors, it's notable that Hamill, who has been the voice of the Joker for decades, returns to the world of animation specifically at Kevin Smith's request. "[Hamill] had talked about wanting to step out of animation, but he was like, 'When you came at me with Skeletor, how could I say no?'" Smith told Entertainment Weekly. And that excitement seemed to be the response across the board. "There was such fervency and love for the property," Smith added.
But that's just the cast. The real juice is in the story — and it sounds like that story is going to take us places the Masters of the Universe have never been.
Treating He-Man like Shakespeare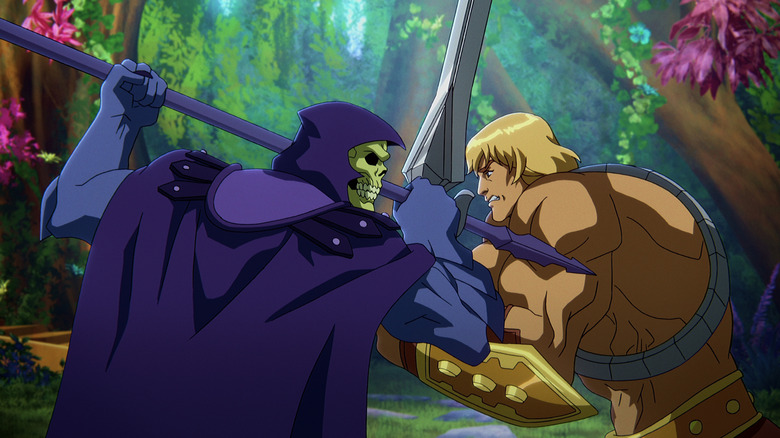 Netflix
The biggest and most important thing to know about "Revelation" is that it is a continuation of the original story — one that is able to go places the original children's series simply could not. "We get to see them engage not just in clashing swords, but in far deeper conversations than we've ever seen them before," Kevin Smith explained to Entertainment Weekly. "It's not just simply like these two dudes have been trying to beat each other up for decades. We get to tell stories of abuse. We get to kind of tell stories of isolation, grief. We use these characters as long as they've been around — and most people consider them toys or action figures — to tell insanely human stories set in a very inhuman world."
The new tactic for the new He-Man will likely not come as a surprise for anyone who watched the five-season run of Netflix's take on "She-Ra," which just recently came to a end. What may surprise you is the intense reverence — even at the highest levels — of Netflix for these characters. Smith recalled a conversation with Netflix director of original series Ted Biaselli, saying that the feeling was, "this is a rich tapestry, a world full of characters." He recalled that Biaselli's marching orders were, "Don't talk down to it, don't make fun of it, don't wink — just treat it like Shakespeare."
A potential story parallel with Supergirl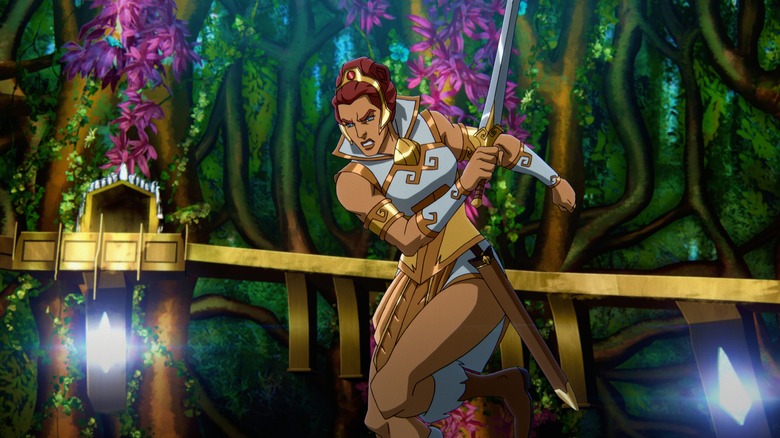 Netflix
"Masters of Universe: Revelation" will be set across two acts, released separately, and with good reason. "Part 1 felt like a really great act break," said executive producer Rob David, per Entertainment Weekly. "You get to it and you're like, 'Oh man! This is just dramatic. The game has changed.'"
Obviously we don't know what the big changes will be, but we've been given hints. "Characters could die," David acknowledged. "Not saying they will, but they could." Death seems very possible since he also described a "cataclysmic event that would shake it up."
There's one other specific thing the production team focuses on here — Prince Adam is kind of a liar by omission. Some people know he is He-Man, but not everybody. David describes this new iteration as the tale of "a hero who has to live under deception in order to protect those he loves, but it's about how that deception rots at the core."
Who exactly doesn't know? And what might be consequences of them finding out? It's worth noting that Kevin Smith has done directorial work on The CW's "Supergirl" (which new He-Man Chris Wood also starred in) and that series delves into the consequences of Kara (Melissa Benoist) keeping her Supergirl identity from her friend Lena Luthor (Katie McGrath). Perhaps this new incarnation of He-Man will experience something similar.
Classic He-Man artwork meets the style of modern Castlevania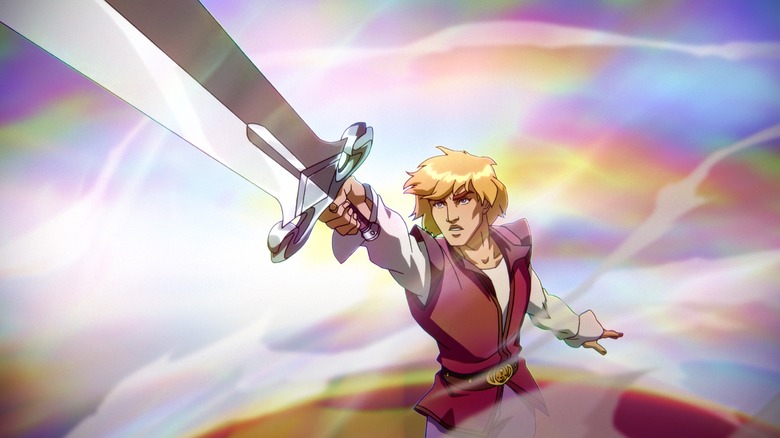 Netflix
We've talked about the characters, the reverence, and the plot, but we can't leave this latest He-Man update without talking about the art design. While there are certainly parallels to be drawn between Noelle Stevenson's modern take on She-Ra and Kevin Smith's He-Man from a narrative and emotional standpoint, the big difference between them is clear — this new He-Man is very much aesthetically designed to appeal to fans of the original animated series.
Whereas "She-Ra" opted to explore an animation style that's more in keeping with the more modern, Cartoon Network-style, "Adventure Time" vibe, "Revelation" feels much more like the original "Masters of the Universe." It also appears similar to Netflix's latest take on "Castlevania," and with good reasons — both "Castlevania" and "Revelation" are created by Powerhouse Animation.
Yes, everyone looks a little bit beefier and more adult (looking at you once again, Orko), but it's clear that "Revelation" is very much a He-Man story in the classic, visual sense. We wouldn't be surprised to see some new toys based on these character designs, that's for sure.
"Masters of the Universe" Revelation is set to stream on Netflix sometime in 2021.