How Sarah Paulson Was Able To Portray Blindness On AHS: Coven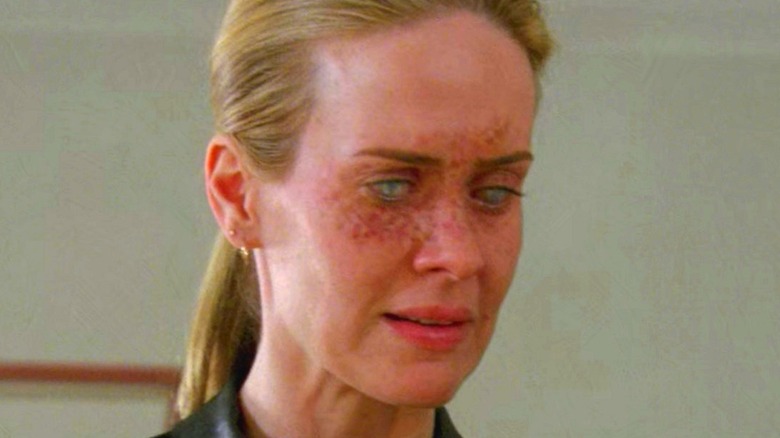 FX
Sarah Paulson is one of the "American Horror Story" actors who season after season gets fully immersed in her new character. She's appeared in every season of the show, except for "1984." Only fellow alumni Lily Rabe has her beat in her total number of appearances. Paulson's emotionally riveting performances have garnered her acclaim from critics, while her roles in "Freak Show," "Asylum," "Hotel," "Cult," and "Coven" have earned her Emmy nominations year after year. 
Her portrayal in the latter as Supreme witch Cordelia Goode is also a fan favorite. Cordelia is repeatedly chastised by her mother and betrayed by her husband, but her will to lead the young women of her coven is unshakeable. Cordelia ultimately succeeds and the coven thrives, but she suffers for the greater good. The moment when her powers are fully realized doesn't happen until she is blinded in a horrific acid attack, so the woman knows a thing or two about sacrifice. As it turns out, the actress had to do more than just pretend when it came to portraying blindness for "American Horror Story."
Sarah Paulson really couldn't see for some of the episodes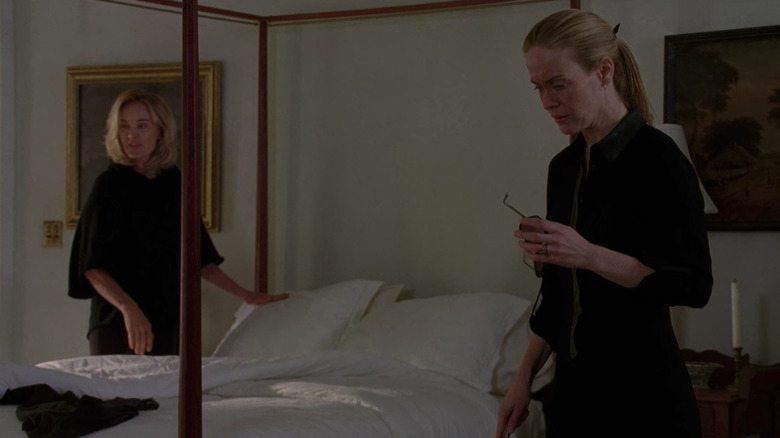 FX
Sarah Paulson told Gold Derby that "in typical Ryan Murphy fashion," she spent hours in the make-up chair to create Cordelia's look as a blinded, acid-attack victim. The prosthetics were the first thing to shift Paulson's approach. "[They] prohibited me from making real eye contact with my fellow actors," Paulson told The Wrap. "I couldn't see into anyone's eyes and it just made me realize how much I use that in my work, the other actor's face and reactions," she continued. 
If the heavy special effects make-up wasn't enough, the contact lenses Paulson used for the first few episodes as a blinded Cordelia really did take away Sarah Paulson's sight. Paulson told Gold Derby that this was obviously much harder to handle than the prosthetics. At first actual blindness seemed like a good idea to Paulson, who thought it would "make it easier for me to really know what that's like." But after a few episodes, the show opted to switch out the contacts for ones she could see in. Paulson said the experience did help, and that she felt her other senses had heightened during the experience. "I could hear somebody wrinkling or opening a piece of candy over by craft service that was like a soundstage away... it was bizarre," she concluded.
Paulson has been announced as part of the returning cast for the upcoming 10th season of the horror anthology.