The Unique Way The AHS: Asylum Cast Would Unwind After Filming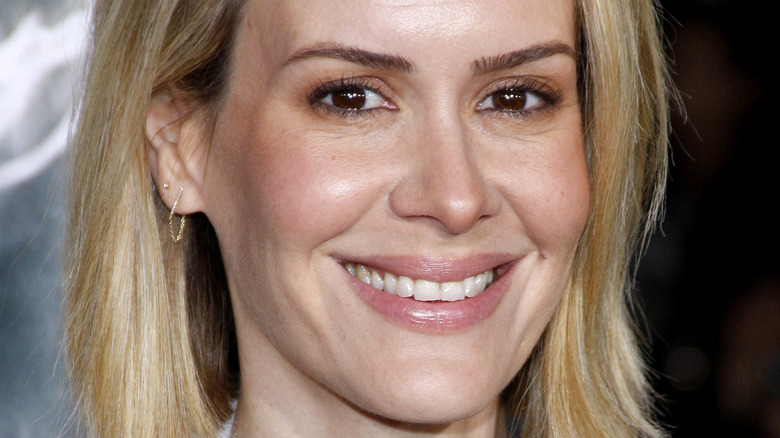 Shutterstock
"American Horror Story: Asylum" is rife with medical experimentation, outdated therapies, and sadistic doctors, and although the cast was not actually locked up in Briarcliff Manor, they still had to act out some pretty disturbing scenes — and it was traumatic from the jump. Sarah Paulson told Collider that her electroshock therapy scene was filmed the first day of shooting, setting the grim tone for the rest of the season's production.
"Nobody was moving the bed," she told Collider about the scene, "I did all of that with my body ... the whole bed was soaking wet with my sweat ... In order to do that to your body, what is happening is that all your muscles are contracting, and I did it again and again and again and again, for close-ups and wide shots. It was hours and hours of doing that. My body knew that I was not having electric shock done, but muscularly and emotionally, my body doesn't know that I'm not experiencing something very, very traumatic."
This wouldn't be Paulson's only scene involving violent medical procedures, as her character Lana Winters was also subjected to aversion-conversion therapy to try to cure her homosexuality. And, of course, Paulson wasn't alone — her castmates had their fair share of gut-wrenching on-set experiences — and the actors needed to find a way to cope with their daily reenactments of torture and brutality. So, they embraced the healing power of music.
The AHS: Asylum cast got musical backstage
One way that the "AHS: Asylum" cast coped with the emotionally taxing filming process was by taking breaks to play music, with Lily Rabe on guitar and Zachary Quinto on banjo. When Rabe was asked about the musical breaks in a panel interview at PaleyFest 2013, she laughed with embarrassment, but admitted that the rumors were true, and said that despite being "terrible, so far" at guitar, the breaks served their therapeutic purpose.
Although the musical breaks were meant to be soothing after the countless traumatic scenes the cast had to shoot, not everyone was a fan. Sarah Paulson told the crowd at PaleyFest 2013 that she "wasn't a musical breaker" because she doesn't play any instruments, but said that she supported Rabe and Quinto's music therapy, even when it started getting a little repetitive. (Apparently, not even Zachary Quinto has the charm to pull off daily banjo renditions of "Rainbow Connection.")
The Name Game gave AHS: Asylum's cast and audience a break
Music therapy even made its way into the script, with the fan-loved rendition of Shirley Ellis' "The Name Game," led by Jessica Lange's character, Sister Jude. 
In an interview with Vulture, Lange said, "I had said to ["AHS" creator Ryan Murphy] early on — because we did that one little flashback of a musical number establishing that she had been a singer in a band in the forties — I said, 'Let me do one more number. Just because everything we do is so grim.'" By Episode 10, Lange recognized that the audience, too, would need a break from the barrage of creepy and cruel scenes that they had witnessed over the course of the season. She told Vulture, "I also think everyone felt ... like, Jesus, we gotta have a little lightness in here." Lange's insight paid off, and in addition to providing some comic relief, "The Name Game" scene is now one of the most memorable moments from "AHS: Asylum."
So next time you're dealing with some emotional distress, try taking a page out of the "AHS: Asylum" casts' book, and get musical! Judy, Judy bo-boo-dy ...