New Trailer For Hitman's Wife's Bodyguard Will Crack You Up
"The Hitman's Bodyguard" was an action-comedy hit in 2017. The movie starred Ryan Reynolds as Michael Bryce, a semi-disgraced bodyguard who is hired to protect incarcerated hitman Darius Kincaid (Samuel L. Jackson) while Kincaid is being transported from prison to the Hague to testify against a mass-murdering dictator (Gary Oldman). Things go wrong, of course, and Bryce and Kincaid have to team up to shoot their way through crooked Interpol agents and Belaroussian paramilitary operatives to get Kincaid to court.
Now, Reynolds and Jackson are back in action for "Hitman's Wife's Bodyguard." The sequel finds Bryce teaming back up with Kincaid and his wife Sonia (Salma Hayek) on a new adventure. A hilarious new trailer for the upcoming film, which hits theaters on June 16, was just released, and it promises to be a good time that offers thrills and chuckles in equal measure.
Here's the official synopsis: "The world's most lethal odd couple –- bodyguard Michael Bryce and hitman Darius Kincaid –- are back on another life-threatening mission. Still unlicensed and under scrutiny, Bryce is forced into action by Darius's even more volatile wife, the infamous international con artist Sonia Kincaid. As Bryce is driven over the edge by his two most dangerous protectees, the trio get in over their heads in a global plot and soon find that they are all that stand between Europe and a vengeful and powerful madman (Antonio Banderas). Joining in the fun and deadly mayhem is Morgan Freeman as ... well, you'll have to see."
'Hitman's Wife's Bodyguard' looks like an entertaining summer movie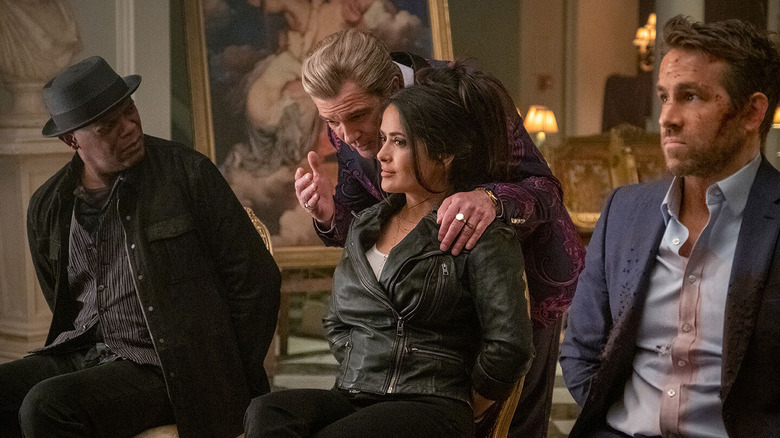 Lionsgate
The trailer is packed with the stuff audiences love: Ryan Reynolds being a charming wise-ass, Salma Hayek using her sex appeal for comic effect, Samuel L. Jackson saying his signature 12-letter word, and Morgan Freeman being Morgan Freeman. The tone of the humor is dryly snarky, and the action consists of car chases and shootouts through picturesque European locations. The trailer's soundtrack comes via "Calabria 2007" by Enur, aka the "Woop Woop" song.
So far, it looks like fans are clearly excited about what's ahead, based on their reactions to the trailer. Comments on YouTube include "This looks hilarious. I love the first movie, so, I'm hyped af for this. This looks even funnier than the first movie," as well as "wow this looks great and epic and the perfect summer movie too I can't wait."
"Hitman's Wife Bodyguard" is directed by Patrick Hughes, who also directed the first movie, and written by Tom O'Connor, Brandon Murphy, and Phillip Murphy. The cast also includes Frank Grillo, Richard E. Grant, and Tom Hopper of "The Umbrella Academy."
"Hitman's Wife's Bodyguard" was initially slated to be released last August, but was postponed due to the pandemic. Its new release date is June 16.