The Cannon That Sold For A Small Fortune On Pawn Stars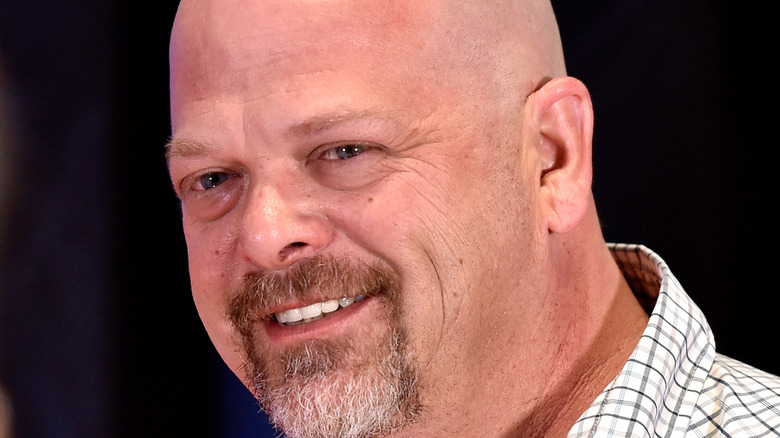 David Becker/acm2016/Getty Images
With Season 18 of Pawn Stars now airing on History, viewers are tuning in weekly to see the new batch of big-ticket items coming through the doors of the Harrisons' Gold & Silver Pawn Shop in Las Vegas — although this item had to be wheeled into the parking lot. It's a 40mm cannon, and seller Dawn wanted $25,000 for it. Rick Harrison met her outside to inspect the piece.
On the episode, the seller explains that the cannon is a family heirloom, originally owned by her father-in-law. After his death, her husband had it re-mounted onto a set of oak wheels. As for the barrel, the seller explains that she is unsure of its origin, although it is possible that her father-in-law, a machinist, built it himself. (Strangely, the sale of this cannon seems not to have been burdened by the shop's rule that they are only allowed to buy weapons manufactured 1898 or earlier, per federal regulations.) Rick seems doubtful, recognizing it as a military barrel. Dawn reports that the cannon still works, having shot it a month earlier, and can hit targets "just under 200 yards," thanks to its rifled barrel. She says she wants $25,000 for it, and the two enter into negotiations.
Rick Harrison risks buying a cannon-sized paperweight
When seller Dawn asks for $25,000 for her father-in-law's cannon, Rick Harrison's immediate response is, "Can we go shoot it?" but Dawn says she doesn't have the time, so he counters with $15,000, citing his insecurity in not having seen it fire. As can be expected, Dawn counters $20,000, and they ultimately settle on $18,000 for the questionable cannon. Rick Harrison says it's worth the risk because he already has a buyer in mind, but would a weapons enthusiast really want a relatively modern, nonfunctioning cannon for such a high price?
After the sale, Rick and Chumlee meet up with expert Ron Cheney to see if the thing fires. Ron confirms that the barrel is military-grade, identifying it as a Bofors-brand weapon. The 40mm Bofors was the most used anti-tank, anti-aircraft weapon during World War II, so it definitely wasn't built by Dawn's father-in-law. Despite not being a one-of-a-kind, handcrafted barrel, Ron Cheney says $18,000 is a fair price — as long as it works — as it's easily worth $25,000.
So, they load the cannon up with powder and a shell, and light it up. The cannon successfully hits the target, and Rick rejoices in his luck — the seller was honest about its functionality, and he should be able to turn a profit.
It seems like Rick got the quick turnaround he had hoped for, as the cannon is unavailable on the Gold & Silver Pawn Shop website. If he keeps making easy deals like this, he won't even need his side business.