Killers Of The Flower Moon's First Trailer Reunites Martin Scorsese And Leonardo DiCaprio In The West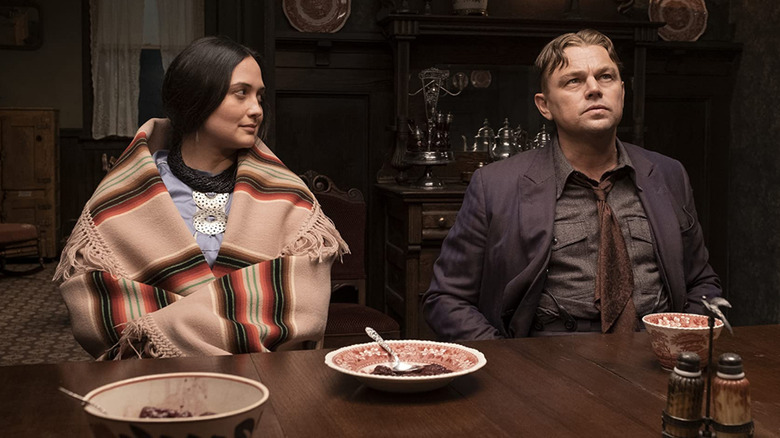 Apple TV+/Paramount Pictures
No matter how the rest of his career shakes out, Martin Scorsese has cemented his place as one of cinema's defining directors, thanks to his work on both perennial classics like "Goodfellas" and "Taxi Driver," as well as quieter experiments like "After Hours" and "Silence." Given his advanced age and the years he typically spends on each feature, Scorsese's filmography is quite possibly nearing its end. Before he retires, however, Scorsese will make at least one more addition to his formidable body of work with "Killers of the Flower Moon."
Production on the film began all the way back in 2017, but despite this lengthy schedule, "Killers of the Flower Moon" was delayed to 2023 after its release was originally expected at some point in 2022. That said, thanks to the amount of time it's remained in production, there's already a good deal of information available about what viewers can expect from the film. Just like all of his projects through the 2010s, "Killers of the Flower Moon" is based on a book, also titled "Killers of the Flower Moon" by journalist David Grann. As in its non-fiction source material, Scorsese's adaptation will chronicle a series of murders within the borders of the Osage Nation and an investigation into them by the brand new FBI.
Now, with its release finally imminent, co-distributors Paramount Pictures and Apple TV+ have released the first footage of "Killers of The Flower Moon" ahead of its 2023 premiere.
Killers of the Flower Moon looks like classic Scorsese
As showcased in its first trailer, "Killers of the Flower Moon" essentially tells two somewhat distinct halves of one complex story. On one hand, a series of murders of Osage tribe members and how this impacts their community seems to be plenty compelling in its own right. Furthermore, just as in the book that serves as the film's inspiration, the involvement of the newly-formed FBI in the case significantly complicates the ensuing investigation into these murders.
Leonardo DiCaprio, notably, is once-again working with Martin Scorsese, building on a decades-long partnership that has landed him lead roles in classics like "The Departed" and "The Wolf of Wall Street." In "Killers of the Flower Moon," DiCaprio plays a man named Ernest Burkhart, caught between two sides of the film's central conflict — Ernest is both married to an Osage woman named Mollie (Lily Gladstone) and the nephew of a businessman named William Hale (fellow Scorsese mainstay Robert De Niro), whose interests don't necessarily align with those of the Osage Nation.
This first trailer also showcases Jesse Plemons as criminal investigator Tom White and Brendan Fraser as lawyer W.S. Hamilton, rounding out its core cast. Those interested in Scorsese's latest can see just how this crime drama plays out when "Killers of the Flower Moon" premieres later this year.