Who's The Cartoon Clock In Disney's Loki Series?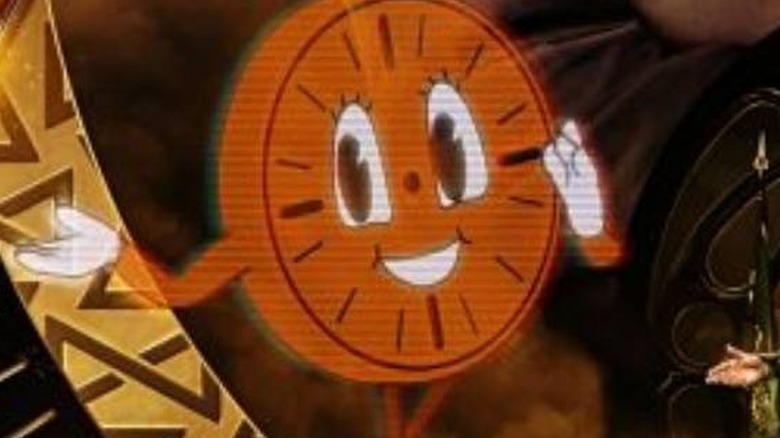 Marvel Studios/Disney+
There are already plenty of reasons to be excited for the next Marvel series coming to Disney+ — "Loki." Not only are fans finally getting their favorite villain-turned-antihero Loki (Tom Hiddleston) front and center in his own adventure sans Thor (Chris Hemsworth), but based on the trailer, the show promises to be one of the trippiest, most mind-bending stories set in the Marvel Cinematic Universe to date.
The show picks up right where we left Loki (or at least a version of him from another timeline) in "Avengers: Endgame" where he skedaddled with the Tesseract. He likely thought he was pretty slick, but apparently, he runs into some trouble with the Time Variance Authority (TVA), and he's given the choice to stop an even larger threat than himself from manifesting. He'll get some help along the way in the form of Mobius M. Mobius, played by Owen Wilson, and based on some recently released promotional art (via IGN), there's another character that's bound to excite fans — even though there's nothing we know about them at this point. 
You weren't the only person taken off-guard by the addition of a cartoon clock factoring into "Loki," somehow, but honestly, we're here for it. Apparently, the clock's name is Miss Minutes, and she's already appeared on t-shirts courtesy of Zazzle. We're confident she'll be a delightful addition to the show in whatever capacity she comes in. 
The prevailing theory now is that Miss Minutes is a mascot for the TVA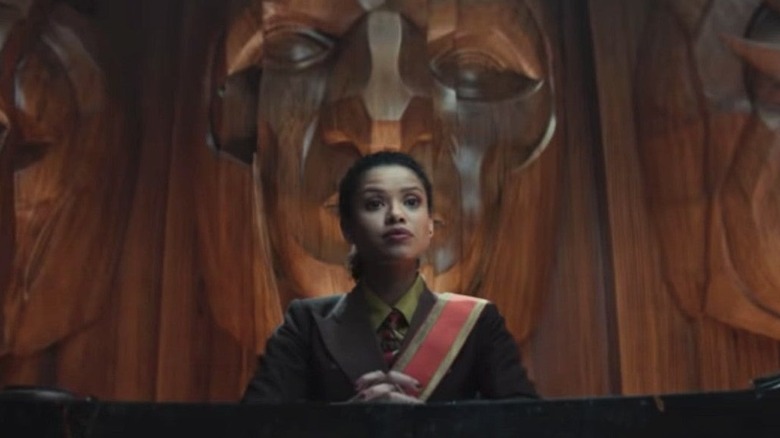 Marvel Studios/Disney+
While we have an image of Miss Minutes, there's currently no information about how exactly a cartoon clock will factor into the plot. Our best guess is that she'll function as a mascot of sorts for the TVA, perhaps even serving as an explainer to Loki about what the organization is responsible for, sort of like what Mr. DNA was during "Jurassic Park." Granted, it would be a little weird to include something that's basically just a mascot on an official poster, so it's always possible Miss Minutes could factor into the plot more than we're thinking. 
Another theory could be that she'll function as an A.I. system that guides Loki through various time periods along his adventure. She could introduce Loki to each new time period while telling him what he's responsible for fixing in each episode. It's also possible that the mascot's just there to be cute, as evidenced by the fact it apparently has the catchphrase, "Woo doggy," and we're overthinking the entire thing. 
What's interesting to note is that Miss Minutes seemingly has no counterpart in the comics. While the Time Variance Authority has factored into the comics from time to time, they've never had a mascot, so this is an entirely new character created for the series. The design of the character calls to mind cartoons from the early 20th century, but it's unclear if that time period will influence the show in any way. 
In any case, "Loki" is one series to keep your eye on, seeing as how it will reportedly factor into "Doctor Strange in the Multiverse of Madness" (via Slash Film). Hopefully, there's a lot more of Miss Minutes to come.