The Horror Musical You Forgot Saw Director Darren Lynn Bousman Worked On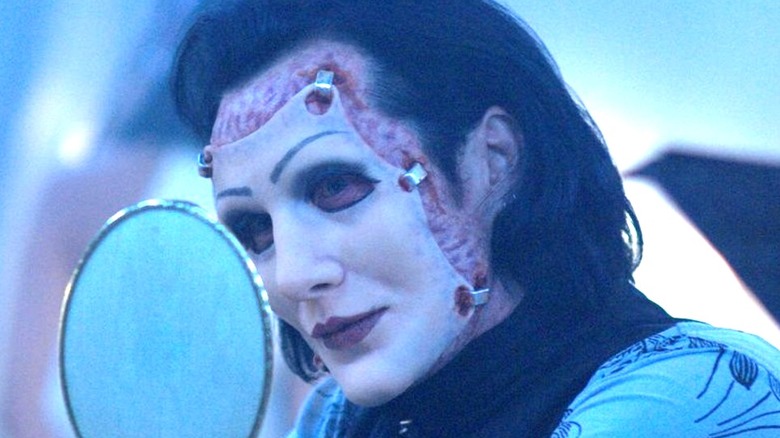 Lionsgate
The horror genre isn't typically associated with singing and dancing, but some filmmakers have incorporated catchy musical numbers into their tales of terror. From Tim Burton's "Sweeney Todd: The Demon Barber of Fleet Street" to indie gems such as "Anna and the Apocalypse," this niche subgenre is littered with gore-filled oddities that have found cult acclaim among fans with experimental taste buds. "Saw" director Darren Lynn Bousman might be known for helming movies about people being tortured by elaborate traps, but he got to show off his musical chops with "Repo! The Genetic Opera" back in 2008.
The story of "Repo! The Genetic Opera" takes place in the year 2056, and let's just say that capitalism and consumerism have run amok. A global epidemic of organ failures has left people desperate for treatment, but, luckily, there's a company that offers transplants – for a price. Unfortunately, missing a payment means organs being "repossessed" by the merciless Repo Men (led by Anthony Head), and they don't exactly follow humane procedures. Cue the music, and watch the blood flow.
Repo! The Genetic Opera is as punk rock as movies get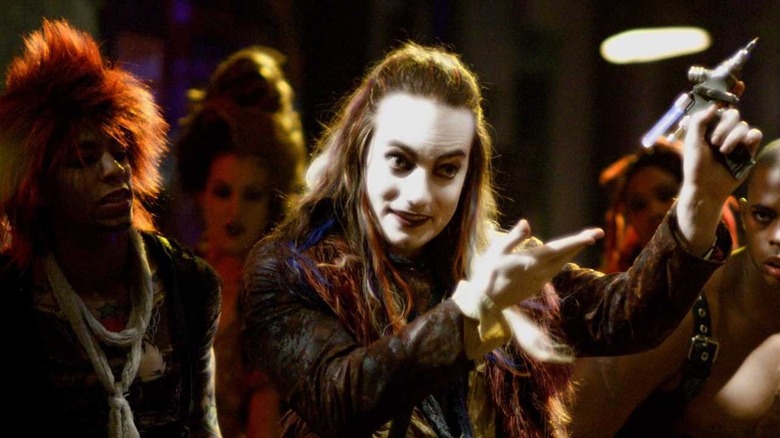 Lionsgate
Studios don't throw money at stranges movies in the vein of "Repo! The Genetic Opera" on a regular basis, so Darren Lynn Bousman had to go out of his way to bring the project to life. After he passed the "Saw" saga onto a new director, he went about making his bizarre passion project the old school way. As Polygon pointed out, Bousman funded 90% of "Repo! The Genetic Opera" by himself and he promoted the film by traveling across the United States and handing out flyers to college students.
The DIY approach paid off from a creative perspective, but "Repo! The Genetic Opera" wasn't an immediate financial success. According to Box Office Mojo, the movie made $188,126 worldwide, which is a far cry from the numbers Bousman experienced with the "Saw" flicks. However, his punk rock passion project went on to find a diehard audience who still celebrate the movie to this day. Some of the best rock 'n' roll music doesn't find an audience right away, and the same goes for cinematic rock operas with ultraviolet tendencies.
Horror fans on Reddit can't get enough of Repo! The Genetic Opera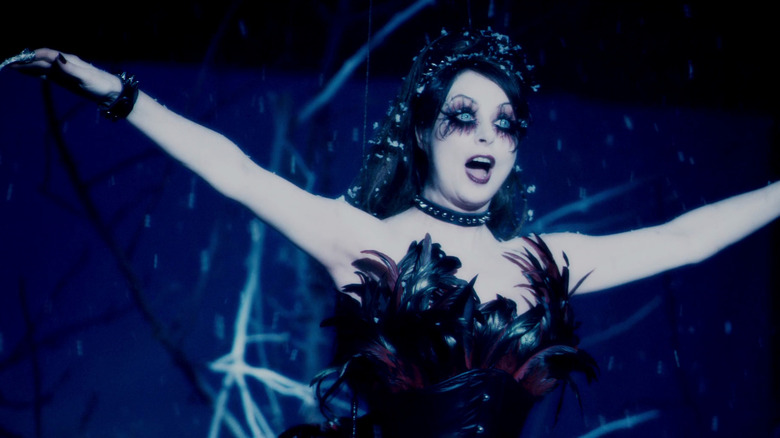 Lionsgate
In the lead up to "Spiral: From the Book of Saw," which sees Bousman return to the franchise that made him a household name, Redditors have been reappraising his cult musical oddity. One user described "Repo! The Genetic Opera" as a "hidden gem," a view that was echoed by other fans in the forum. Another enthusiastic poster called it an "incredible movie" and even took a moment to praise Paris Hilton's performance as Amber Sweet, a young woman who's addicted to drugs and surgery. Between this movie and "House of Wax," Hilton lent her talents to some cult favorites in the mid-2000s, and some viewers haven't forgotten about her underrated contributions to genre fare. 
Other Redditors gave a shout-out to "The Devil's Carnival" movies, the other horror-themed musicals that were helmed by Bousman. While they aren't direct sequels to "Repo! The Genetic Opera," they are spiritually connected to the film and even share some of the same cast members.