Dave Bautista Shares The One Disappointing Thing About Playing Drax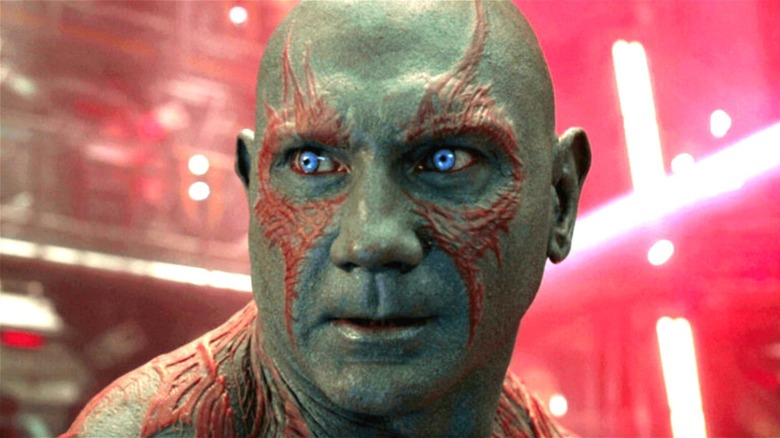 Marvel Studios/Disney
Dave Bautista leveled up from prominent pro wrestler to major movie star when he got covered in body paint to play literal-minded alien tough guy Drax the Destroyer in 2014's "Guardians of the Galaxy," a role he reprised in the "Guardians" sequel, "Avengers: Infinity War," and "Avengers: Endgame," and will again portray in the upcoming third "Guardians" movie.
However, the famously outspoken actor is not afraid to say how he really feels, and it sounds like he's kind of over the whole Marvel thing. He told Cinema Blend that he thinks the upcoming "Guardians" movie will be Drax's last, because he doesn't think Marvel is interested in the Drax and Mantis (Pom Klementieff) movie director James Gunn had previously pitched. He said he'd never do a Drax Disney+ show because he wouldn't want to go through makeup every day. And in a recent interview, he intimated that he's disappointed Marvel didn't do more with Drax's character development, beyond making him comic relief.
"I really wished they would have invested more in Drax, personally," Bautista told Collider while promoting his new Netflix zombie action movie "Army of the Dead." "Because I think Drax has more of a story to tell. I think Drax has a really interesting backstory which they dropped the ball on."
Dave Bautista wishes Drax had more range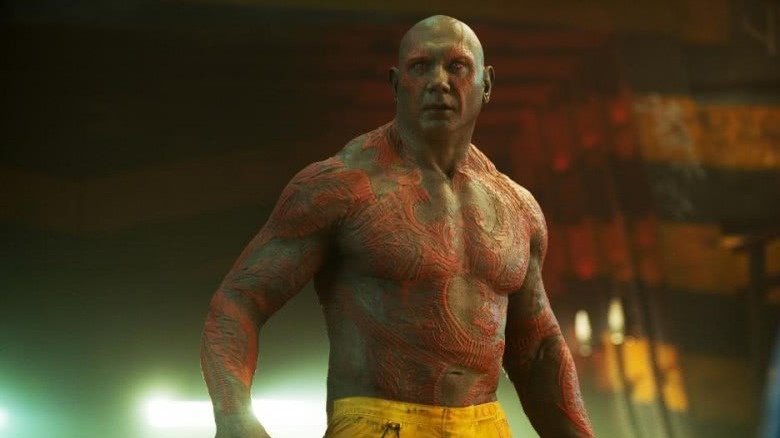 Marvel Studios/Disney
The Drax the Destroyer of the comics has a very different backstory than the Drax of the MCU, as he was a human whose soul was put into a superpowered body in order to get revenge on Thanos for killing him and his wife. His daughter survived Thanos' attack, though, and eventually became the powerful psychic Moondragon. Drax, meanwhile, went through many different incarnations — some smarter, some stronger. Bautista sounds pretty bummed that these other possibilities for Drax will probably never be explored in the MCU. "Selfishly, as a performer, that would have given me the opportunity to show different sides of Drax, emotionally," he told Collider.
He's also maybe a little salty that Drax the Destroyer never really got to destroy. "Drax gets his ass kicked more than any other Marvel character," Bautista said. "The whole 'Destroyer' thing, they just threw that out the window."
He understands why Drax got put into a pretty one-dimensional box. Marvel has tons of irons in the fire at all times, and more about Drax was never a priority, especially after he became a fully comedic character. "People just fell so in love with the comedic side of Drax they tapped into that, then they tapped into it more, then they really dug a hole into it," Bautista said. "But we missed a huge boat on that character and I don't think it'll ever come back around."
That being said, Bautista says the role of Drax "changed the trajectory of my life" and he'll always be grateful for that, and he's looking forward to bringing Drax's journey to a close in "Guardians of the Galaxy Vol. 3."