Why Lucy From The Nevers Looks Familiar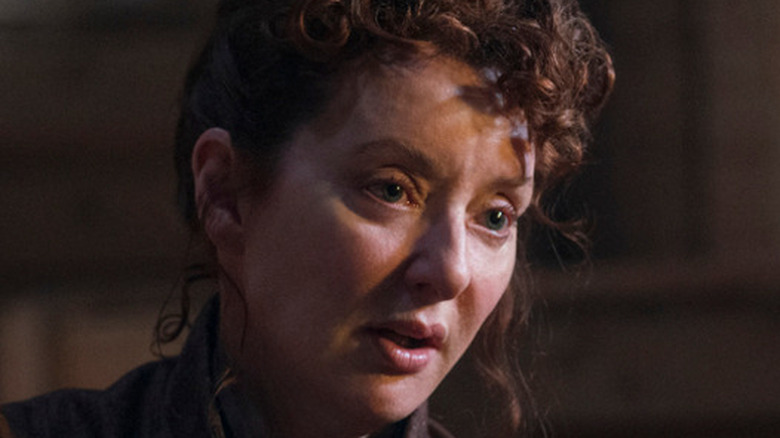 HBO Max
Set in the Victorian era, "The Nevers" tells the tale of a group of people — mostly women — who suddenly develop supernatural abilities, ranging "from wondrous to disturbing" (via HBO.com). Those with these abilities soon find themselves in danger and must come together to face whatever or whoever is the threat against them. The story is led by Amalia True (Laura Donnelly), a young widow, and Penance Adair (Ann Skelly), an inventor. 
The supporting cast contains plenty of familiar faces, such as Pip Torrens, who played Tommy Lascelles in "The Crown" and James Norton who appeared in Greta Gerwig's recent adaptation of "Little Women." One of these familiar faces comes in the character of Lucy Best, a woman with a tragic past. Lucy is played by British actress Elizabeth Berrington, who has been racking up acting credits since the early '90s in a wide range of different roles, in both TV and film; here is a breakdown of the most prominent ones.
Elizabeth Berrington began in film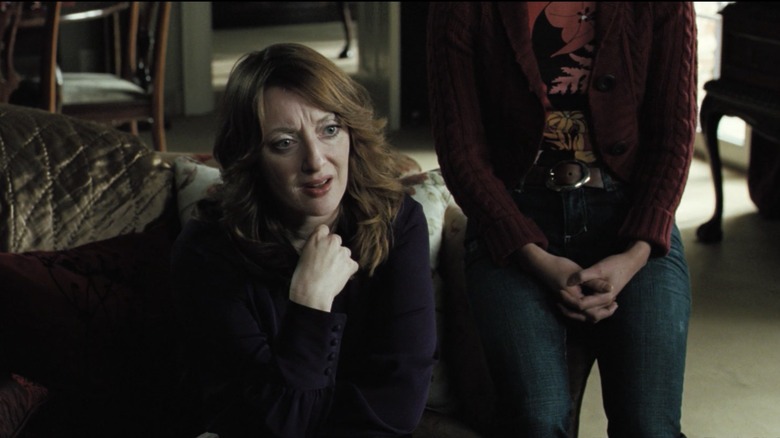 Universal Pictures
The bulk of Berrington's most prominent roles have been in television, but some of her first roles ever were in films. In 1993, she made her acting debut in "Naked," directed by Mike Leigh and starring David Thewlis as a sex-obsessed man roaming around London and venting his frustrations to strangers. Berrington played the small, supporting role of Giselle. 
Throughout her career, Berrington has only acted in a few other feature films, including 2005's "Nanny McPhee." The family film follows a magical governess (Emma Thompson), who uses her powers to take care of seven children whose father Cedric (Colin Firth) needs help caring for his kids. Berrington plays Leticia, who acts as a confidante for Mrs. Quickly (Celia Imrie), a widow whom Cedric is supposed to marry in order to please his late wife's aunt, Adelaide (Angela Lansbury), who has been taking care of them financially. 
Finally, her most notable film role would come in the 2008 dark comedy crime film, "In Bruges." The film follows a hitman Ray (Colin Ferrell), who is filled with guilt after a job gone wrong but must remain in the city where it happened while waiting for orders from his boss, Harry Waters (Ralph Fiennes). Berrington plays the supporting role of Natalie, the wife of Harry. In her major scene, Natalie is seen worrying over the dangerous nature of Harry's job. 
She landed lead TV roles with The Lakes and My Wonderful Life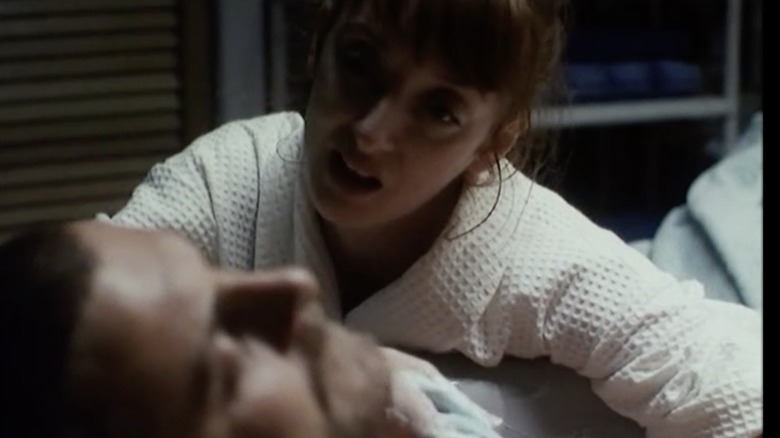 BBC1
In 1997, Berrington began as a series regular on "The Lakes," a BBC1 drama series that aired for two seasons. The series follows Danny Kavanagh (John Simm), a compulsive gambler and womanizer who moves from Liverpool to the Lake District. After meeting and falling for Emma Quinlan (Emma Cunniffe), the two soon move back to Liverpool, only for his gambling problem to get in the way of their relationship. Berrington plays Ruth Alcock, the wife of hotel chef and sex addict Gary (Charles Dale). Throughout the show, Ruth deals with marital issues — namely Gary's frequent affairs — and even seeks out one of her own.
Berrington also had a two episode arc in the Christmas specials of the British version of "The Office" in 2003, which acted as the show's two-part series finale. In the episodes, which are set three years after the events of the rest of the show, Berrington plays Anne, an obnoxious new member of the paper company, who frequently irritates Tim Canterbury (Martin Freeman).
Berrington landed another lead role with "Family Business" in 2004. Another BBC1 series, "Family Business" follows Marky (Jamie Foreman) and Jessica (Berrington), the proprietors of a family-owned business who are excited to be moving into their dream home. However, their move in is put on hold when their child goes missing.
Berrington acts on Shane, Drop Dead Gorgeous and Moving Wallpaper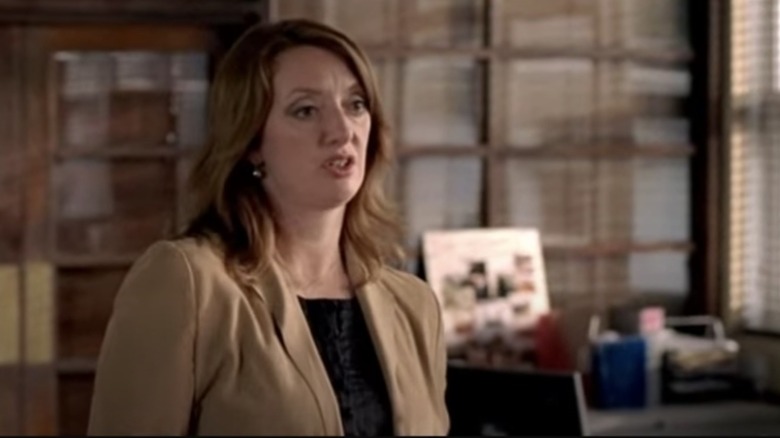 ITV
In 2004, Berrington had a series regular role on a short-lived sitcom called "Shane." The series focused on a middle aged taxi driver, Shane (Frank Skinner), and his wife and kids, while Shane deals with various mid-life crises. Berrington plays Shane's wife, Mertyl, who, when she isn't taking care of the family, enjoys practicing creative writing and drama. 
Berrington soon moved onto another series regular role with "Moving Wallpaper" in 2008. Moving Wallpaper is a satirical meta comedy-drama taking place on the set of a television production; the first season chronicles the making of a soap opera titled "Echo Beach" and the second season focuses on the making of a zombie drama called "Renaissance." Berrington plays Mel Debrou, who works in casting for the production set. In one of her character's most significant plot lines, Mel reveals that she has managed to cast Ewan McGregor for a part in "Echo Beach," just for executive producer Jonathan (Ben Miller) to take credit for the major casting move.
Berrington's additional television roles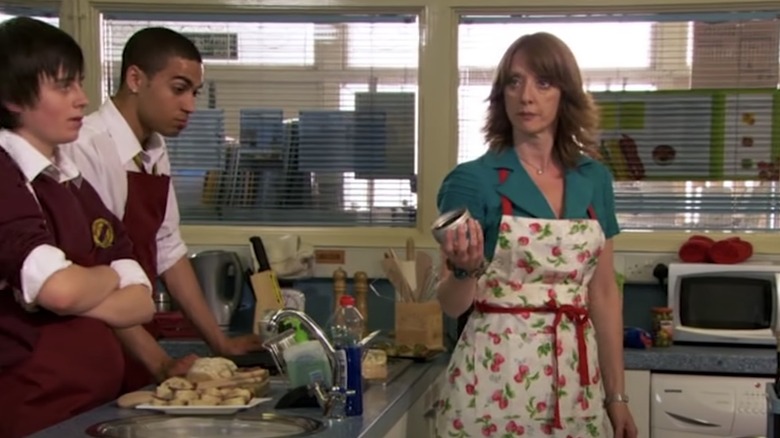 BBC
"Waterloo Road" is a 10-season drama set at the titular elementary school and depicting the personal and professional lives of the school's faculty. It ran from 2006 to 2015 and Berrington joined the main cast in 2009 for its fifth season. She plays Ruby Fry, a teacher of Food Technology, who, while passionate about her job, is often snobby toward other people. Her character faces many issues, including arguments with her colleague Rachel (Eva Pope), a divorce from her husband, and attempts to adopt a child. At the end of her two-season run, Ruby resigns after successfully publishing a book.
Berrington moved onto "Being Eileen" in 2013. The comedy-drama follows the life of its titular character, Eileen Lewis (Sue Johnston), a widow with a large family, including her adult children and their partners, as well as her grandchildren. Berrington plays one of Eileen's adult children, Paula who often fights with her brother for the attention of their mother, causing frequent tension between the two. 
Black Mirror and other recent TV work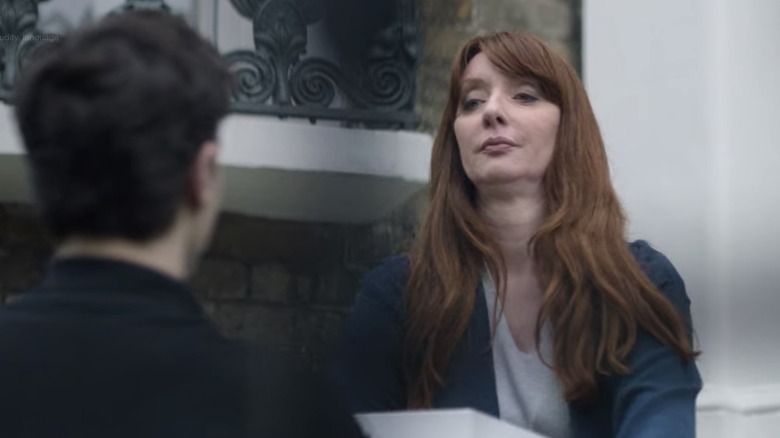 Netflix
Berrington's most recent roles leading up to "The Nevers" have been in various television productions. In 2016, she had a series regular role on the six-episode miniseries, "Camping," which follows a group of friends who go on a camping trip to celebrate a 50th birthday, but tensions between them quickly begin to stir up drama. Berrington plays Kerry, one of the friends in the group, who clings onto them without interjecting any ideas or opinions of her own into the dynamic. She and her husband, Adam (Jonathan Cake), show up with their child, much to the chagrin of the other friends. 
In 2016, Berrington appeared in a Season 3 episode of "Black Mirror" titled "Hated in the Nation." The episode follows two detectives, Karin Parke (Kelly Macdonald) and Blue Coulson (Faye Marsay), as they investigate slew of deaths relating to social media hate. Showing up right away in the episode, Berrington plays Jo Powers, a journalist who, after writing an article that made fun of a disability rights activist, is found dead. Her death is the first that the detectives dive into within the episode. And in 2019, she appeared in "Sanditon," a historical drama series based on the unfinished novel by Jane Austen of the same name. The series follows Charlotte Heywood (Rose Williams), who finds herself in the seaside resort town Sanditon, which she soon discovers is full of secrets and scheming townspeople. Berrington plays Mrs. Griffiths, who is a governess-like figure to another character, Georgiana (Crystal Clarke), who encourages chaste courtships.