Emma Thompson Was Rejected By The Star Wars Franchise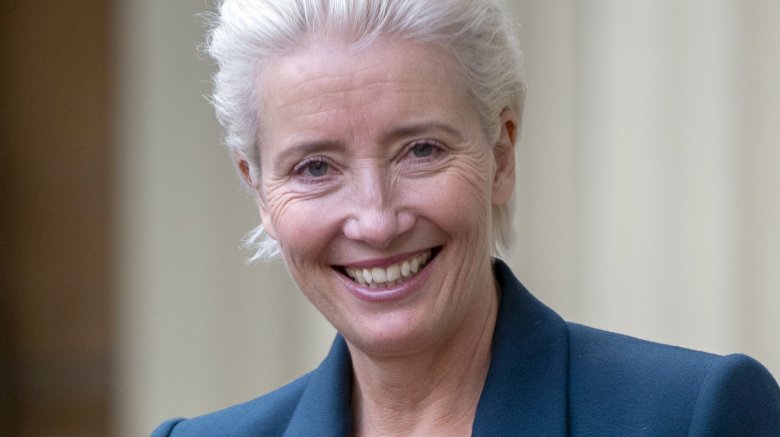 Wpa Pool/Getty Images
Five-time Academy Award-winning actress, an actual Dame Commander of the Order of the British Empire as of 2018, and one of the U.K.'s — nay, the world's — most beloved stars was snubbed by the Star Wars franchise. 
You read that right, friends: Emma Thompson wanted to be in a Star Wars movie, but the powers that be rejected her. 
Thompson revealed the heartbreaking tidbit during a WIRED Autocomplete Interview promoting her newest movie, the comedy-drama Late Night. Sitting next to her co-star Mindy Kaling, Thompson addressed the commonly-searched question of whether or not she's in Star Wars, explaining that she isn't but she wishes she was. 
"I actually really like Star Wars," Thompson began, revealing that her agent got in contact with Lucasfilm about the actress possibly appearing in the latest franchise entry. Unfortunately, the conversations didn't go as planned. "They said no. I'm not in Star Wars because they don't want me to be in Star Wars."
She and Kaling then bounced ideas off one another about what type of character Thompson could play in a Star Wars film. 
"Do you know when the young Jedi [have] lost their will to live and they end up in a forest somewhere? And then someone appears to them to teach them?" Kaling asked Thompson. "You would be great at that." 
Thompson then quipped with a laugh, "Yes, or I could be Jabba the Hutt's handmaiden ... I could squeeze those frogs for him."
It's honestly pretty shocking to learn that Lucasfilm wasn't interested in bringing Thompson aboard a Star Wars film, which we presume was Star Wars: The Last Jedi based on her comments here. That film, written and directed by Rian Johnson, featured plenty of cameos by people from Thompson's own native land. English actors Daniel Craig and Tom Hardy suited up as Stormtroopers for small appearances in the eighth Skywalker saga installment, as did literal British royals Prince William, Duke of Cambridge, and Prince Harry, Duke of Sussex. Did the production not have room for a Stormtrooper Thompson could play? Were there already too many Brits on set without Thompson involved? Or were Thompson's agents set on scoring her a bigger role — like that of Vice Admiral Amilyn Holdo, who was portrayed by Laura Dern — but Lucasfilm had made the casting decision weeks in advance? 
In any case, it's a shame the Star Wars franchise closed its doors to Thompson, who would undoubtedly have shone even in a tiny part in the latest film. Why the minds behind the property turned her down, we truly can't fathom. Disney and Lucasfilm, you've got some 'splainin' to do.