The Best Dark Comedy Movies You Haven't Seen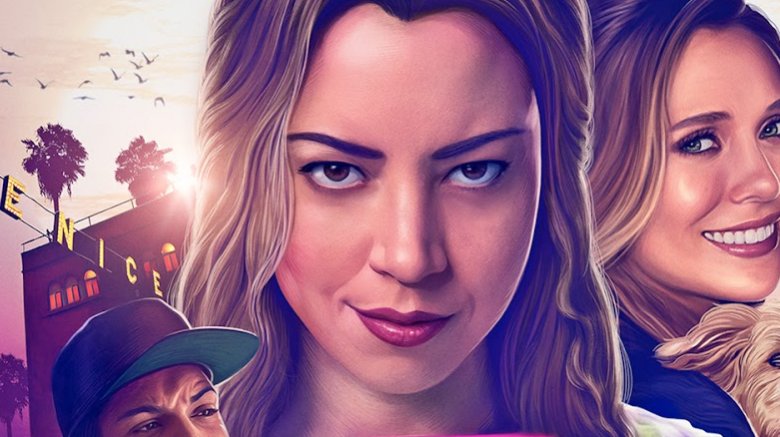 If you're a fan of dark comedies, chances are you can already quote every line from Fargo, and you think about Heathers whenever you get a slushie. While there are lots of dark comedies that are deservedly classics, there are plenty of other incredibly nuanced, hilarious, and joyfully destructive movies that have been overshadowed over the years. If you're tired of the reliable hits, here are some dark comedies you should check out that you probably haven't already seen.
Arsenic and Old Lace
Arsenic and Old Lace is a classic, but many younger movie lovers have missed out on the incredible 1944 dark comedy film. The movie stars Cary Grant as Mortimer Brewster, a pretty normal guy who is shocked to learn that his two elderly aunts (Josephine Hull and Jean Adair) have developed a nasty habit of murdering all of their gentlemen callers.
The movie, which is based on the play of the same name by Joseph Kesselring, is entirely bizarre from start to finish, providing murderous fun and jokes that still hold up today. While the Brewster family is definitely not one you'd want to be a part of, their lethal antics make for a killer comedy.
Barton Fink
The Coen brothers have written and directed many classic dark comedies, and although you've likely seen many of their films, there are still some hidden gems on their resumes. This includes the 1991 film Barton Fink, which features John Turturro as a playwright who discovers the seedy side of Hollywood when he takes a job writing for a movie studio.
As Turturro's Barton Fink quickly learns, the hotel he is staying at is more than just a dump — it's also home to a brutal murderer who seems to be targeting people close to Barton. John Goodman stars in the film as Fink's unique neighbor; Steve Buscemi and Tony Shalhoub also make early career appearances. 
If you need any other reason to see the movie, it earned three Oscar nominations, including Best Supporting Actor for Michael Lerner. It also nabbed Goodman a Golden Globe nomination for Best Supporting Actor.
Hunt for the Wilderpeople
You may have loved Marvel's Thor: Ragnarok when it hit theaters in late 2017, but chances are you aren't familiar with director Taika Waititi's past work. His impressive pre-Marvel resume was mostly based in his native New Zealand, leading many stateside audiences to miss out on his incredible films.
These include 2016's Hunt for the Wilderpeople, a stunning and hilarious story about the power of love and friendship. Like many great comedy films, the movie is based primarily on a misunderstanding. Juvenile delinquent Ricky (Julian Dennison) and his foster father Hec (Sam Neill) decide to escape into the woods together, but their lives become further complicated when the authorities start hunting them, thinking that Hec kidnapped Ricky.
Waititi's fingerprints were all over Thor: Ragnarok, finally allowing Chris Hemsworth to let loose his fun side and easily becoming the best-received Thor film yet. Those who found Ragnarok funny will definitely be drawn to the comedic stylings of Hunt for the Wilderpeople; the fact that there is no superhero in sight allows Waititi to show off his affinity for deeper human moments as well.
In Bruges
Colin Farrell is a hitman with a conscience in Martin McDonagh's 2008 dark comedy action film In Bruges. The movie features Farrell in a Golden Globe-winning performance as Ray, a hitman who retreats with his mentor Ken (Brandon Gleeson) to Bruges, Belgium, after a hit gone wrong. 
The movie, which holds an Oscar nomination for Best Original Screenplay, also features great supporting performances from Ralph Fiennes as Ray's boss Harry and Clemence Poesy as his love interest Chloe. Although there are plenty of funny moments, the movie is really a story about redemption, adding a strong message under the veil of humor.
In the Loop
If you love Veep, you will be head over heels for creator Armando Iannucci's 2009 film In the Loop. The movie, which predates his HBO series, features a comedic take on British politics; you'll recognize several elements from Veep (including star Anna Chlumsky) even while its focus is more international.
Doctor Who's Peter Capaldi leads the film as Malcolm Tucker, the director of communications for the British Prime Minister. Tucker's already tough job becomes more complicated when he has to fix a gaffe made by the Minister for International Development (Tom Hollander) that could send the U.S. and Britain spiraling into war. James Gandolfini also stars in the movie, which holds an Academy Award nomination for Best Adapted Screenplay.
Ingrid Goes West
Aubrey Plaza's Instagram envy goes off the rails in Ingrid Goes West, which features the former Parks and Recreation star as Ingrid, a young woman who, after a series of self-inflicted setbacks, decides to move out west and befriend L.A. socialite Taylor (Elizabeth Olsen). They quickly forge a bond, but the facade soon begins to crack, leading to comically malicious results. 
Ingrid Goes West definitely pushes the boundaries of comedy, featuring dark and intense personal traumas, all mixed in with a surprisingly light tone. While the movie features impressive back-up performances from Olsen, O'Shea Jackson Jr., and Wyatt Russell, it's Plaza who really shines, showing that her acting range goes far beyond Park's April Ludgate. Ingrid Goes West will make you laugh, but with Plaza at the helm, it'll also make you feel.
Kiss Kiss Bang Bang
Before he was Iron Man, Robert Downey Jr. was Harry Lockhart, a criminal whose life takes a dramatic turn after he escapes into an audition during a bungled heist. The audition sends him to Los Angeles, where he is paired up with a P.I. (Val Kilmer) who is supposed to help him train for a role as a detective. However, a night out at a Hollywood party leads Harry into a web of crime that his new mentor seems to be deeply involved in.    
The movie features a charming lead performance from Downey Jr., showing us that, just a few years prior to his superhero turn, he already had the swagger to play Tony Stark. With an epic score from X-Men: Days of Future Past's John Ottman and a smooth directing and writing job from Lethal Weapon's Shane Black, Kiss Kiss Bang Bang is a must-see.
Seven Psychopaths
Another Martin McDonagh film, Seven Psychopaths is the combination of hitmen, murder, and adorable puppies that you never knew you needed. The movie stars Colin Farrell as Marty, a struggling writer who begins to draw inspiration from his unhinged friend Billy (Sam Rockwell), a psychopath who gets his kicks by kidnapping dogs and capitalizing on the rewards offered by their desperate owners. 
However, things quickly start to go off the rails when Billy kidnaps Bonny, a Shih Tzu who just happens to be the only thing that the violent gangster Charlie (Woody Harrelson) loves. Marty, Billy, and Billy's bizarre partner Hans (Christopher Walken) are forced to go on the run, taking the always adorable Bonny with them along the way. If you love great action, memorable one-liners, and cute animals, Seven Psychopaths is definitely the movie for you.
Slither
Another early work of a future Marvel director, Slither is a horror comedy written and directed by Guardians of the Galaxy's James Gunn. The movie features a group of small-town residents dealing with the sudden appearance of an alien parasite that has the ability to take over people's bodies.
Fans of Guardians of the Galaxy will be familiar with the film's leading man, Michael Rooker, who plays Yondu in the MCU. Rooker is incredible as the infected Grant Grant. Elizabeth Banks costars, providing Rooker solid back-up as his clever wife Starla. The movie also features an impressive performance from the always charming Nathan Fillion, making it a thoroughly enjoyable (albeit a little gross) horror ride.
Stranger Than Fiction
What would you do if you found out that your life was being controlled by someone else? That's the question Will Ferrell faces in the 2006 dark comedy Stranger Than Fiction, which features the actor as Harold Crick, a mild-mannered IRS agent who is shocked to learn that he is the subject of the latest book from British novelist Karen Eiffel (Emma Thompson). 
Harold is decidedly uninteresting at the start of the film, leading a boring and repressed life that finally starts to open up after he starts hearing Karen's mysterious voice in his head. However, the matter is complicated when the narrator starts to say that Harold will meet his death, forcing him to figure out what, exactly, is going on. Along the way, Harold also goes on a journey of self-discovery, learning what it means to truly live.
Sunshine Cleaning
Cleaning up crime scenes may not be the most glamorous job, but Amy Adams and Emily Blunt make it seem fun in the 2008 dramedy Sunshine Cleaning. The movie features Adams as Rose, a single mother who decides to open up a crime-scene cleaning business with her erratic sister Norah (Blunt).
The business is harder to understand than the pair at first realizes, and there's a lot of gruesome comedy to be mined out of their efforts to learn what it takes to clean up something as messy as death. With a solid heartfelt story at its center — the two sisters deal with the memory of their mother's suicide while assisting others who have been through similar traumas — and impressive performances from both of its leading ladies, Sunshine Cleaning is a dark comedy that could actually brighten your day.
Tragedy Girls
Social media obsession gets taken to a deadly new level in the comedy thriller Tragedy Girls. The movie stars Deadpool's Brianna Hildebrand as Sadie and X-Men: Apocalypse's Alexandra Shipp as McKayla, two teens who decide to become crime reporters in an effort to boost their social media influence. However, they quickly decide that the best way to stay on top of the news is to create it themselves. 
If you loved Heathers, you'll see a lot of similarities in Tragedy Girls, which features the pair beginning to murder their classmates in a misguided attempt to pull in their precious "likes." This kicks off with the hilarious murder of Josh Hutcherson's big-time social media influencer Toby and continues to build throughout the movie. If every generation gets their own iconic teen slasher film, Tragedy Girls is it for Gen Y.
Welcome to the Dollhouse
Coming of age is serious business in the 1996 dark comedy Welcome to the Dollhouse. The movie features an early performance from The Princess Diaries star Heather Matarazzo, who plays 11-year-old Dawn Wiener, a New Jersey teen dealing with the trials and tribulations of growing up, all with her own unique flair.
Welcome to the Dollhouse won the Grand Prize at the Sundance Film Festival when it debuted, with critics praising the movie's dark sensibilities as well as its honest, unflinching depiction of preteen life. As the awkward Dawn goes through the seventh grade, audiences cringe and pity her, but they also get the chance to laugh alongside her, providing for an almost uncomfortably heartwarming experience.
What We Do In The Shadows
Another Taika Waititi film, What We Do in the Shadows is the vampire film to banish the frustrations of all of those tired of the vampire genre. The movie follows the movements of four vampire roommates, played by Waititi, Jermaine Clement, Jonathan Brugh, and Ben Fransham, as seen through the lens of a documentary crew.
The four vampires in question all live together, and they have the same conflicts that any human roommates would have. Things get even more tense for the roommates when they have to deal with the newly "turned" Nick (Cori Gonzalez-Macuer), who threatens to expose their secrets. Putting a human touch on the film makes the movie a very different take on the vampire genre, and Waititi's always on point sense of humor makes it a coffin full of laughs from start to finish.