Why Bennie From The Upshaws Looks So Familiar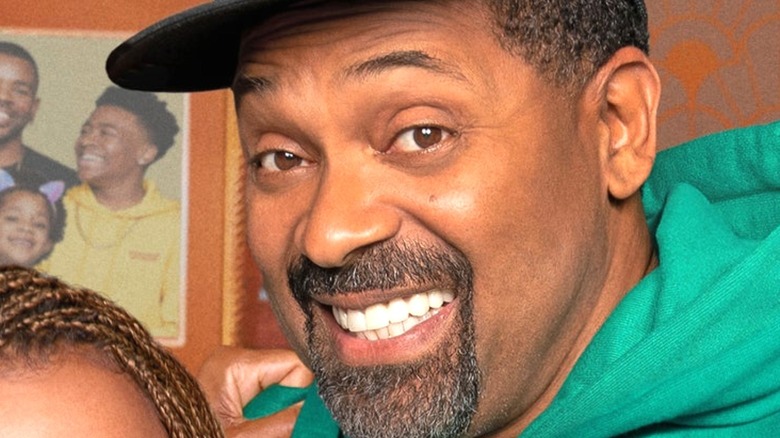 Netflix
It can be said that just like families, no two fathers are alike. From "All in the Family's" Archie Bunker (Carroll O'Connor) up through "Modern Family's" Jay Pritchett (Ed O'Neill), the sitcom family patriarch is one of the most timeless — and elastic — roles in all of television. Though they often fulfill similar functions, each TV dad has his own problems, his own triggers, and his own style when it comes to being a husband, father, or whatnot.
That's certainly true for Bennie Upshaw, the father at the center of the new Netflix sitcom "The Upshaws." Created for Netflix by Wanda Sykes and Regina Hicks, the family at the center of "The Upshaws" includes Bennie, his wife Regina (Kim Fields), their three children, and Regina's sister Lucretia (Sykes), who can't stand Bennie, primarily but not exclusively because of an out-of-wedlock child he fathered who's around the same age as his middle one. They are an imperfect family (who isn't), which was kind of the point, according to Sykes. "It's nice to show a working-class family who loves each other but it's messy. I think it represents how most of us are living right now," she told Essence. 
Stepping in to provide his own spin on the trope of the funny father figure is the veteran scene-stealer Mike Epps. With more than two decades of experience as a comic actor in Hollywood, there's a good chance you've seen Epps somewhere, even if he was getting confused for the wrong guy. 
Mike Epps stepped into Chris Tucker's shoes for Next Friday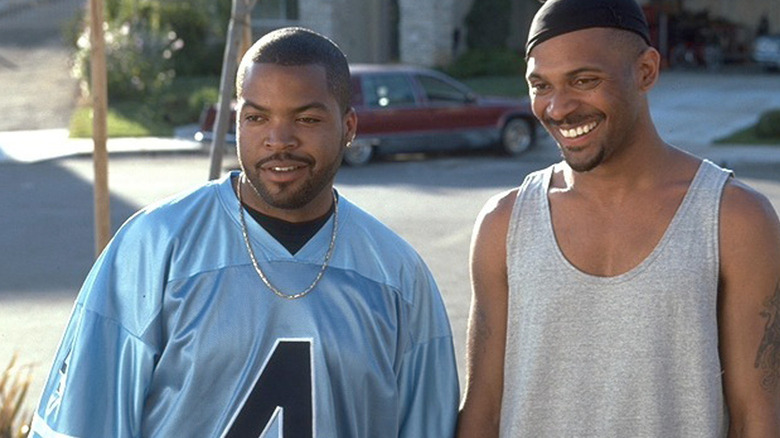 New Line Cinema
Epps made his name as a stand-up comic, appearing on the "Def Comedy Jam" tour and on some of the series' HBO broadcasts. That eventually landed him a small part on "The Sopranos," but his big break as an actor came when he was cast to appear alongside Ice Cube in the 2000 sequel to the 1995 cult classic "Friday."
"Next Friday" put Epps in the role of Craig's (Ice Cube) cousin Day-Day, who lives with his father Elroy (Don Curry) in the suburbs after winning the lottery. But taxes and fees mean they're already living beyond their means, so when Craig inadvertently gets Day-Day fired from his job at a store, the pair have to come up with a plan to get some money by the end of the day.
Epps had a tough job stepping into the shoes of Chris Tucker as Ice Cube's comedic partner, but "Next Friday" was a big hit, making more than double the original's box office haul. Two years after "Next Friday," Epps appeared with Ice Cube in the sequel, "Friday After Next," where Day-Day and Craig have a single day to recoup their rent money after their apartment is burglarized on Christmas Eve. A fourth and final film in the franchise, to be titled "Last Friday," has been in development for a number of years, but the project had stalled even before the pandemic, with Movieweb writing Ice Cube apologized to his late co-star John Witherspoon at his funeral for failing to get another sequel off the ground.
Mike Epps played the wrong Doug in The Hangover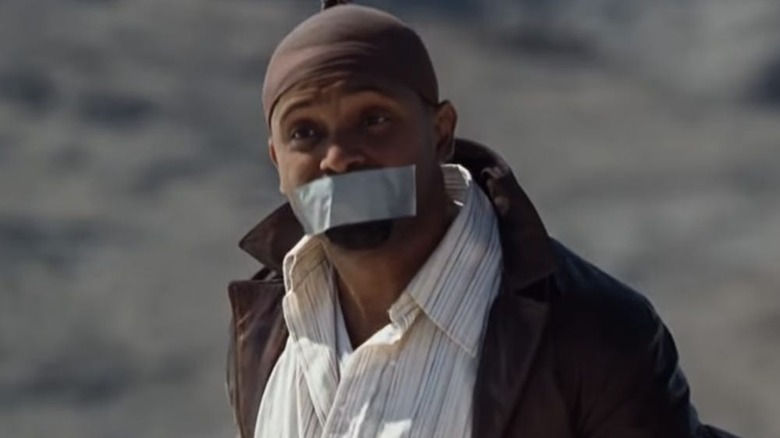 Warner Bros.
The plot of the 2009 comedy hit "The Hangover" is pretty simple: Three guys wake up in Las Vegas with no memory of the night before and set out to find their missing friend Doug so they can get him to his wedding in time. In "The Hangover," Epps plays a guy named Doug.
Well, technically in the credits, Epps plays "Black Doug," an important clue considering the audience has already seen the missing Doug (Justin Bartha), who is white. When the Doug produced by the gangster Mr. Chow (Ken Jeong) near the end of the film in exchange for more than $80,000 in chips looks like Epps rather than Bartha, they realize that a big mistake has been made. Fortunately, Black Doug salvages the moment by inadvertently providing them with the clue as to where the real Doug is.
In a movie filled with powerhouses in fleeting roles –– Jeong, Heather Graham, Rob Riggle, Mike Tyson –– Epps holds his own. He was even invited back for the trilogy's final film, "The Hangover Part III," where he plays the head of security for the mobster Marshall (John Goodman).
Mike Epps fought through a Purge parody in Meet the Blacks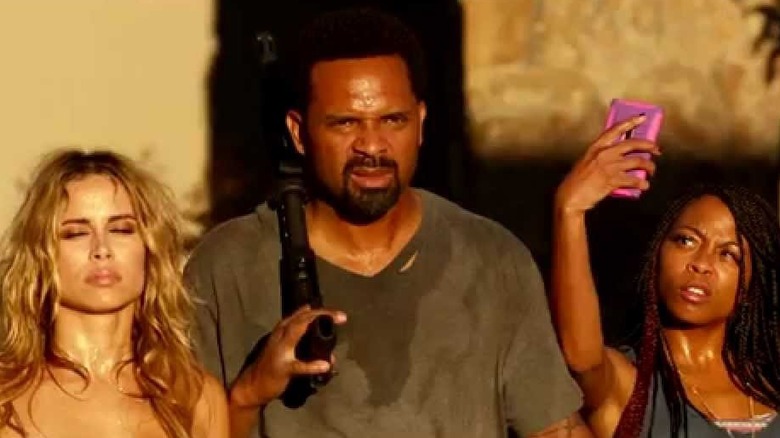 Freestyle Releasing
In 2016, Epps starred as a father moving his family from Chicago to Beverly Hills thanks to money stolen from a drug kingpin (Charlie Murphy) in the parody-horror-comedy "Meet the Blacks."
Unfortunately for the Blacks, they arrive in Beverly Hills just before the nation's annual purge, where all crime is suddenly legal, thus revealing the franchise the film is parodying as well — no, it's not a "Meet Joe Black" parody. That means Epps, his wife Lorena (Zulay Henao), two children, and gangster cousin not only have to fight off the revenge plot of the kingpin and his henchmen, but also the ill intentions of their rich, white neighbors, who suddenly have an excuse to drop the passive part of their passive-aggressive racism as they attempt to keep the new family out of their neighborhood. 
The movie was a critical bomb, but did well enough on a limited budget to get a sequel, "The House Next Door: Meet the Blacks 2" greenlit. The film is set to be released in June of 2021.
Mike Epps was part of a powerhouse cast in Dolemite is My Name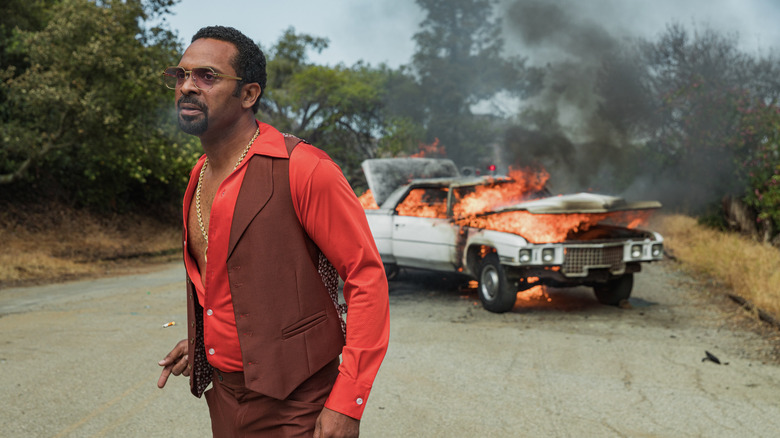 François Duhamel/Netflix
Mike Epps recently appeared in the critically-acclaimed 2019 biographical comedy of hardscrabble entertainment legend Rudy Ray Moore (Eddie Murphy), "Dolemite is My Name."
"Dolemite" is best-known for being Murphy's return to adult comedy, which probably explains how it was able to assemble such an impressive cast of film and TV comedy stars, including Wesley Snipes, Chris Rock, Bob Odenkirk, Keegan-Michael Key, Craig Robinson, and Tituss Burgess. All these names and more showed up to help welcome Murphy back to what he does best. Epps' part in this ensemble was as Jimmy Lynch, an early friend of Rudy's who supports him in his attempts to get his new Dolemite character off the ground.
The year 2019 marked a bit of a transition for Epps, as "Dolemite" wasn't his only role in a prestige picture. He also had a small part in "The Last Black Man in San Francisco," playing a small-time con artist named Bobby, who gives a ride to protagonists Jimmie Fails (Jimmie Fails) and Montgomery Allen (Jonathan Majors) despite the fact that he stole the car he's driving from Jimmie's father.