Demolition Man 2 - What We Know So Far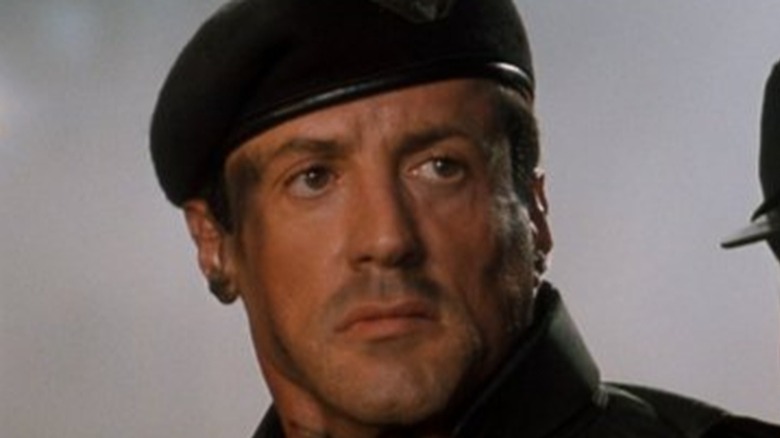 Warner Bros. Pictures
Riding a wave of momentum generated by the success of "Rocky," "First Blood," and "Cobra," among others, Sylvester Stallone was more than prepared to kick off the 1990s in grand fashion. Titles like "Rocky V" and the infamous "Stop! Or My Mom Will Shoot" proved themselves to be career stumbles, but he didn't allow them to keep him down for long. 1993's "Demolition Man" served as Stallone's return to form, working alongside Wesley Snipes, Sandra Bullock, and Nigel Hawthorne to create a science fiction action flick that was more than worth the price of admission.
The film begins in 1996, showcasing an encounter between LAPD Sergeant John "Demolition Man" Spartan (Stallone) and his nemesis, crime lord Simon Phoenix (Snipes). The situation turns sour, resulting in the apparent loss of civilian lives and both of their incarcerations at California's first cryo-penitentiary. The two are put on ice until 2032, where Phoenix escapes police custody and runs rampant over the violence-free future. The cops of San Angeles are helpless to stop Phoenix, leading them to release Spartan as their last desperate hope to reinstate order.
By the time it left the big screen, "Demolition Man" took in over $159 million at the box office on a $57 million budget and impressed viewers and critics alike. To this day it holds fan-favorite status among Stallone die-hards, something that the legendary actor has clearly taken note of. On May 3, 2020, he hopped on his Instagram account for a Q&A and broke the news that "Demolition Man 2" is on the way, sending the internet into speculation mode. Here's what we know about it so far.
How far in the future is Demolition Man 2's premiere?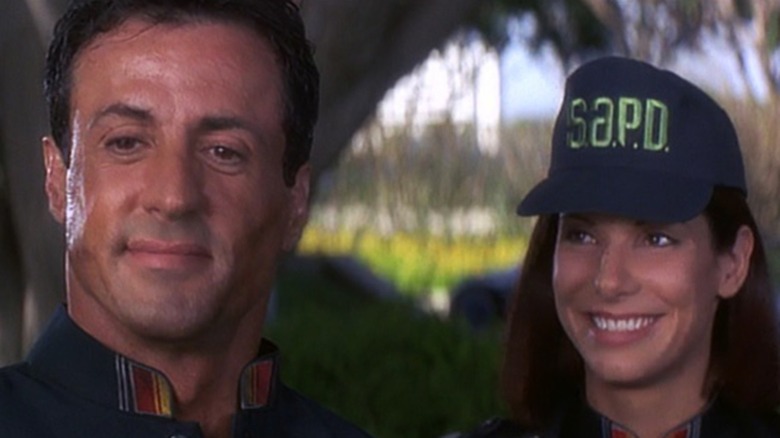 Warner Bros. Pictures
At the time of this writing, "Demolition Man 2" lacks a release date or even a release window for fans to get excited over. Despite the news of its conception arriving over a full year ago, next to nothing about the sequel has come to light, possibly due to creative slumps or scheduling conflicts of some kind. After all, Sylvester Stallone has quite a lot on his plate right now to keep him preoccupied.
Aside from lending his voice talents to King Shark for James Gunn's "The Suicide Squad," Stallone is involved in a handful of other productions at various points in development. He's the star of the superhero drama "Samaritan" that'll hit the big screen on June 4, 2021, and he's primed to appear in "Little America" — a project that's devoid of a proper premiere date too. Not to mention, Stallone has mentioned his plans for a fourth "Expendables" on a few occasions, further filling up his calendar.
With this information in mind, it's unlikely that 2021 or even 2022 will host "Demolition Man 2." 2023 marks the 30th anniversary of the original, so perhaps that's the timeframe Stallone and Warner Bros. are shooting for.
Who will star in Demolition Man 2?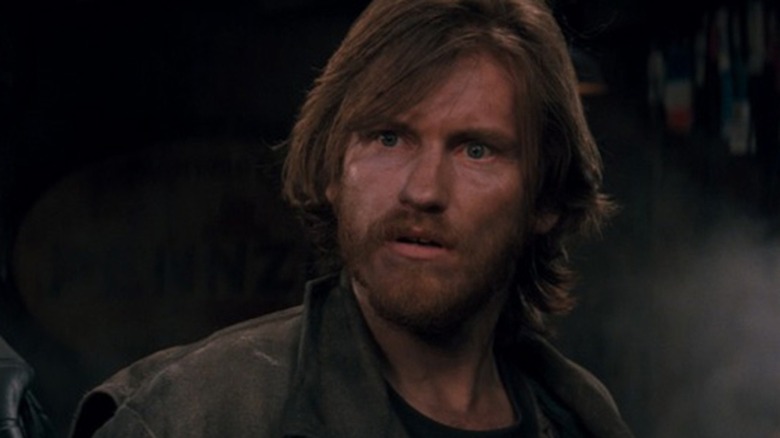 Warner Bros. Pictures
When it comes to the cast of "Demolition Man 2," next to nothing has been announced, but it can't hurt to theorize until some confirmation comes our way. In addition to helping create the film, it's pretty much a given that Sylvester Stallone will reprise his role of John Spartan simultaneously. Alongside him, one would hope that Sandra Bullock is ready to return as Lieutenant Lenina Huxley, but her focus is currently on incoming titles like "Bullet Train" and 2022's "Lost City of D," so who's to say for certain? 
As for other potential returns, the odds of Denis Leary making a comeback as Edgar Friendly — the leader of the underground resistance faction, the Scraps — appear pretty good. His only commitment at this juncture is the potentially canceled Fox series, "The Moodys," leaving him open to give "Demolition Man 2" a go should he feel so inclined and if the story calls for his presence. Though he was killed off at the end of the previous installment, seeing Wesley Snipes as Simon Phoenix yet again through flashbacks or perhaps cloning isn't out of the realm of possibility either.
Of course, this is just the old guard. To add a bit of freshness to "Demolition Man 2," a few new faces could make their introductions as friends or foes of the legacy characters.
What can we expect out of Demolition Man 2's story?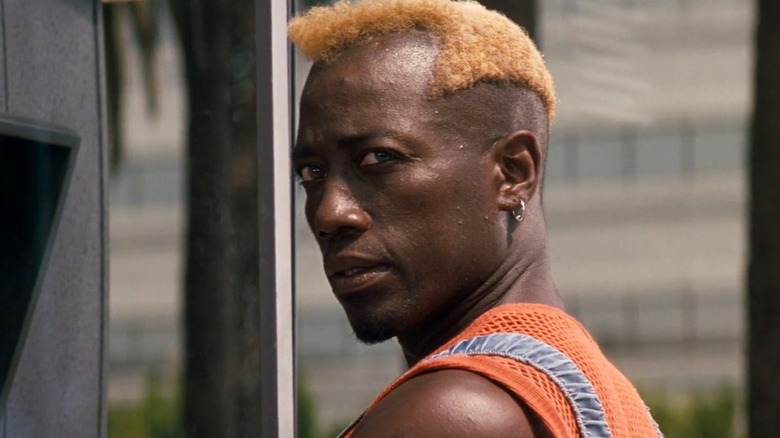 Warner Bros. Pictures
For those who don't recall, the first "Demolition Man" movie ended pretty decisively. Phoenix kills the corrupt leader of San Angeles, Dr. Raymond Cocteau (Hawthorne) before being handily defeated by Spartan. With the criminal mastermind eliminated and the cryo-prison destroyed, along with its founder, the people of San Angeles are mortified at the thought of societal collapse. However, they're offered the chance to work together with the Scraps and rebuild the world in a more fair yet still morally upstanding way.
In continuing this premise, "Demolition Man 2" has the opportunity to explore how the world has evolved beyond the events of 2032. Have the Scraps and the people previously under Cocteau's regime found a happy medium? Or has their divide only solidified further? Most importantly, who now leads San Angeles, and are they someone to trust or someone who's taking advantage of their post? All the while, Spartan and Huxley's budding relationship can be properly fleshed out, and enemies new and familiar can take center stage.
All in all, no matter when it debuts, who's on the cast list, or where the story goes, it's a safe bet that "Demolition Man 2" is one continuation that fans of the original won't want to miss.