What Is The Song In The Vizzy 'Step Up' Commercial?
Sometimes it only takes 15 seconds for a commercial to get a song stuck in your head. Vizzy played their cards right and got one of the hottest summer hits for their latest Vizzy 'Step Up' commercial. Immediately upon hearing this song, it will get you out of your seat and dancing. On top of that, this song will get stuck in your head before the commercial is over. You've probably heard this song before, either at a festival or on the radio, but it's an undeniable hit.
Vizzy used this song to introduce their new lemonade hard seltzer, the only one of its kind with antioxidant vitamin C. It doesn't take long to realize this poppy electronic hit is perfect for this because it's precisely what you want to hear when you're celebrating something new, such as this seltzer.
So what is the song in the Vizzy 'Step Up' commercial?
This Girl is here for the seltzers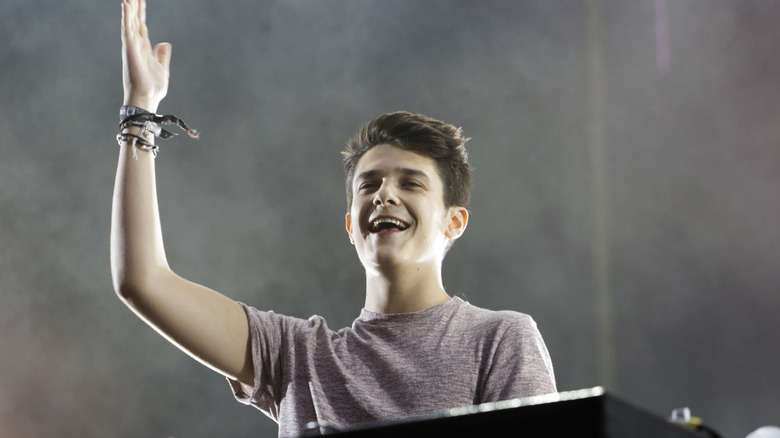 Sylvain Lefevre/Getty Images
Even if you're not an avid festival attendee, you have probably heard this song once or twice before. That's because it's the hit electronic song "This Girl" by Kungs vs. Cookin' on 3 Burners. You may not recognize the name, but you will definitely remember the song. Initially released in 2009 by Cook' on 3 Burners as part of the group's sophomore album "Soul Messin," the song was later remixed by Kungs in 2016 and became a hit across the world.
"This Girl" would hit number one on multiple weekly charts across the world, including Brazil, France, and the United Kingdom (via Lescharts.com and Official Charts). Brazil especially fell in love with this song (via Billboard).
Even if you haven't heard it on a radio or at a festival, you may have seen it in a commercial before. It was first featured in a 2016 commercial for a British department store called Littlewoods. The following year Cricket Wireless used the song in one of their commercials. The song was then used as the theme song for the U.S. version of "Big Star Little Star." (via IMDb). For sports fans, you may have recognized the song from being used as a celebration song for a soccer club, such as Liverpool, Inverness Caledonian Thistle, Oxford United, or King.
If you still haven't heard it anywhere else, you've at least heard it now, and you don't have to worry about pulling out Shazam next time you see this commercial.