The Sons Of Anarchy Scene Nearly 30% Of People Think Went Too Far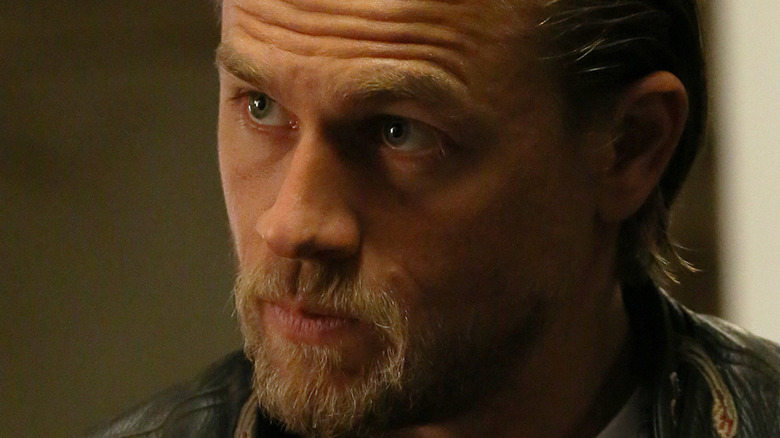 FX
By the end of "Sons of Anarchy," the series had pushed the boundaries of just how violent a modern-day action thriller could get on TV without causing too much controversy. Although the real story revolved around the existential crisis that Jax Teller (Charlie Hunnam) was going through after discovering what his father really wanted for the motorcycle club, "SOA" creator Kurt Sutter filled the series with violence that was gut-wrenching at times, although occasionally the violence was heavily implied rather than explicitly shown on screen, which often proved more effective.
But the FX show definitely didn't refrain from showing gory acts of violence towards the club's enemies, their friends, and their families. Some of them were a little too gratuitous — like Jax torturing an innocent Chinese gang member for hours — or just plain cruel — like Tig Trager (Kim Coates) watching his daughter get burnt to death. And of course, who can forget the savage murder of Tara Knowles (Maggie Siff) in Season 6? And that's without mentioning all the countless shoot-outs, bare-knuckle beatings, and drug deals gone wrong.
But with so many bloody moments that spring to mind, Looper surveyed 536 people from around the country to find out which scene "Sons of Anarchy" fans felt the show took too far.
Fans felt Bobby Munson getting his eye gouged out went too far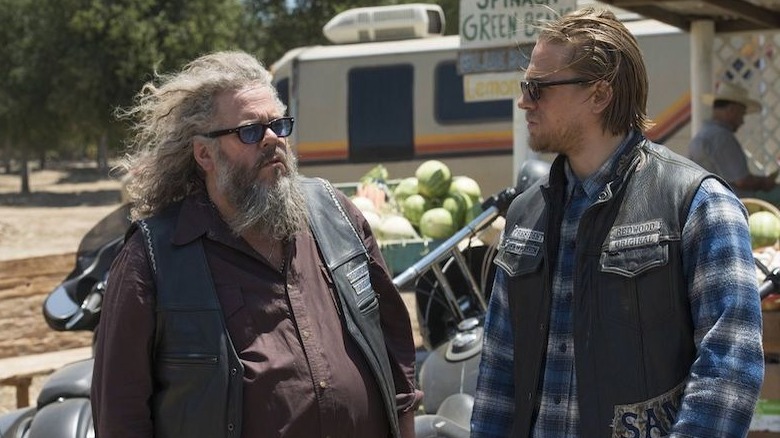 FX
According to our survey results, 28.92% of respondents felt "Sons of Anarchy" took things too far by showing Bobby Munson (Mark Boone Junior) getting his eye gouged out by August Marks' henchmen. Bobby Elvis has always been a fan-favorite member of the club because he helped keep Jax on the straight and narrow, which made Season 7, Episode 7 all the more traumatic.
In second place with 23.88% of the vote was the moment when Jax injects his drug addicted ex-wife Wendy (Drea de Matteo) to ensure she can't rip apart his family in Season 5, Episode 12. It's not overly violent compared to the other scenes in the poll, but it's a horrific act from Jax — forcing a recovering addict into taking drugs and messing with her life like that. The third runner-up was the controversial school shooting in Season 6, Episode 1, in which troubled student Matthew Jennings (Tate Berney) gets his hands on a SAMCRO gun and murders his classmates. While audiences didn't see the shooting, the audio alone is enough to send a chill up your spine.
Opie's death in prison during Season 5, Episode 5 only received 16.04% of the votes, which may surprise some fans because of how much of an impact it had on the show, especially since Jax, Tig, and Chibs were forced to watch in horror. Finally the massacre at Diosa came in last place, securing just 7.46% of the vote. Although we didn't see the killings unfold in Season 7, Episode 4, knowing it was about to happen as well as seeing the mass of bodies and blood strewn across the room afterward was still horrifying.