The Action-Adventure Anime Hidden Gem You Can Watch On Netflix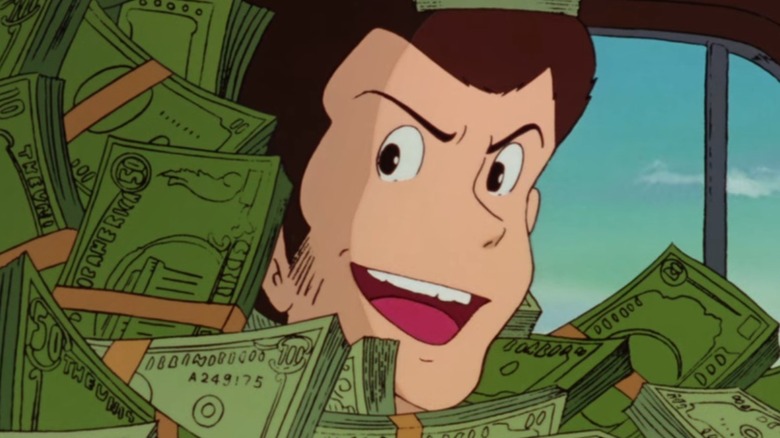 Toho
Often, it takes a minute or two for an influential movie to gel, either with audiences or with critics. Nobody saw "The Big Lebowski" when it came out, and Roger Ebert gave "The Usual Suspects" one and a half stars.
By all accounts, "The Castle of Cagliostro" — currently available to stream on Netflix — falls into the category of "movies unappreciated in their time." First released in Japan in December of 1979 after less than a year in production, the film received lukewarm reviews and underperformed at the box office. It took twelve years to get the movie released in the US, and the resulting English dub lost a lot in translation — not that anyone probably noticed, since it grossed a little over a quarter million dollars outside of its home country.
More than 40 years later, folks look at the movie through a dramatically different lens, thanks in large part to its pedigree. "The Castle of Cagliostro" marked anime auteur Hayao Miyazaki's first theatrically released animated feature film. You can see a lot of his personal touches starting to peek through if you look closely — unique angles, and an eye for detail. The food doesn't make you want to lick your television screen yet, but it was an earlier time in animation.
The Castle of Cagliostro keeps the weird times rolling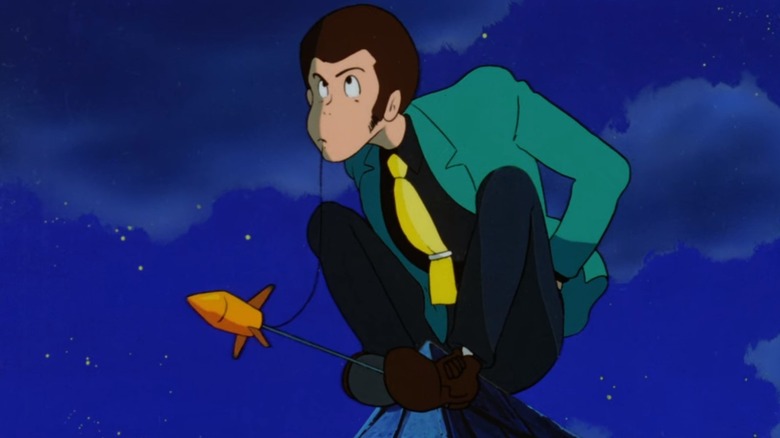 Toho
"The Castle of Cagliostro" brings fans back into the world of Arsène Lupin III and Daisuke Jigen, a pair of thieves with brains for days. The film opens with the dynamic duo celebrating their acquisition of enough ill-gotten cash to fill their car. The good times can't last forever, though, and it isn't long before Lupin realizes that their loot is counterfeit. They track down the source of the fake duckets, kicking off an adventure rife with slapstick, chivalry, and castle wall scaling.
The result is a movie with a near-constant presence on "Very Best Anime of All Time" lists. "The Castle of Cagliostro" has been credited as the inspiration for countless big name pictures, ranging from "Raiders of the Lost Ark" to "Atlantis: The Lost Empire," and even "The Simpsons Movie." An English re-release in 2000, complete with a more carefully considered English dub, helped to secure a wider audience for the movie, while also pushing it towards its current Rotten Tomatoes approval rating of 95%. As influential as it is goofy, "The Castle of Cagliostro" is a must-watch for Miyazaki fans looking for insight into the roots of Studio Ghibli.