The Untold Truth Of Star Trek's Worf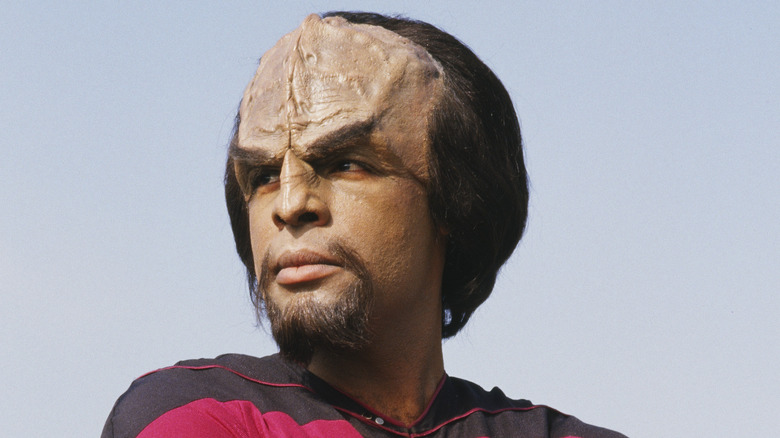 George Rose/Getty Images
"Star Trek" has a rich tradition of turning enemies into allies. The former Borg drone Seven of Nine becomes a valued crewmember on "Star Trek: Voyager," even as the Borg Collective attempts to conquer Starfleet. The Ferengi  are considered an enemy of Starfleet, until the bartender Quark makes them more than just a caricature of greed on "Star Trek: Deep Space Nine." 
And then there's Lieutenant Commander Worf, who does more to improve the image of the Klingons, the go-to villains of the original "Star Trek" series, than any other character. Portrayed by Michael Dorn, Worf is the first Klingon to become a Starfleet officer after generations of Klingon-human hostility. While this promotes Starfleet's policy of inclusivity, being a Klingon among humans is not easy, and Worf regularly functions as an outsider. Still, his presence often reveals the beauty and value of Klingon culture. Ultimately, he becomes a key character and a beloved fixture of the "Star Trek" universe. We're here to examine how Worf evolved on screen and off, from his favorite beverage to his surprising origins.
Worf wasn't supposed to be a regular Star Trek cast member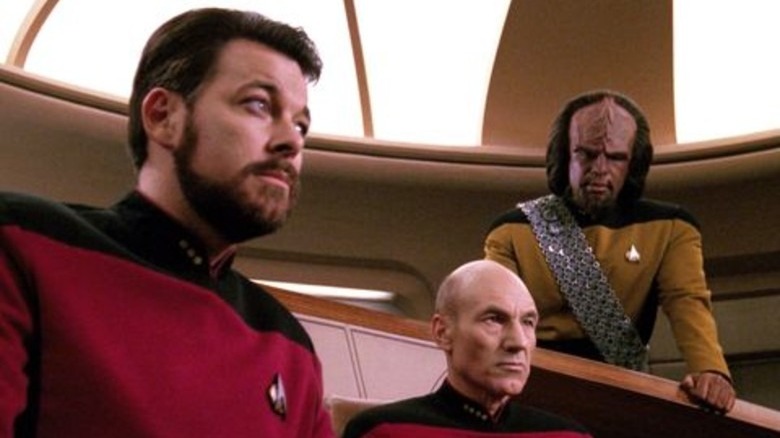 Considering how popular Worf is with fans, it's surprising to learn that the producers of "Star Trek: The Next Generation" did not initially want him as a regular cast member. As Larry Nemecek's "Star Trek: The Next Generation Companion" notes, Worf was originally imagined as a recurring character in seven of the first 13 episodes. Supervising producer Robert Justman also originally saw Worf as a "Klingon Marine" serving on the Enterprise as a symbol of better Federation-Klingon relations.
However, Dorn's performance as Worf was so magnetic that the showrunners felt the character had the potential to be part of the main cast. Over the years, Worf grew in importance and popularity, eventually becoming a central character who's done much to make Klingons actual protagonists in the "Star Trek" universe.
Today, Worf holds the record for appearing in more "Star Trek" franchise episodes than any other character, having appeared as a regular character in 11 seasons of both "Next Generation" and "DS9." In the "DS9" Season 5 episode "Trials and Tribble-ations," Worf is even digitally inserted into scenes from the classic "Star Trek" Season 2 episode, "The Trouble with Tribbles."
Worf's grandfather once defended Captain James T. Kirk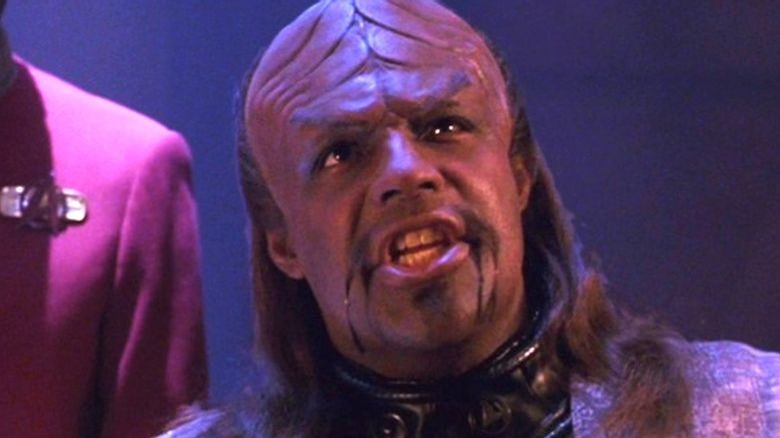 In "Star Trek: The Undiscovered Country" (1991), Colonel Worf, Lieutenant Commander Worf's grandfather, is a Klingon attorney and diplomat who takes it upon himself to defend both Captain James T. Kirk and Doctor Leonard McCoy when they're accused of murdering Chancellor Gorkon. Although the trial is basically for show, with the majority of Klingons hoping for a double execution, Worf offers a strong defense and manages to get their sentence commuted to a life term of hard labor on Rura Penthe. This gives our heroes enough time to save both Kirk and McCoy and prove their innocence by unmasking Gorkon's true assassins. Colonel Worf himself helps reveal one of the assassins at a peace conference held at Camp Khitomer, thus vindicating his clients.
Michael Dorn plays Colonel Worf in the movie, and the filmmakers confirm in "Captains' Logs: The Unauthorized Complete Trek Voyages" that this Worf is indeed Lieutenant Commander Worf's grandfather. Aside from creating a strong link between the old and new "Star Trek" generations, this appearance reveals that Worf's family has always been full of honorable people willing to fight for justice.
Worf is a child of two worlds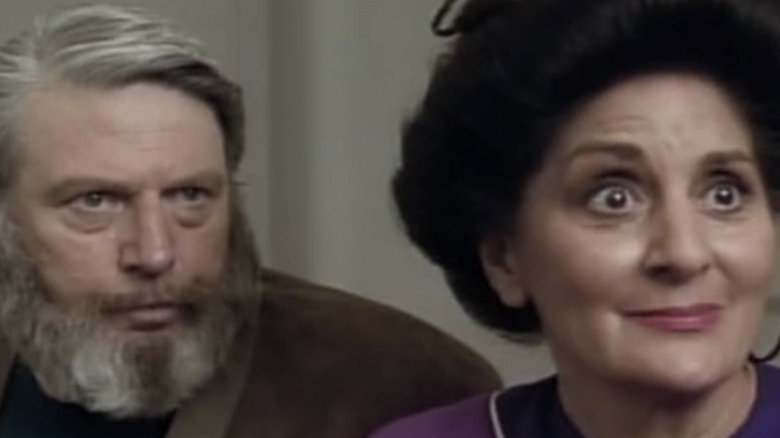 Worf's backstory is eventually revealed in multiple "Next Generation" and "DS9" storylines. In time, we learn that Worf's birth parents were killed by Romulans while he lived on the Khitomer colony. A distress call led the USS Intrepid to Khitomer, where chief petty officer Sergey Rozhenko found a young Worf in the rubble. He took him home to be raised by his wife Helena alongside their son Nikolai on the farming colony of Gault.
Being the only Klingon in a largely human society proved difficult for Worf, but the Rozhenkos made a point of making sure Worf still practiced Klingon culture. He only ate Klingon food (motivating Helena to learn how to make Rokeg blood pie) and immersed himself in Klingon history, art, and philosophy. He also returned to the Klingon homeworld of Qo'noS at 15 and vowed to become a Klingon warrior. Sadly, his remaining kin rejected him due to his human upbringing.
Despite this, Worf maintains great respect for the humans who raised him and makes sure to adapt aspects of their ideals into his personal code. This is what leads him to enlist in Starfleet, making him the first Klingon to serve as an officer aboard a Federation vessel.
Worf considers Earth his home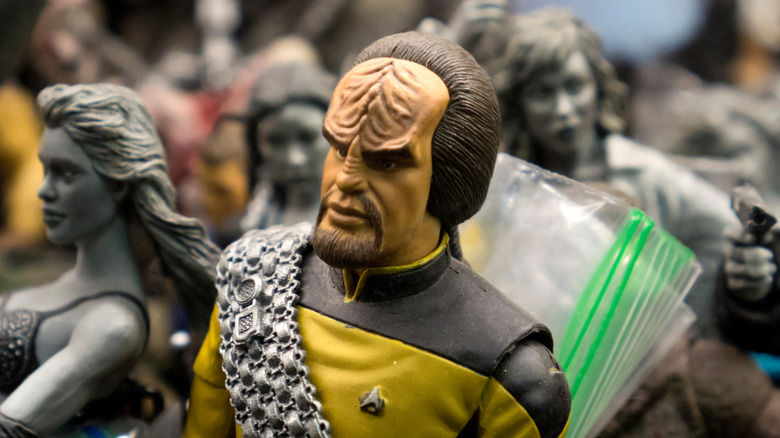 Shutterstock
Worf may have a great love of Klingon culture, but when it comes to what planet he considers home, his heart lies with humanity. In the "Next Generation" Season 4 episode "Family," Worf's adoptive human parents, the Rozhenkos, come to visit him on the Enterprise. In the process, they manage to embarrass Worf multiple times and become worried about their son's recent discommendation from the Klingon Empire.
Shortly after, the ship's bartender, Guinan (Whoopi Goldberg), approaches the Rozhenkos. She tells them that when Worf looks out the ship's windows toward the star he calls home, he doesn't look toward the Klingon Empire — he looks to Earth, and his adoptive parents. Later, in the "DS9" series finale episode "What You Leave Behind," Worf reveals he has a great love for the Rozhenkos' home of Minsk and suggests repeatedly to his crewmate Chief O'Brien (Colm Meaney) that he settle down there.
Worf killed a childhood playmate by accident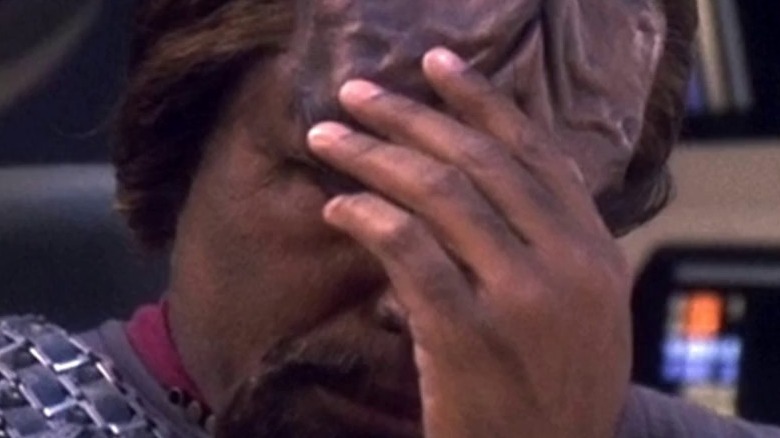 Other Klingons may come across as overly aggressive warriors with plenty of swagger, but Worf always presents himself with a very controlled and reserved demeanor. In the "DS9" Season 5 episode "Let He Who is Without Sin ... " he discloses the tragic reason for this to his lover, Lieutenant Commander Jadzia Dax.
According to Worf, he was a very forceful child who didn't hesitate to get into fights with kids he deemed disrespectful. He also loved participating in sports, and led his school's soccer team to the championships when he was only 13. Unfortunately, as he attempted to score, he smashed into another player, Mikel, and accidentally broke the boy's neck with his hard Klingon skull.
The experience scarred Worf, who realized he needed to practice greater self-restraint among human beings. As a result, he developed a more serious personality and honed his fighting abilities — not just so he could become a more efficient warrior, but also so he would know how to not accidentally hurt his friends.
Worf killed the Klingon chancellor on purpose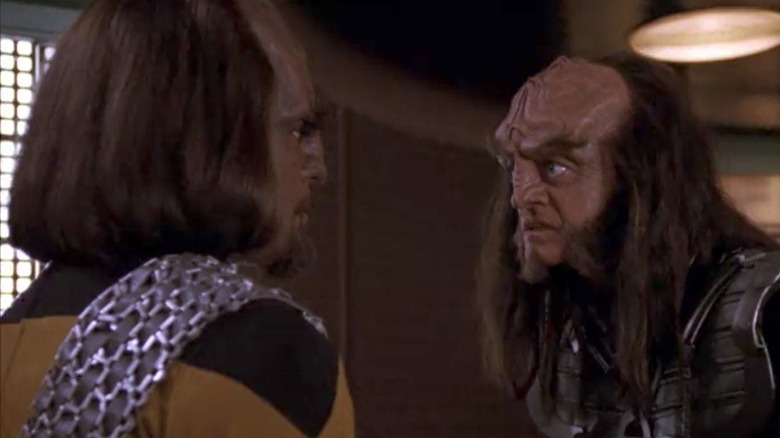 To say Worf's relationship with other Klingons is complicated would be an understatement. As the only Klingon to be raised by humans and serve in Starfleet (at least until half-Klingon B'elanna Torres (Roxann Dawson) becomes the USS Voyager's engineer), Worf is regarded as an outcast among his people. 
The Klingon government treats him with particular harshness. At one point, Worf's father is accused of treason, only for Worf to discover he's been framed by the rival Klingon House of Duras, to cover up their own sins. Realizing exposure of the truth could be devastating for Klingons and lead to in-fighting, Worf offers to take the blame for treason in the "Next Generation" Season 3 episode, "Sins of the Father." This ruins his family name, but lets him secretly spare the Klingon Empire from civil war.
Later, Worf helps Gowron, a new Klingon chancellor, rise to power. Gowron restores Worf's family honor in the "Next Generation" Season 4 episode "Redemption," but in the "DS9" Season 7 episode "Tacking into the Wind," Worf realizes Gowron is a dishonorable ruler who puts Klingons in needless danger during wartime. The two fight, and Worf kills Gowron, then passes on the role of chancellor to the Klingon general Martok. Thus, despite his outsider status, Worf's effect on Klingon politics is considerable.
Worf gets beaten up ... a lot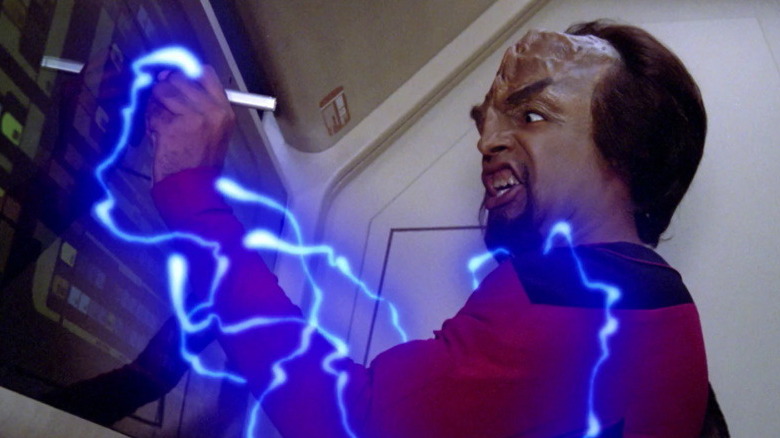 Even among Klingon warriors, Worf stands out as a formidable fighter. He's taken on Borg drones in hand-to-hand combat — and won. He's earned the title "Champion Standing" at a Klingon bat'leth tournament. He even teaches regular martial arts classes to Starfleet officers, including some advanced courses.
So it might come as a surprise for fans to learn that this unbelievably tough Klingon tends to get beaten up ... a lot. In multiple "Next Generation" episodes, Worf is thrown around the bridge of the Enterprise or shot at by some new alien threat. At one point, in the Season 4 episode "Clues," he even gets his wrist broken by a possessed Counselor Deanna Troi (Marina Sirtis), who takes him out in under two seconds.
Worf is so frequently beaten up, in fact, that fans coined a phrase to describe the trope: "The Worf Effect." This term refers to the storytelling practice of indicating how dangerous an unknown character is by having them beat up an established tough guy. Sadly, since the Enterprise regularly encounters unknown forms of life, writers used this trope to excess. Fortunately, by the time Worf transfers to Deep Space Nine, he starts winning most of his battles.
Worf's ideas get shot down ... a lot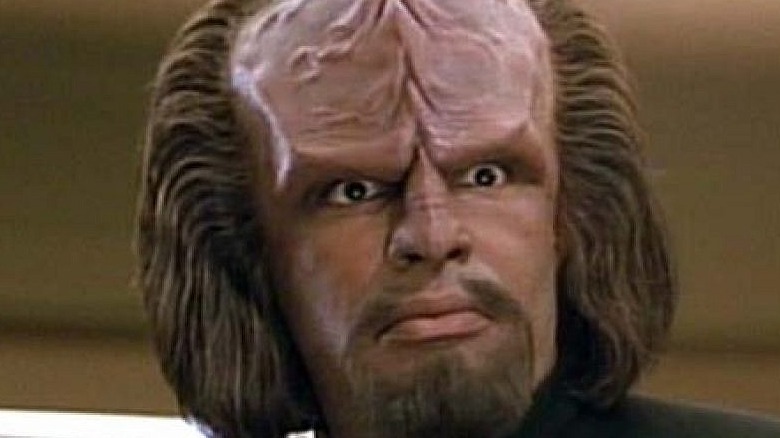 "Star Trek" supposedly depicts a society that has moved past outdated prejudice. Here, people no longer discriminate against others based on race, gender, or species, and everyone's ideas are valued.
Well ... unless you happen to be Worf. Then your requests and recommendations keep being denied, no matter how politely and respectfully you ask. One enterprising "Star Trek" fan even combined the many instances of Worf's ideas being shot down, and ended up with a nearly 15-minute-long video. Over and over again, the poor Klingon is invalidated by his captain, first officer, and fellow Klingons.
To be fair, Worf does occasionally offer suggestions that his crewmates accept as sound advice. However, his tendency to be denied suggests that the "Worf Effect" which causes him to get beaten up all the time also sees him function as a constant counterpoint to his superiors.
Amusingly, Michael Dorn viewed the YouTube video in question, and found it hilarious. He even joked that he accepted the chance to reprise the character on "DS9" so he could make Worf more than "just the guy who got his ideas shot down all the time." Happily, Worf's ideas are better accepted on "DS9," showing the Klingon does get some respect ... eventually.
Worf is unlucky in love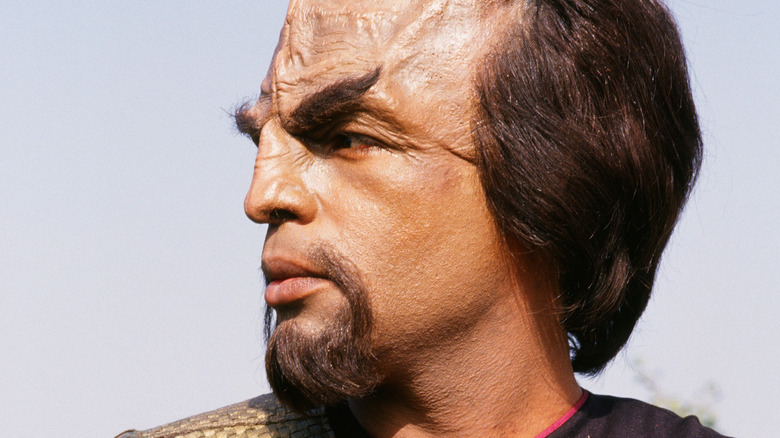 George Rose/Getty Images
Klingons might be scary, but there's something about Worf that makes him irresistible to women. Both Counselor Deanna Troi and Lieutenant Commander Jadzia Dax (Terry Farrell) fall for Worf and have relationships with him. 
This is risky, as Worf's girlfriends tend to receive gruesome deaths. In the "Next Generation" Season 2 episode "The Emissary," Worf renews a relationship with the half-Klingon ambassador K'Ehleyr (Suzie Plakson). After she discovers a conspiracy against Worf, however, she gets murdered and dies in Worf's arms in Season 4's "Reunion."
K'Ehleyr's death weighs heavily on Worf, but he gets a chance to move on when he marries Jadzia Dax in Season 6 of "DS9." However, when Terry Farrell was denied the chance to be a recurring character and decided not to renew her contract for Season 7, the producers opted to have Jadzia murdered by Gul Dukat in the Season 6 finale "Tears of the Prophets," leaving Worf a widower.
At least Troi is alive, right? Well ... not quite. In the "Next Generation" series finale "All Good Things," we visit an alternate future where Troi is dead — possibly due to a love triangle between Troi, Worf, and Riker. Worf and Troi eventually break up in the mainstream timeline, which may allow Troi to survive. He may be a devoted partner, but relationships with Worf tends to be hazardous to one's health.
Worf's many promotions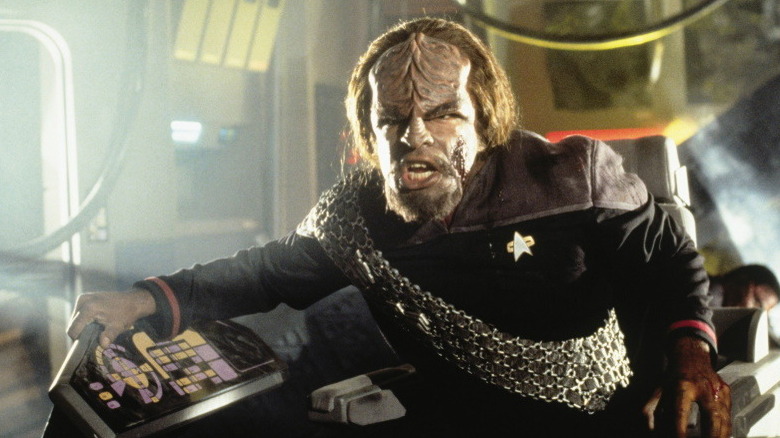 While some Starfleet officers have to wait a long time to be promoted (we're looking at you, Ensign Harry Kim), Worf is one crew member whose worth is constantly being recognized, resulting in multiple promotions.
Worf starts out as a lieutenant, junior grade in the early seasons of "Next Generation," and serves as a relief officer. He then takes over as acting security chief after the death of Tasha Yar (Denise Crosby) in the "Next Generation" Season 1 episode "Skin of Evil," and later becomes both chief tactical officer and security chief, which leads him to be promoted to full lieutenant.
In the movie "Star Trek: Generations" (1994), Worf gets promoted to lieutenant commander. He later accepts reassignment as the strategic operations officer of Deep Space Nine in the "DS9" Season 4 episode "The Way of the Warrior." During his time on Deep Space Nine, he disobeys orders to save his wife Jadzia in the "DS9" Season 6 episode "Change of Heart," marring his service record and making his commanding officer Captain Sisko (Avery Brooks) predict he'll never receive a command of his own.
However, in Una McCormack's novel "Star Trek: Picard: The Last Best Hope," it's revealed that Worf does get promoted to captain of the Enterprise-E after Jean-Luc Picard gets his promotion to admiral. He may suffer a lot, but no one can say Worf isn't respected by his peers.
Worf is really bad at being a single dad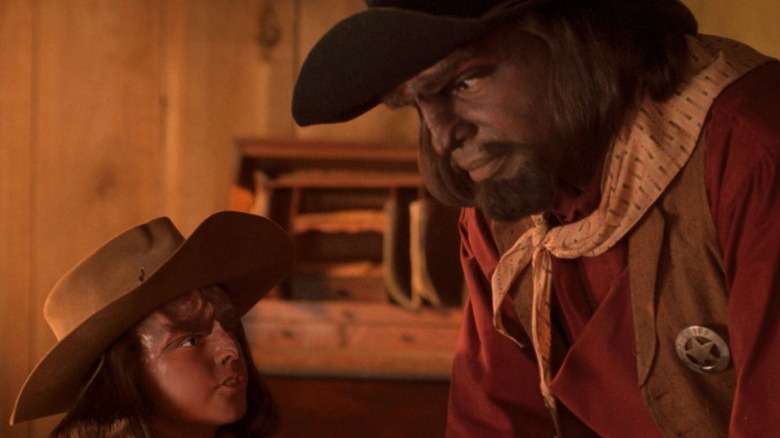 As if losing K'Ehleyr wasn't bad enough, Worf also discovers that his lover had a secret child with him — and that he's now responsible for young Alexander Rozhenko (Jon Steuer). To make matters more difficult, K'Ehleyr never taught Alexander about Klingon culture and the boy has no interest in being a warrior. Worf struggles to accept Alexander for who he is, and initially tries to force his son to change.
At one point, Worf sends Alexander to live with his adoptive parents, the Rozhenkos. They send him back, stating they are too old to handle raising another Klingon. Such actions have even prompted Michael Dorn himself to call Worf a "terrible father" in "Captains' Logs: The Unauthorized Complete Trek Voyages," and declare that "he hasn't got a clue."
Like a lot of children on TV shows, Alexander ages at a strange rate, forcing Worf to deal with him as a child, a teenager, and a young adult within a few short years. When he shows up as a young man on "DS9" played by Marc Worden, he finally chooses to become a warrior, but his early lack of training makes him clumsy among other Klingons, much to his father's embarrassment.
Worf loses his brother in a heartbreaking way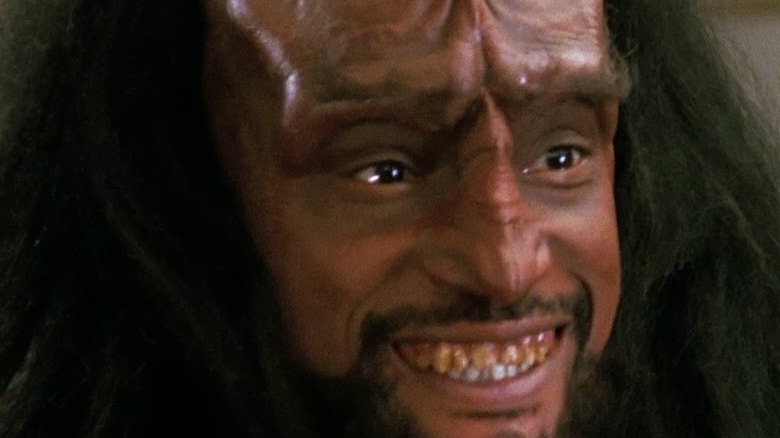 If there's one word that should be synonymous with Worf, it's "loss." Not only does this Klingon lose multiple lovers, he also loses family members — even when they don't actually die.
In the "Next Generation" Season 3 episode "Sins of the Father," Worf learns his younger brother Kurn ("Candyman" acting legend Tony Todd) escaped death at the Khitomer massacre that killed their entire family. Now a Klingon commander, Kurn reunites with Worf, and is convinced to keep his identity a secret after Worf allows himself to be discommended from the Klingon Empire to save Kurn's life. Later, Kurn helps Worf restore their family honor, but when Worf refuses to invade the Cardassian Union with the Klingons, his family's lands and titles are stripped and Kurn is disgraced.
Depressed, Kurn attempts to kill himself. In the "DS9" Season 4 episode "Sons of Mogh," Worf elects to have his brother's memory wiped and his appearance altered so he can start a new life as "Rodek." In the process, Worf loses his brother and is even forced to tell him, "I have no family."
Worf considers prune juice a 'warrior's drink'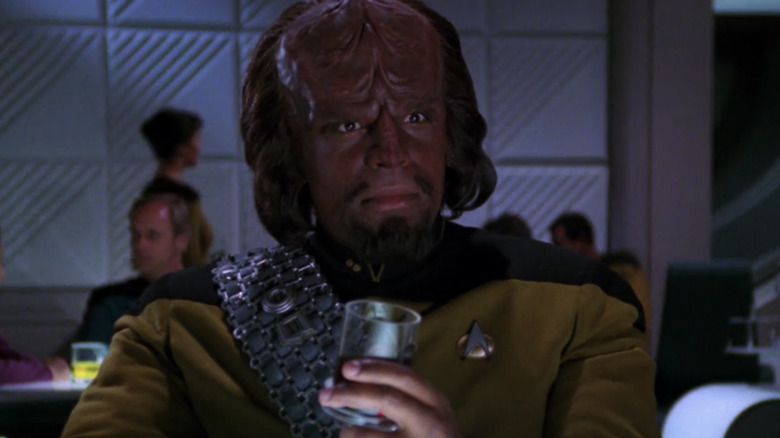 Klingons make a big deal about drinking plenty of "bloodwine" during ceremonies and celebrations. Worf himself has been known to partake in bloodwine, liking his to be very young and very sweet. However, bloodwine occupies a distant second place when compared to Worf's drink of choice: prune juice.
Introduced to the beverage by the Enterprise's bartender Guinan in the "Next Generation" Season 3 episode "Yesterday's Enterprise," Worf immediately proclaims prune juice to be "a warrior's drink," and begins consuming it in large quantities. He continues ordering prune juice during his tenure on Deep Space Nine, causing the Ferengi bartender Quark (Armin Shimerman) to break out in hysterical laughter until he realizes Worf is serious. As he learns, prune juice is very popular among Klingons in general.
Indeed, according to Keith R. A. DeCandido's "Next Generation" novel "Q&A," prune juice becomes the largest export from Earth to the Klingon Empire by 2380. As Klingons and humans have different biological systems, it's possible that Klingons experience an intoxicating effect from prune juice that humans can't enjoy — although it's also possible they simply appreciate not needing to worry about irregularity on the battlefield.