The Romantic Comedy Hidden Gem You Can Binge On Amazon Prime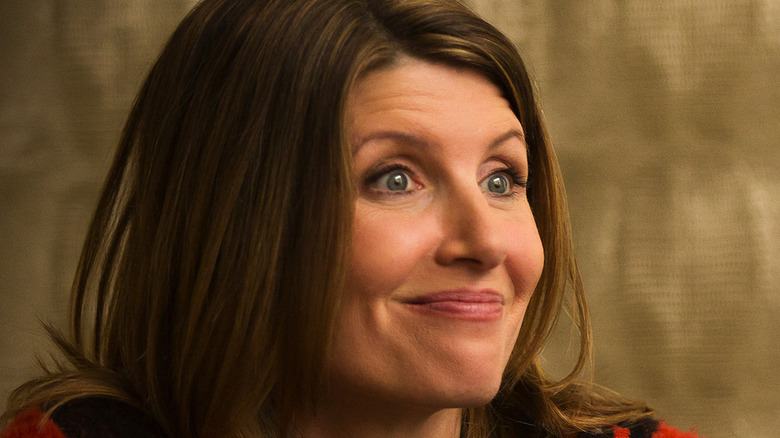 Channel 4
As the old adage goes, life happens when you're busy making other plans. "Catastrophe" is a show that demonstrates just how unexpected that life can be.
The sitcom, created by and starring Rob Delaney and Sharon Horgan, is a heartfelt and hilarious look at what happens when everything you know is suddenly upended. Delaney portrayed Rob, an American businessman who has a fling with an Irish woman, Sharon (Horgan), while on a trip in London. He returns home to America, only to find out later that Sharon is pregnant. Rob then moves to London, and the two become a couple, choosing to take on their new lives as parents together.
"Catastrophe," which aired its fourth and final season in 2019, has been acclaimed by critics and audiences alike, holding a Tomatometer score of 98% and an audience consensus score of 92% on Rotten Tomatoes. It originally premiered on Britain's Channel 4 in January 2015 and later came to Amazon Prime in the U.S. beginning in April 2017. 
The show is beloved for its realistic portrayal of marriage, and for Delaney and Horgan, making "Catastrophe" has been a deeply personal experience, too.
'We wanted to make a brutally honest relationship comedy'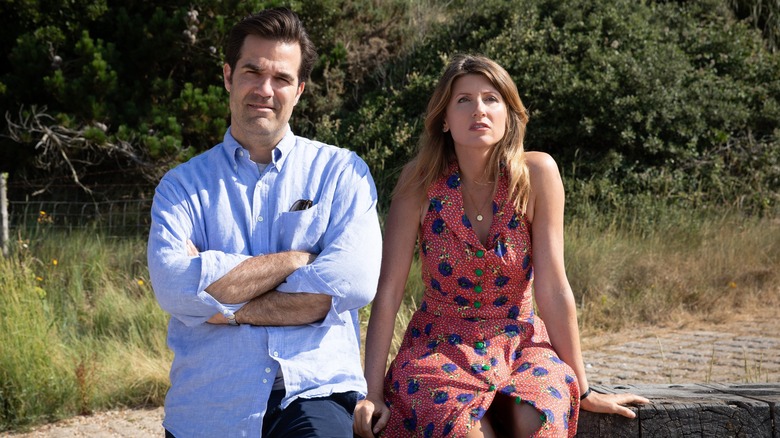 Channel 4
"Catastrophe" started as a passion project for Rob Delaney and Sharon Horgan, who wanted to showcase the realities of married life. "Marriage is interesting — and it's richer, and more majestic, and magnificent, and terrifying than is often portrayed in sitcoms," said Delaney in an interview with NPR. Horgan has said similar things, stating, "We wanted to make a brutally honest relationship comedy, and use comedy to talk about tricky things" (via the Los Angeles Times).
However, for the two actors, the show became a cathartic experience. Delaney's two-year-old son tragically died from brain cancer just weeks before writing on the final season was to begin. The actor, who has been very open about his struggles with alcoholism, said that working on "Catastrophe" gave him "structure" and a "support system" to help him navigate his unthinkable grief (via NPR). During the show's final season, Horgan filed for divorce from her husband of 14 years, undoubtedly adding layers to playing a character navigating the stressors of marriage.
Catastrophe stars Carrie Fisher in one of her last television roles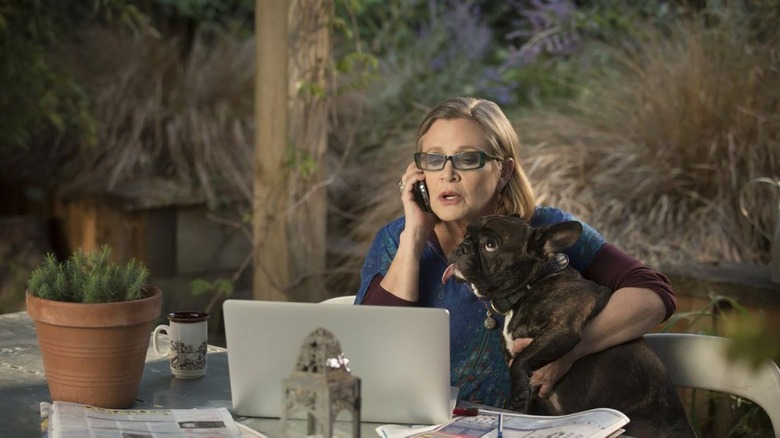 Channel 4
There's another great reason to watch "Catastrophe," too — the show features the late, great Carrie Fisher. She plays Mia, Rob's mother, and Rob Delaney and Sharon Horgan were "desperate" to get her on the show (via The Guardian). In a letter published in The Hollywood Reporter, Horgan reminisced on her co-star, saying, "Her wit is well documented — bottom line is, she was almost impossible to keep up with, her brain whirred constantly, every sentence had a punchline, every story a potted Hollywood cautionary tale — but I'm not sure her kindness and generosity are as well known."
Fisher died just after filming wrapped for Season 3, and her death was written into the series. "We all wish we could have shared the final product [of the show] with her because, as self-deprecating as she was, I think she would have been proud," said Horgan (via The Hollywood Reporter). "She certainly made us proud."
For anyone looking to laugh and cry at the realities of love and life, "Catastrophe" is the perfect binge.  All 24 episodes of the incredible show are now streaming on Amazon Prime.