This Is What Peter Weller Has Been Up To Since RoboCop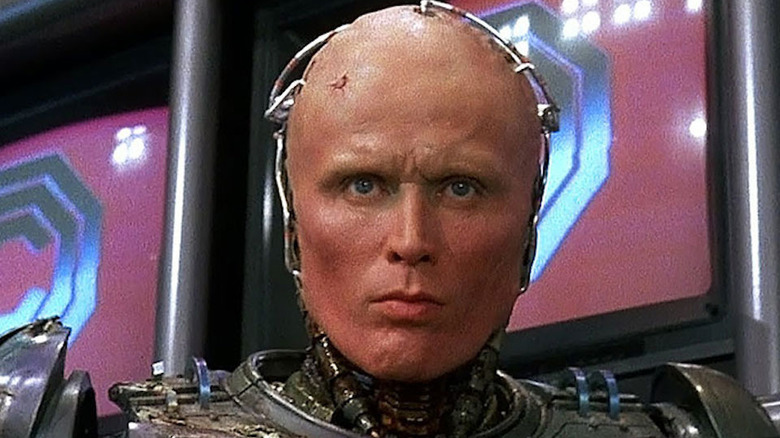 Orion Pictures
Somewhere in the middle of the silly sex comedies, socially-conscious dramas, and bombastic "one man against the world" spectacles of the 1980s, Hollywood brought us Paul Verhoeven's "RoboCop," a grueling dystopian actioner about a slaughtered Detroit police officer (Peter Weller) resurrected in the form of the titular half-man, half-machine super-cop. Depicted with reckless, gory abandon and a flair for gritty hyper-reality, "RoboCop" was also one of the few distinctly over-the-top '80s action flicks that didn't shy away from the gun-loving, drug-addled, capitalistic divisions fueling inner-city turmoil across the country. That it did so while becoming a bona fide box office hit seemed to come as a surprise to everyone involved.  
That likely included Weller, who became an unexpected, overnight action icon upon the release of "RoboCop." Prior to that breakout, he was probably best known for appearing as an alien-fighting rock 'n' roll brain surgeon in the beloved 1984 B-movie bonanza "The Adventures of Buckaroo Bonzai Across the 8th Dimension." Once "RoboCop" was in the world, he seemed ticketed for A-list status. But after a string of late-'80s and early-'90s misfires, Weller's star faded, and the actor seemingly disappeared from Hollywood altogether. However, he's been a bit more active than you might realize in the years since he first became a big star. Here's what Weller has been up to since "RoboCop."
Weller got weird and then some for David Cronenberg's Naked Lunch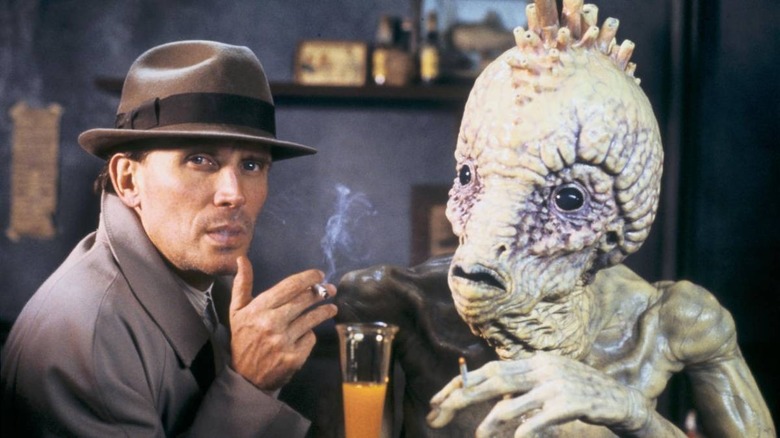 20th Century Studios
With beloved projects like "Buckaroo Bonzai" and "RoboCop" to his credit, it'll come as no surprise that Peter Weller has continued to boast a steadfast fanbase over the years. If you count yourself among the Weller devotees in the world, you likely know he's kept quite busy on the small screen with notable stints on primetime hits like "24," "Dexter," and NBC's "MacGyver" revival. And even Weller might admit the quality of his television work has far exceeded his film output since "RoboCop" became a blockbuster hit, with the ill-advised "RoboCop 2" serving as brutal proof.
A year after that sequel made its inauspicious debut, however, Weller delivered one of the finest performances of his career in what many also regard as his weirdest film to date. Said performance came in 1991's adaptation of William S. Burrough's experimental, near-hallucinogenic nightmare of a novel "Naked Lunch" — whose out-there-and-then-some "plot" follows an exterminator who becomes addicted to ingesting the substance he uses to kill insects before becoming involved in a government conspiracy spearheaded by giant bugs.
Things only get weirder from there, and that very fact is why most showbiz insiders had deemed "Naked Lunch" to be "unfilmable" prior to 1991. It was the ever-adventurous David Cronenberg ("Videodrome," "The Fly") who finally cracked "Naked Lunch" for the big screen, delivering a film as vastly paranoid, vividly realized, and utterly confounding as the book that inspired it. He also pulled a performance for the ages from Weller, as he plumbed depths barely glimpsed before or after to bring Burroughs' Bill Lee to drug-addled life in the film, which truly does have to be seen to be believed. 
Peter Weller played a different sort of half-man/half-machine in a heartbreaking episode of Fringe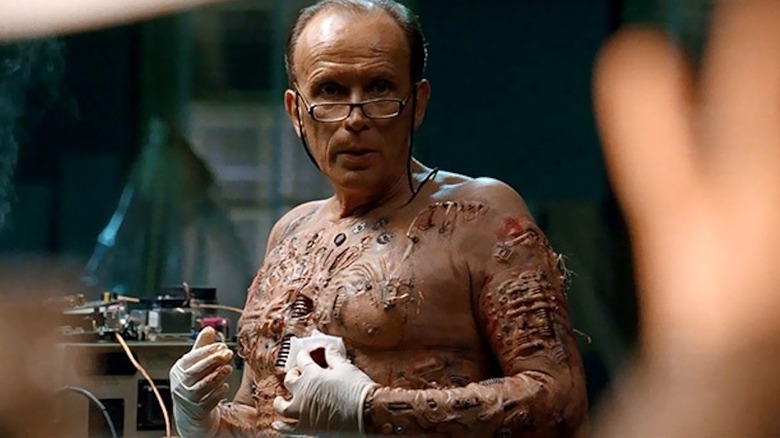 Fox Television
Big screen struggles aside, Weller has excelled at finding meaty small-screen roles, with one of his best TV performances coming via a one-off turn on Fox's ratings-starved sci-fi marvel "Fringe." Produced and co-created by puzzle-box maestro J.J. Abrams, "Fringe" followed the tale of FBI Agent Olivia Dunham (Anna Torv) who's teamed with a troubled-but-brilliant experimental scientist (John Noble) and his shifty son (Joshua Jackson) to work the agency's more compelling cases, which usually involved some dangerous new technology and/or scientific experimentation run terribly amok.
The series ran for five seasons on Fox, but sadly never found the audience it deserved. Even still, "Fringe" was frequently among the most ambitious and wildly inventive shows on television during that time. And as it happens, Weller was front and center for one of its finest hours, which came in Season 2's 18th episode. Titled "White Tulip," that memorably twisted episode found Olivia and the gang investigating a mass death that mysteriously drained all humans and electronic devices of power.
Things go sideways when the investigation leads them to a brilliant astrophysicist named Alistair Peck (Weller) who's transformed his physical body into a ghastly, mechanized time machine. Without spoiling the heartbreaking whys of Peck's deadly endeavor, know that "White Tulip" ultimately becomes not only one of the most emotionally charged episodes of "Fringe," but arguably one of the most heart-wrenching episodes of television to ever hit the screen. As for Weller, well, he's rarely been better.
Sons of Anarchy found him playing a very dirty former cop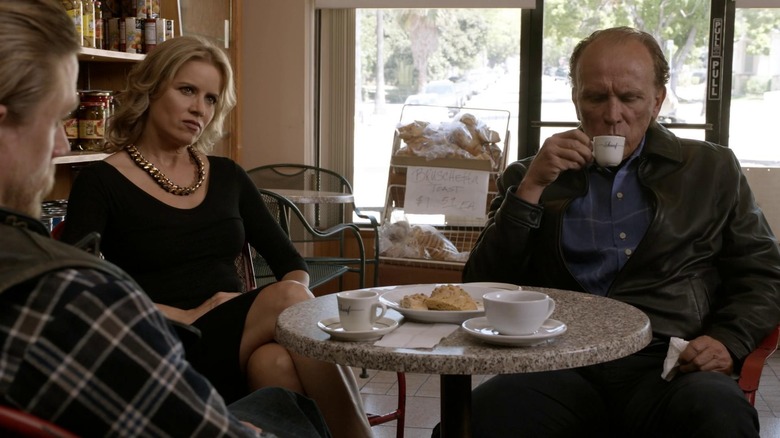 FX
While Peter Weller's lone appearance on "Fringe" found the beloved actor in rarefied form, he continued to tear through television roles in the years after with other one-off turns on "Psych," "House," and "Hawaii Five-O." He even turned up in J.J. Abrams' sci-fi blockbuster "Star Trek: Into Darkness." And as fans of FX's classic biker gang crime saga "Sons of Anarchy" can certainly confirm, Weller also brought some simmering, low-key heat to the mix when he joined the series as Charlie Barosky in 2013. 
Sadly, Weller didn't saddle up and ride alongside Jax Teller (Charlie Hunnam) and his SAMCRO brothers when he joined "Sons of Anarchy" in its sixth season. But for the bulk of Weller's run, his character — a corrupt cop who'd gotten into some seriously shady dealings in retirement — was largely viewed as an ally to Team SAMCRO. He even partnered with Jax and the boys on a couple of business ventures. Eventually, Barosky was outed as a wolf in sheep's clothing, making a series of behind-the-scenes moves designed to help SAMCRO's criminal rivals the Lin Triad turn the tide of the dueling gangs' war.
That shocking reveal eventually led Jax to put an emphatic end to their relationship via a bullet to the head in the series' divisive finale. But prior to Charlie Barosky's bloody, and very public demise, Weller was absolutely electrifying on "Sons of Anarchy."
Peter Weller played a lovably crotchety old cowboy on Longmire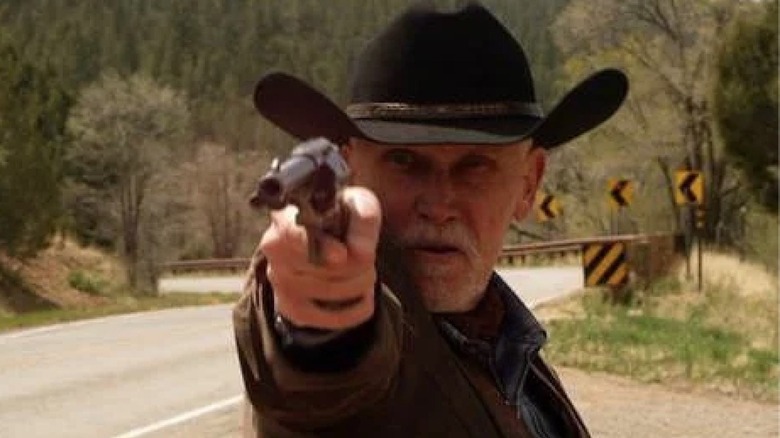 Netflix
Though Weller has continued to work steadily in and out of Hollywood for several decades now, per Entertainment Weekly, the actor has notably spent much of his downtime furthering his education while moonlighting as a professor of literature and fine arts at Syracuse University. Intellectual endeavors aside, Weller has never spent much time away from acting. Sure enough, a couple of years after making a splash in the ever-perilous narrative landscape of "Sons of Anarchy," Weller was back to his scene-stealing ways playing a grizzled old cowboy type in a dramatically different sort of small-screen outlaws-and-lawmen fable.
Fans of the wildly popular neo-Western crime drama "Longmire" are no doubt very familiar with the actor's distinctive face, too, as Weller was a recurring player on the series between 2012 and 2017. Starring Robert Taylor ("The Matrix," "The Meg") as an unflappable Wyoming sheriff and Katee Sackhoff ("Battlestar Galactica," "The Mandalorian") as his new hotshot deputy, the series also found Weller frequenting its narrative as the retired, nursing home-bound former sheriff who preceded Taylor's titular lawman.
As fans can attest, Weller's Lucian Connally had both a unique outlook on life and a genuine knack for making his own kind of trouble. They'd also tell you Weller was absolutely brilliant in the role, bringing a wonderfully ornery intellectualism to the action over his six appearances on the series. Sadly, Weller's curmudgeonly character did not outlive the series — Connally met his own noble end in the sixth and (probably?) final season of "Longmire."