You Probably Didn't Realize Dr. Now's Son Also Works On My 600-Lb Life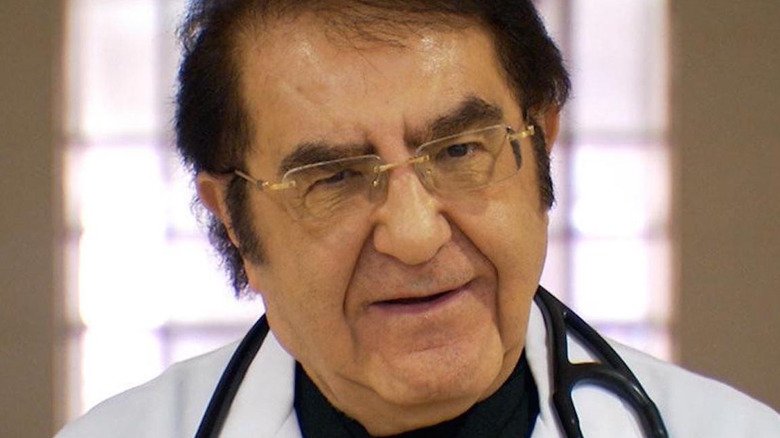 TLC
Dr. Younan Nowzaradan, better known to the viewers who watch "My 600-lb Life" as the practical Dr. Now, has a personal life that's fairly well insulated from the impassioned strife that pervades the show's onscreen drama. Regular viewers would not even be aware that he has a family — or a life — outside of tending to his sometimes difficult patients.
But it turns out that Dr. Now has three children, according to Gossip Cop – two daughters, Jennifer and Jackie, and a son, Jonathan. While Jennifer and Jackie have jobs outside of the entertainment business — Jackie works as a communications coordinator for Dr. Now's medical practice, Jennifer elsewhere in the private sector — Jonathan has a job connected to the show that's pretty surprising. He also has a long history of working on shows for TLC, Discovery Networks, and other assorted cable channels.
So what, exactly, does Dr. Now's son do on "My 600-lb Life?" Keep reading to find out.
Jonathan Nowzaradan has quite an impressive résumé
It turns out that Jonathan Nowzaradan is an executive producer on multiple TLC and Discovery Network Programs according to IMDb, from "Shipping Wars" on A&E to "Quints by Surprise." According to the Austin Business Journal, Nowzaradan is the CEO of Megalomedia Inc., a production company behind all of the above series, including "My 600-lb Life."
Nowzaradan also directed multiple episodes of "My 600-lb Life: Where Are They Now?" as well as the reality series "Heavy" and the 2015 TV Movie "Freeloaders." In a 2007 interview with The Austin Chronicle, he spoke about the process of how he became involved with making documentaries, which eventually led to "My 600-lb Life." 
"The people who are over 700 pounds think that they're the only person on the planet like that ... But there are millions, some people suspect in the tens of millions, of people in America. We want them to know that not only are they not alone, but there are doctors who will help. Don't give up, and don't just decide to die," he told the newspaper. For a TV producer and director, the guy sounds pretty mission-driven.