The Real Reason Chris Zylka Didn't Want To Be On American Horror Story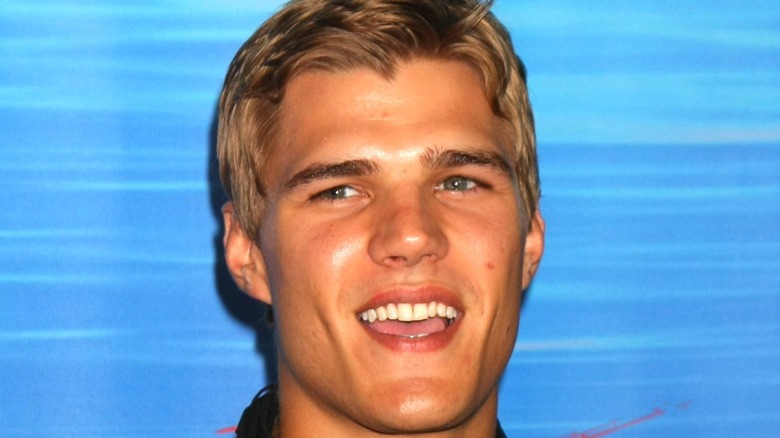 Shutterstock
Maybe you're familiar with his role as Gabe Lamotti, one of Miley Stewart's love interests in "Hannah Montana," or perhaps he's recognizable from his media coverage as Paris Hilton's ex-fiance. Either way, you probably know Chris Zylka as a heartthrob.
Zylka is also a serious actor, whose busy career over the past decade includes being cast for the part of Daniel, a beautiful deaf and mute inmate at Briarcliff Manor, in the then-highly-anticipated and now-acclaimed second season of "American Horror Story," called "Asylum." According to Screen Crush, the role was written for two episodes with the opportunity for expansion if the character was well-received. Zylka would ultimately not appear on "AHS: Asylum" despite his reported enthusiasm for working alongside the star-studded cast — Jessica Lange in particular (via TV Guide). Why would he give up that opportunity, especially after he publicly gushed over the role? Well, let's just say the situation got a little ... hairy.
Zylka got cut from AHS: Asylum because he didn't want to shave his head
Shortly after Chris Zylka's enthusiastic tweet about joining the cast of "American Horror Story: Asylum," the show's creator, Ryan Murphy, gave him the chop, as first reported by the now-defunct Zap2It, via Screen Crush. Apparently, Murphy wanted the character Daniel to appear with a buzzcut, but the actor refused to shave his head for the role. It's an interesting hill to die on — given that Zylka's locks couldn't have been more than five inches long at the time and would have grown back relatively quickly — but you have to respect the guy for sticking to what made him comfortable.
In 2012, Zylka was finishing up his role as Jake Armstrong in The CW's series "The Secret Circle" (via IMDb), so there's a chance continuity could be the reason why he didn't want to get a haircut for a smaller role in "AHS." But Zylka also appeared in two movies that year: "Piranha 3DD," where he has more or less the same hairstyle as in "The Secret Circle," and "The Amazing Spider-Man," where ... his head is buzzed. Why would he sabotage his "AHS" role just to appear a few months later with a shaved head in a different project? Maybe he learned from the experience, or maybe it was revenge.
The plot thickens behind the scenes of AHS: Asylum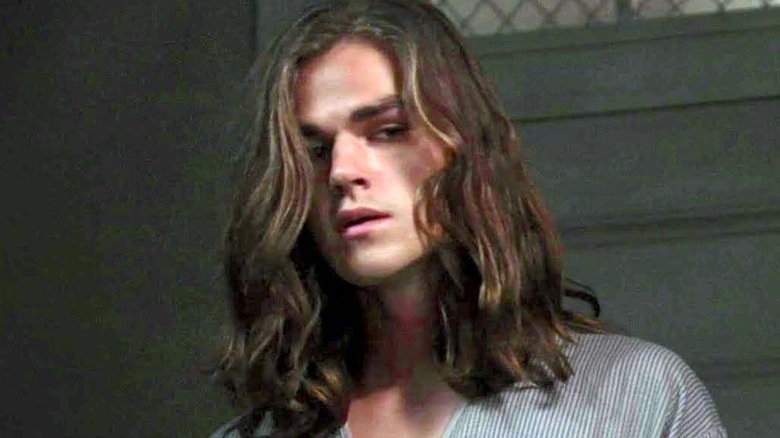 In response to Zylka's unwillingness to shave his head, Ryan Murphy replaced him with a relatively unknown actor named Casey Wyman, and the role was significantly reduced (via Bustle). In the episode "I Am Anne Frank, Part 1," Wyman appears opposite Sarah Paulson in a scene where her character, Lana Winters, undergoes aversion-conversion therapy to "cure" her homosexuality. Wyman plays the conversion element — yikes — but besides this short scene, his character only appears in the background. The gag is that Wyman was allowed to keep his shoulder-length hair for the role.
Was Murphy adding salt to Zylka's wounds? Perhaps the actor took it that way, and so appeared in "The Amazing Spider-Man" with a buzzcut to make a statement about which projects he felt were worth changing his personal style. Maybe not, but it's hard to witness this strange progression of events without imagining it as part of some sort of petty back-and-forth.