The Best Free Western Movies You Can Watch On YouTube Right Now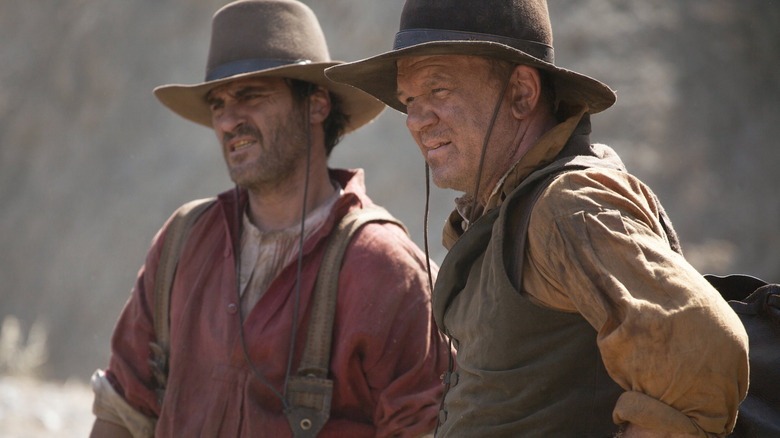 Annapurna
Between an era-specific cultural affection for solemn cigarette smoking, southern California's miles of majestic desert scrub countryside, and the equestrian population boom that stemmed from postwar Americans eating less and less horse, it only makes sense that Hollywood developed a fervent interest in westerns during the mid-20th century. There was a time when sweeping tales of pioneer chivalry were Hollywood's steadiest meal ticket, thanks to the public's seemingly insatiable appetite for films about rugged cowboys living hard lives out on the trail while apparently also maintaining stringent skincare regimens and, in many cases, arranging musical numbers in their free time.
And now, thanks to YouTube's small army of 100% free movies, you can revisit this beloved genre, at your leisure and free of charge. We looked through the streaming site's extensive list of zero-dollar flicks and picked out a few of the rootinest, the tootinest, and, lest we forget, the shootinest.
Lawman
Given enough time and success, any film genre is destined to turn in on itself and start pumping out pieces with less action and more introspection, to mixed critical results. It's what's known in show business as the "Iron Man 3" principle.
1971's "Lawman" features a bevy of familiar names. Burt Lancaster stars, with appearances by Robert Duvall, John Hillerman, Lee J. Cobb, and Wilford Brimley. Lancaster plays the eponymous lawman, Jared Maddox, in an early example of a western trading its black and white hats for headwear in shades of gray. Maddox is tasked with securing the surrender of a group of drunken cowboys after a bender ends in a shooting spree, and questions like "does legal authority give a person the ethical right to kill a man?" are explored more than you generally see in movies about gunning down no-good varmints. Critical reception was mixed, but with the benefit of hindsight, "Lawman" is remembered as a classic western with a hint of thoughtfulness.
The Alamo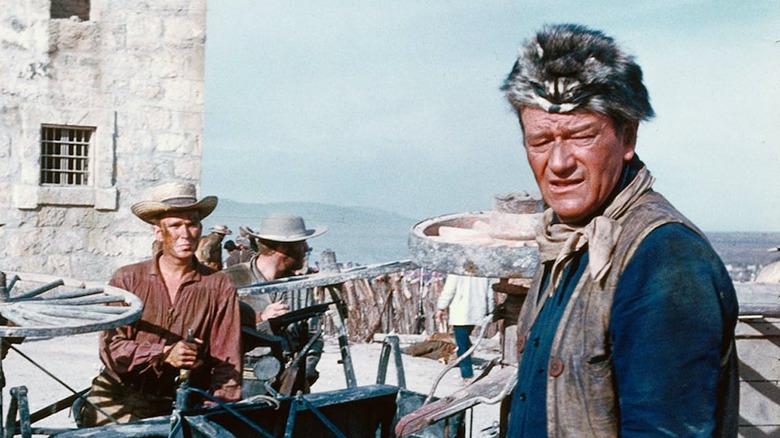 MGM
It's one of those things you'd better remember. There have been several movies based on the doomed historic battle of the Alamo, but the 1960 John Wayne version is still the king. It stood as an impressive technical feat when it was created, and is a great example of how a truly epic film could come together without the bells and whistles of modern tech.
"The Alamo" tells the story of a group of American soldiers facing impossible odds during the Texas Revolution. Wayne plays the legendary Davy Crockett, while other historical figures, like Jim Bowie and Mexican military leader Santa Anna, also play major roles in the story. As the Mexican army tightens the screws on the Americans during the two-week siege, the tension boils over as the desperate defenders try everything they can to survive.
Most of us know how "The Alamo" ends, but that doesn't make it any less impressive. There may be a handful of historical inaccuracies — this is 1960 Hollywood we're talking about, after all — but it's still an impressive example of a war epic and a great showcase for John Wayne's star power.
The Spikes Gang
United Artists
Some westerns are incredibly bleak, showing the pitfalls of idolizing dangerous people in a dangerous lifestyle. One such film is the 1974 flick "The Spikes Gang," starring the always impressive tough guy Lee Marvin. Don't expect a lot of laughs or fun out of this one, but it's a great character study and a slow-burn drama — with some good twists and turns throughout.
Marvin plays an aging bank robber named Harry Spikes who is injured and near death. He runs across three young friends (one of whom is played by a fresh-faced Ron Howard), who help him recover and send him on his way. The three boys eventually find themselves on the run, and they team up with Spikes for a bank heist. It will not surprise you to learn that everything goes sideways almost immediately, with double-crosses, horrible mistakes, and panicked shootouts ensuing.
Marvin is in fine form in "The Spikes Gang," and the film is structured so that you know everything is going to go wrong, but you're just not sure how. Check out this character-driven western for a less romanticized take on the genre.
Man of the East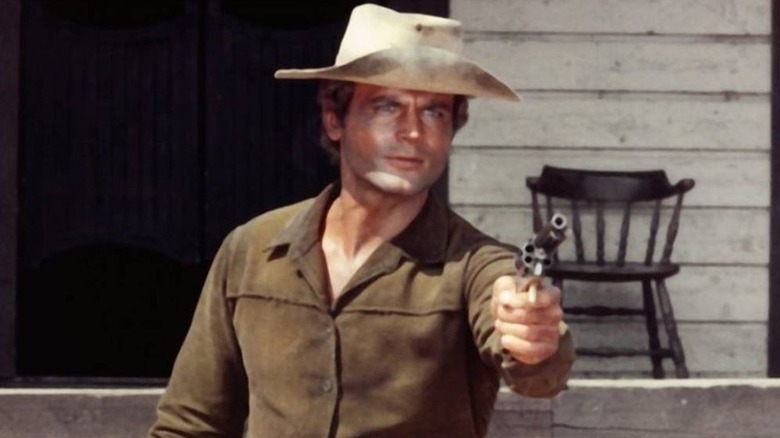 United Artists Europa
People tend to think of spaghetti westerns in a specific way. They feature a mostly silent badass, usually played by Clint Eastwood, bringing frontier justice to a variety of villains. They feature gorgeous cinematography and epic music; you know the type. If you want a different style of spaghetti western, check out "Man of the East" on YouTube — a classic fish-out-of-water story that's an interesting twist on the standard western.
"Man of the West" stars Terence Hill, who often played roles similar to Clint Eastwood: gruff, good-looking, and deadly. However, "Man of the West" is a rare comedy-western, and Hill plays against type for most of the film. He plays a pampered heir, Sir Thomas Fitzpatrick Phillip Moore, who heads to the American West to claim his dead father's land. He's much more interested in riding his bicycle and reading poetry than gunfighting and shooting whiskey, but he changes his tune when he falls in love.
It's goofy, Hill is a strong actor, and it deals with some still-timely themes about modernization and gender roles. It's definitely one that's worth your time.
The Sisters Brothers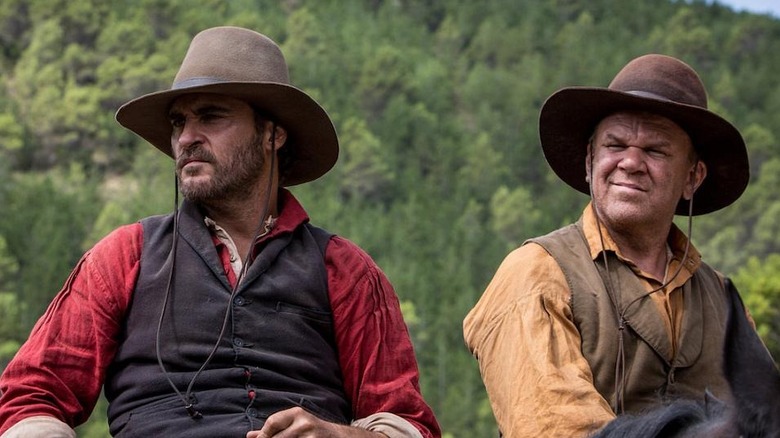 Annapurna Pictures
Looking for a free western that's a little more modern? Take a look at "The Sisters Brothers," a 2018 film with a pretty impressive cast. The film stars John C. Reilly and Joaquin Phoenix as Eli and Charlie Sisters, a pair of brothers-turned-assassins who aren't nearly as good at their job as they'd like to be. Jake Gyllenhaal, Riz Ahmed, Rutger Hauer, and Carol Kane are just some of the other familiar faces that you'll see pop up through the film's runtime.
"The Sisters Brothers" follows Eli and Charlie as they attempt to track down a chemist who has fled from a debt. He's being protected by a private detective, and the two hope to use a chemical formula that will make panning for gold a much simpler exercise. As Eli and Charlie close in, they run into a number of major hurdles. As the bodies pile up, they start to reconsider the life they've chosen.
"The Sisters Brothers" garnered impressive reviews, but seemed to get lost by not really knowing if it was trying to be a comedy, an action movie, or a straight drama. It's a strong movie that's worth watching for the cast alone.
McLintock!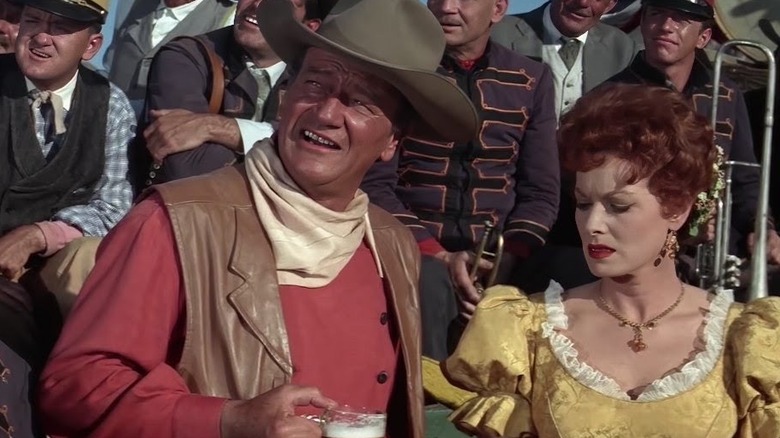 Batjac Productions
Yes, the exclamation point is actually in the title of "McLintock!" It's a really weird film: a western-comedy starring John Wayne as a drunken cattle baron named McLintock (no word if his name actually has an exclamation point in it) who tries to keep his town and reputation alive as things evolve around him.
As different groups of people start to move into town, McLintock soon discovers that his estranged wife is among them. Played by Maureen O'Hara, she's now a socialite who wants to divorce her husband and move back east with their daughter. All manner of hijinks ensue, including multiple spankings (!), before the dust settles and we reach our relatively happy ending.
There are some problematic elements to "McLintock!" that you might expect from a western made in the 1960s, but it has a lighthearted, silly element that helps it seem more modern than it is. It's easy to think of John Wayne in his standard, tough-guy role, but he has some pretty impressive comedic timing, and Maureen O'Hara is a great foil to his gruff stylings.