The Real Reason Rashida Jones Left The Office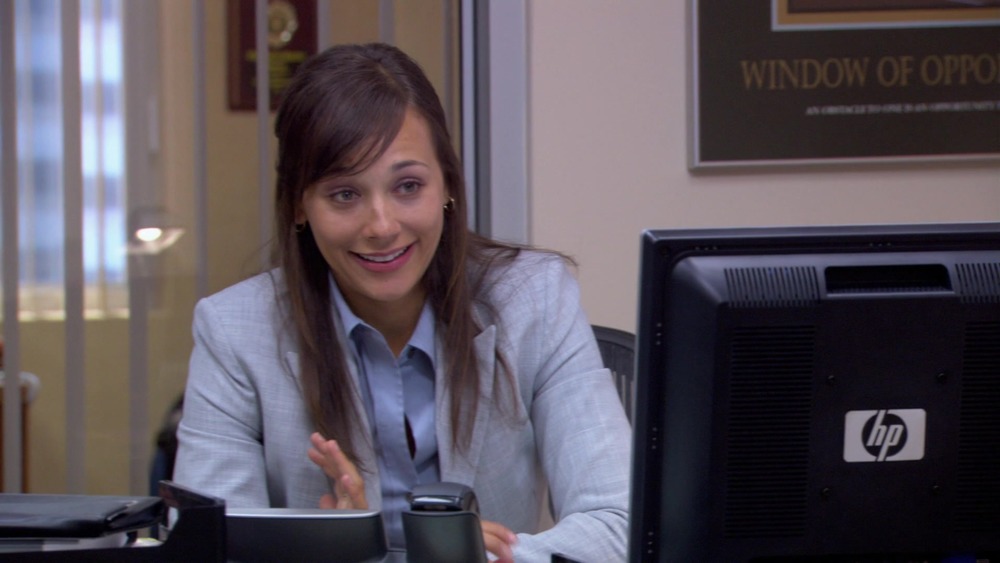 NBC
It would have been so easy for The Office fans to hate Karen Filippelli. After two seasons of waiting for Jim and Pam to get together, Karen showed up in season 3 as Jim's charmingly normal new love interest, prolonging the agony of shippers for another season. But something weird happened instead: Viewers adored Karen, and the new dynamic she brought to the show, leaving many upset when Rashida Jones left The Office behind at the end of season 3.
Even though Jones was a terrific addition to the cast, the exit of Karen felt inevitable, but Jones didn't leave The Office simply because Jim and Pam finally got together. In the "The Job, Part 2" episode of their Office Ladies podcast, Angela Kinsey and Jenna Fischer shared that their co-star exited the series in order to star in a brand new series produced by The Office co-creator Greg Daniels: Parks and Recreation.
Kinsey and Fischer revealed that in an alternate ending to "The Job, Part 2," Karen actually gets the job at corporate, which would have made her Michael's superior. Although the scene was shot, The Office stars said it was never going to air, because the writers knew Jones was heading over to Parks & Rec to play Leslie Knope's (Amy Poehler) best friend, Ann Perkins. 
"It seems like they wanted to give themselves some choices. But we also know what was going on at this time, which is that Rashida booked her role on Parks and Rec," Kinsey explained. "And she was going to be starting that job. So, A, they needed, you know, finally Jim and Pam to be together, without any kind of distraction. And also, Rashida just got a great new job.
When Rashida Jones left The Office for Parks and Rec, she finally became a true member of an ensemble cast
NBC
Jones continued to pop up on The Office for cameo appearances through season 7, but her role as Leslie's beautiful tropical fish of a best friend Ann allowed her to finally feel like she was part of an ensemble. In an interview on Off Camera with Sam Jones, the actress shared that while her Office co-stars were always kind to her, the nature of her role on the Dunder Mifflin-set comedy meant she never truly felt like a full-fledged member of the cast.
"I always felt like a guest star on The Office," she said in the interview. "Everybody was so nice to me, but I always felt like a guest star. I never felt, like, comfortable. I knew because I was like the small point of a love triangle that I would eventually just have to be sacrificed."
As much fun as it would have been to see Karen become Michael and Jim's boss on The Office season 4, it's hard to imagine anyone else playing Ann. Leslie's lovelorn best friend was an essential part of Parks and Rec, and the role gave Jones the chance to get in touch with her sillier side. But the best part of her relocation to Pawnee is that the actress found her very own TV family where she didn't have to worry about her role disappearing due to any pesky love triangles.