Why Via From Wonder Looks So Familiar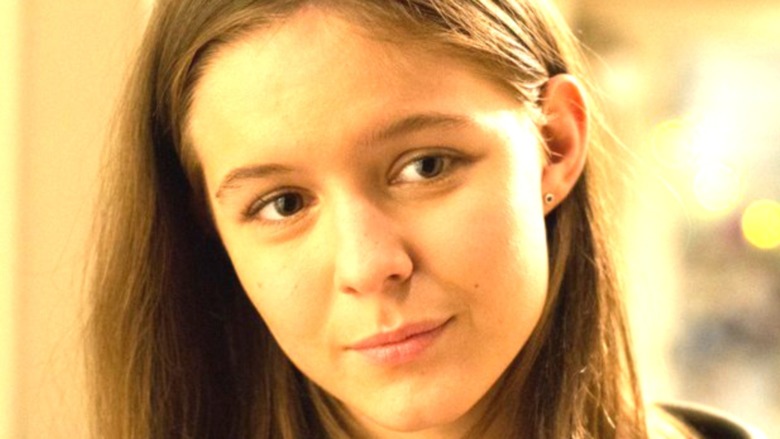 Lionsgate
"Wonder" did wonders for Jacob Tremblay's career. The inspirational weeper helped cement the young star's rep as One to Watch and opened up starring roles for him in such films as "The Predator," "Good Boys," and "Doctor Sleep." But it also bolstered the career of Izabela Vidovic, who had been working since she was 10. As older sister Via, Vidovic was able to transition her career from little kid roles to playing teens in more adult fare. 
"Wonder" tells the story of Auggie Pullman, a child with mandibulofacial dysostosis, aka Treacher Collins syndrome. Auggie had been homeschooled for years but attends fifth grade at a private school. Auggie deals with bullies in his peer group, while sister Via has a falling-out with her best friend. The film was anchored by Julia Roberts and Owen Wilson, who play Auggie and Via's parents. But before she wowed audiences in "Wonder," Izabela Vidovic tackled her share of genre fare.
Vidovic starred in an undead Zombieland pilot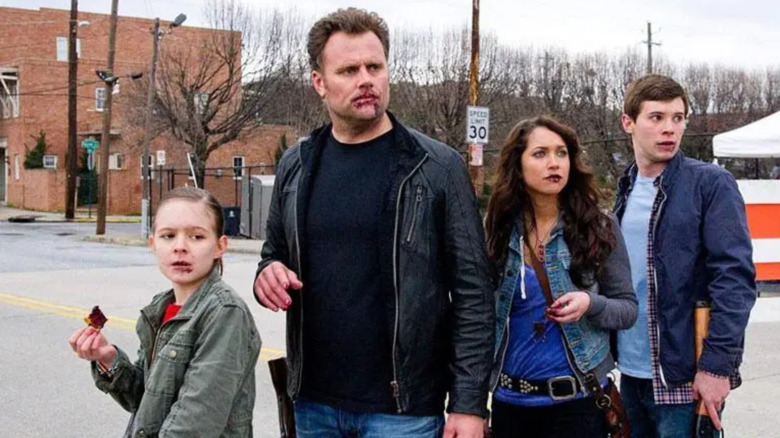 Amazon Studios
Before Amazon Studios was shelling out record amounts to make its "Lord of the Rings" series, they had a very different approach to developing TV shows. In April 2013, Amazon commissioned 14 pilots and put all of them up on what would eventually become Prime Video. Fans could rate the pilots and vote for their favorite, but Amazon also looked at all the metrics of viewership. How many people finished the pilot? Which shows got shared the most via social media? One of the pilots got shared a lot on social media, and not for the best reasons. 
"Zombieland: The Series" was one of the most discussed (and hated) of the 14 pilots, much to the dismay of movie and series writer/producer Rhett Reese. He tweeted, "Sad for everyone involved. I'll never understand the vehement hate the pilot received from die-hard Zombieland fans. You guys successfully hated it out of existence. Anyway, we did our best, and we're very proud of our team" (via Vulture). One thing people didn't like about the pilot was that the A-list cast was replaced with actors that a streaming service could afford. Izabela Vidovic played Little Rock, a character originated by Abigail Breslin.
An ally on The Fosters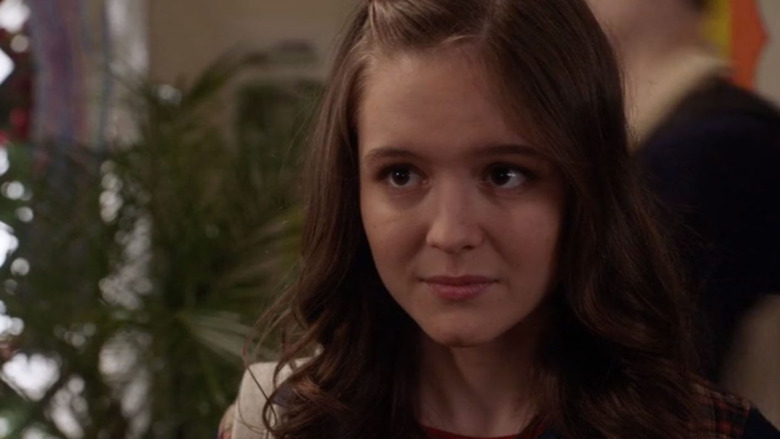 Freeform
Izabela Vidovic recovered from being hated out of existence. Beginning in 2015, she had a recurring role on the Freeform show "The Fosters" as Taylor Shaw. "The Fosters" was about a lesbian couple, Stef Foster and Lena Adams (Teri Polo and Sherri Saum), as they raise both adopted and biological children. The couple fosters a pair of siblings, Callie and Jude (Maia Mitchell and Hayden Byerly). So "The Fosters" of the title are the family but also the foster kids that the Fosters foster. Get it? The show was a breakout role for "To All the Boys..." star Noah Centineo.
Taylor Shaw was a friend of foster Foster Jude. Over the course of the series, Jude realizes that he is gay. Taylor originally tries to date Jude but becomes close friends with him after finding out their orientations aren't compatible. She sets up Jude with her friend Noah (Kalama Epstein). Taylor isn't the perfect ally, however, as she outs Jude before he is ready.
Vidovic joins the Rob Thomas-verse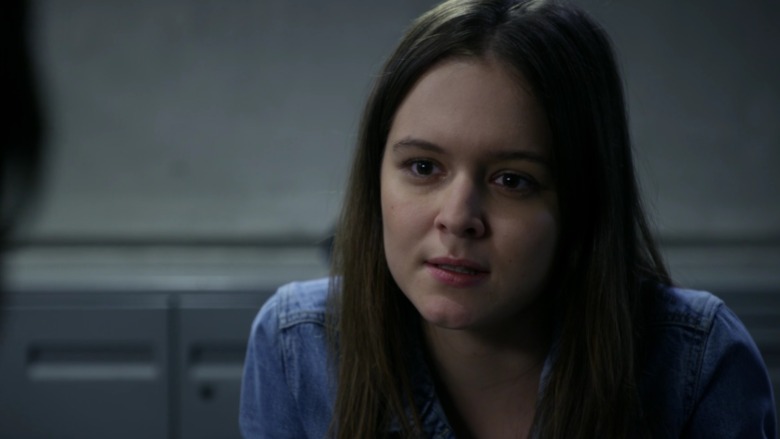 Hulu
Izabela Vidovic had a prominent role in season four of "iZombie." Created by Rob Thomas and Diane Ruggiero-Wright and based on the comics series by writer Chris Roberson and artist Michael Allred, "iZombie" was a mystery-of-the-week show starring Rose McIver. McIver played Liv, a zombie who absorbed the memories of the people whose brains she ate. Liv used these new memories to solve murders and uncover the conspiracy behind zombieism. Vidovic played Isobel Bloom, a teen who appears to be immune to the zombie virus. Isobel had a terminal illness that somehow made her brain a cure for zombieism. 
After her role on "iZombie" wrapped, Vidovic went on to another Rob Thomas joint: the Hulu revival of "Veronica Mars." She played Matty Ross, a teen sleuth who served as a reminder of Veronica's past. Matty worked at a Neptune motel that was the site of a bombing. The figure behind the bombings became the big mystery of "Veronica Mars" Season 4. Veronica alternately helped and hindered Matty on her investigation, depending on how much harm she thought would come the teen's way. The end of "Veronica Mars" made space for a Season 5, but no movement has come in that direction since.
Superkid on Supergirl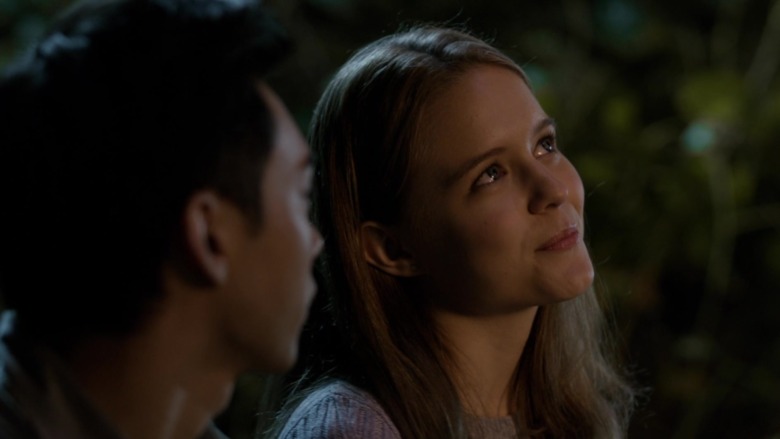 The CW
Izabela Vidovic played Young Kara on The CW's "Supergirl." As part of The CW's extensive Arrowverse, "Supergirl" was one of DC Comics' most successful live-action adaptations to date. Vidovic replaced Malina Weissman, who went from "Supergirl" to playing Violet Baudelaire on Netflix's "A Series of Unfortunate Events." Vidovic's first apperance was in a flashback-heavy episode where Kara and adoptive sister Alex travel to their hometown and recall the first time they solved a murder together. Y'know, girly stuff. 
Vidovic reprised her role as Young Kara a few more times on "Supergirl" before the show's cancellation in 2020. She even got to portray the Kryptonian on her prom night. Vicovic told Monsters & Critics that playing a young Supergirl was both fun and challenging. "I got to do all kinds of crazy things that Supergirl does, all the powers, flying and heat vision and super speed," she said. "It was a lot of fun to delve into that and to watch Melissa and try and mimic some of the things that she does on the show as well."