Will There Be A Veronica Mars Season 5?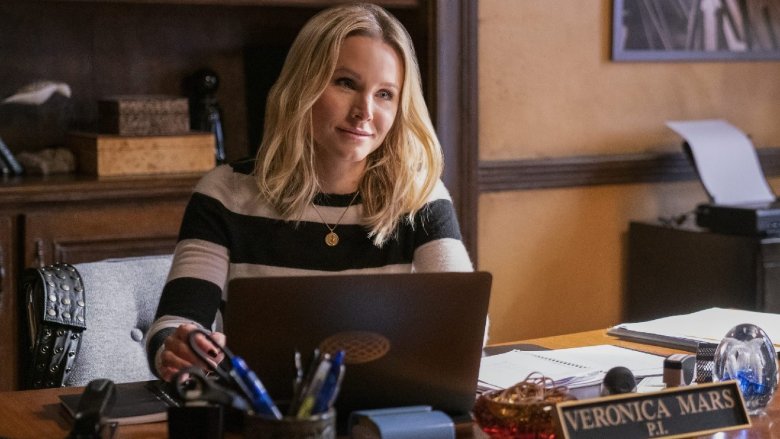 Veronica Mars made its triumphant return to television with a surprise early drop of season 4 on Friday, July 19 (a full week ahead of schedule) on Hulu. After a risky, daring season finale, fans are wondering where the show could go next. One question remains: will there be a Veronica Mars season 5? 
Well, the answer to that question can largely be found in the events of season 4, particularly the season 4 finale. 
Spoilers to follow — read at your own risk!
Season 4 of Veronica Mars finds Veronica (Kristen Bell) all grown up and living in Neptune as a private investigator, working alongside her beloved father Keith (Enrico Colantoni), who is still recovering from a car accident and suffering from the early stages of dementia. Lots of familiar Veronica Mars faces return for the revival — including Veronica's best friend Wallace (Percy Daggs III), the boorish Dick Casablancas (Ryan Hansen), charming FBI agent Leo D'Amato (Max Greenfield), and Veronica's Navy boyfriend Logan Echolls (Jason Dohring), plus plenty of new characters. Bell's The Good Place co-star Kirby Baptiste-Howell pops up as a tough local bar owner, Oscar-winner J.K. Simmons takes on a role as a mysterious ex-con named Clyde, Westworld's Clifton Collins Jr. appears as an assassin sent to Neptune by a Mexican drug lord, and Patton Oswalt plays a huge arc as a pizza delivery man who's way too into murder.
After someone sets off multiple bombs during Neptune's thriving spring break, killing several civilians, Veronica and Keith try to figure out who's setting the bombs and why — but the answer turns out to be more complicated than they thought. A few were placed by Dick Casablancas' father, but most of them were copycat bombs made by Patton Oswalt's pizza guy, Penn Epler, who hates "spring breakers" more than anyone.
True to form, Veronica does save her dad (and the day) by putting Penn behind bars. But since this is Veronica Mars, there are no true happy endings. Shortly after her long-awaited wedding to Logan — an eventuality Veronica originally fought against, fearing the constraints of marriage — her new husband falls victim to Penn's final bomb, which was hidden in Veronica's car all along. In the last twenty minutes of the finale, Veronica grapples with Logan's death one year later, leaving Neptune to take on new cases and find a new beginning.
Fans are understandably livid that showrunner Rob Thomas would provide the "LoVe" resolution they've waited years to see, only to rip the couple apart after "years, continents, and bloodshed." But Thomas has always fought against this happy ending, saying back in 2014, "There's nothing more boring than a couple being happy together." 
So what does this mean for a potential fifth season of Veronica Mars?
As far as Bell is concerned, she's happy to play Veronica until "everyone in Neptune is dead," so the actress is clearly devoted to the character and to Veronica Mars as a whole. The eight-episode fourth season also premiered to positive reviews — which is good news for Bell, Thomas, and Hulu, now home to all Veronica Mars content. A dedicated leading lady and strong reception to season 4 could be all Hulu needs to greenlight Veronica Mars season 5.
Because season 4 aired so recently, though, there's no actual news on Veronica Mars season 5 just yet. However, if you think about the ending, there are definitely plenty of possible plotlines that could be explored on a new season. 
In the aftermath of Logan's death, Veronica starts going to therapy (which was the subject of plenty of disagreement between the two during the series) and leaves Neptune to take on more cases — noting that ever since Mars Investigations solved the Neptune bombing mysteries, they've been in pretty high demand. With Keith safely at home — dementia-free and with a new protege, Matty (Izabela Vidovic), whose father was killed in the bombing and who feels like the new Veronica — the younger Mars is free to roam, solving cases wherever she can find them.
Perhaps season 5 of Veronica Mars would find Veronica (as well as her friends and loved ones) mourning Logan — one of the show's biggest characters from the beginning — as well as forging new paths. Despite the shock and loss of watching the show's central relationship fall for good, it could be a new frontier for Veronica Mars to just let the main character make her own way. Plus, with Matty in the picture to pick up Veronica's teenage P.I. mantle, the show could even tell the story of a new generation of plucky, resourceful girls.
Veronica Mars has always needed Neptune to survive, but if the show continues on for a fifth season, maybe that will fall by the wayside, letting Veronica spread her wings and taking her sleuthing skills out into the world. Whether or not Thomas and Hulu go ahead with Veronica Mars season 5 remains to be seen, but fans of the series can certainly imagine where this beloved (and frequently revived) show could go from here.