Heartstopper - What We Know So Far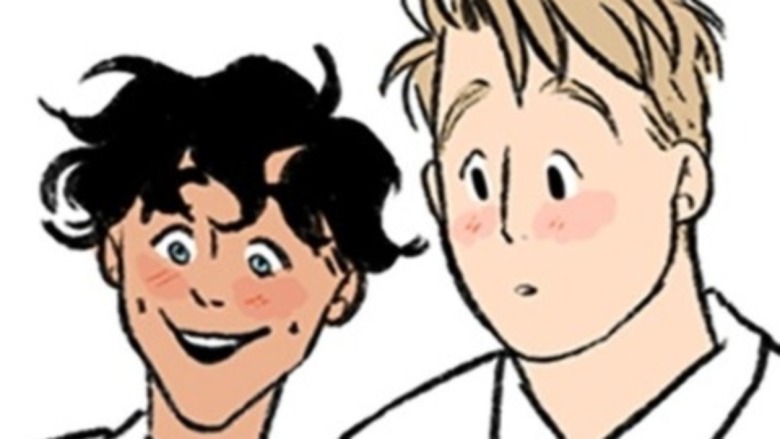 Alice Oseman/Graphix
Get ready for adorable teenage romance with the upcoming Netflix series "Heartstopper." Based on Alice Oseman's graphic novel, which started as a web comic, the LGBTQ+ series follows British teens Charlie and Nick in a cute boy-meets-boy love story. The characters were originally introduced in Oseman's debut novel "Solitaire," as secondaries to Charlie's sister, Tori, but have since earned four volumes of their own story in the comic "Heartstopper." Oseman is writing the Netflix adaptation, with Euros Lyn, known for "Doctor Who" and "Torchwood," directing.
Netflix's Director of Kids & Family Content Alexi Wheeler said of the story, "It was clear right away that Alice not only had created these brilliant and emotionally engaging characters, but the world they populated was relatable yet somehow aspirational. The whole thing is just so poignant and beautifully crafted. To tell a love story between two boys who meet at school involves such vision and creative focus, Alice has absolutely delivered this here" (via Deadline).
Sounds precious and exciting, right? Here's everything to know about it.
When is the Heartstopper release date?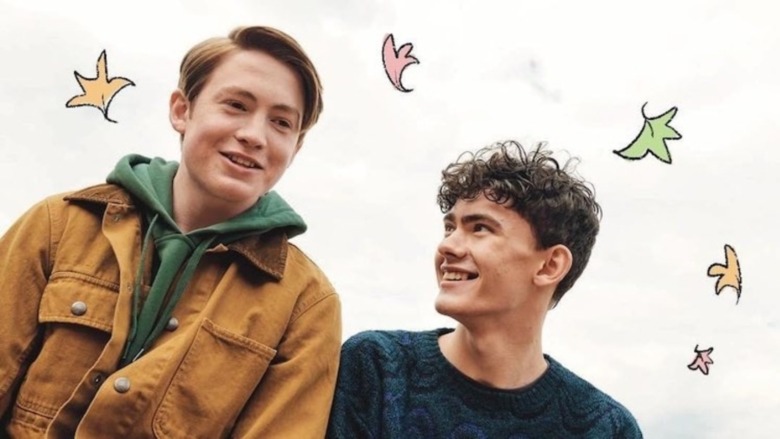 Netflix
Netflix first announced their plan to turn the "Heartstopper" graphic novel into a live-action series in January and revealed the main cast in April. They have yet to confirm a release date, but have said it will be eight half-hour episodes. Now that they have their cast, it shouldn't be too long before filming commences, so our best guess is a 2022 release. Since it's coming to Netflix, the series will likely drop all at once in bingable format.
Writer Alice Oseman said of the adaptation, "I feel incredibly lucky to get to work with a team of passionate, creative people who all adore "Heartstopper" and want to make it the most beautiful show we can. It's a joy and an honour to get to re-tell Nick and Charlie's story for TV and I am so excited to share it not only with 'Heartstopper"s existing readership, but also a whole new audience around the world" (via Deadline).
Who is in the cast of Heartstopper?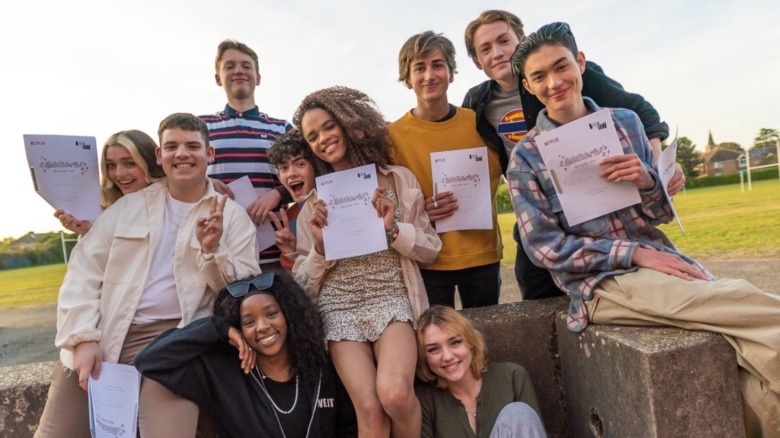 Netflix
When it came to "Heartstopper," casting director Daniel Edwards cast a wide net to find the right faces to embody the comic's beloved characters. According to Deadline, 10,000 people took part in the open casting process and most of the actors picked were newcomers to the business.
Joe Locke plays Charlie, the overthinking, openly gay protagonist. His friend group is rounded out by William Gao as Tao, Yasmin Finney as Elle, and Tobie Donovan as a new character, the bookworm Isaac. As for Nick, he's played by Kit Connor, who's best known as the voice of Lyra's daemon, Pantalaimon, in "His Dark Materials." Rhea Norwood plays his bold friend, Imogen, a new character created for the TV series. Sebastian Croft, who plays Young Ned Stark on "Game Of Thrones," is Ben. Rounding out the rest of the main cast are Corinna Brown as Tara, Kizzy Edgell as Darcy, and Cormac Hyde-Corrin as Harry.
Fans of the comic will notice that the character Aled is missing. Oseman said in a tweet that this was because she did not want to alter his existing story in her novel "Radio Silence" to put him in the Netflix series. Charlie's younger brother Oliver is also missing, as he has little plot significance, but the current gaping hole in the cast is Charlie's sister Tori. When asked to reveal her actor, Oseman teased they've already cast her, but are waiting to announce who it is. She wrote, "Hopefully soon, but I'm not sure when! Trust me though, she's amazing."
What is the plot of Heartstopper?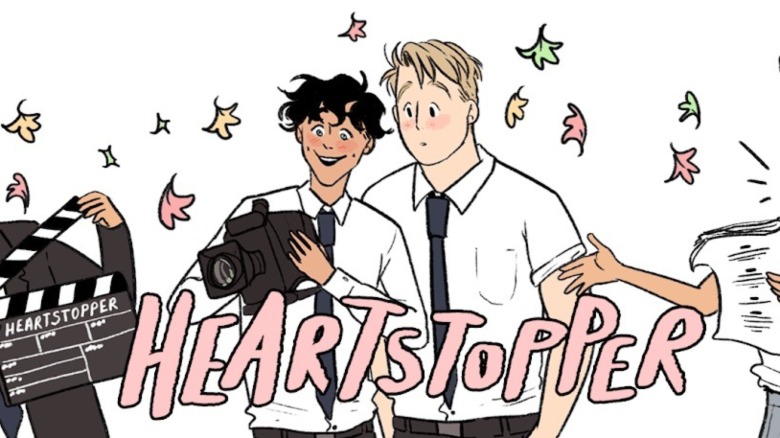 Alice Oseman/Graphix
At the heart of "Heartstopper" are themes of love, friendship, and mental illness. The story is about Nick, a cheery, kind rugby player, and Charlie, the openly gay overthinker, who become friends at their all boys school. Charlie soon falls for Nick, though he never expects Nick to reciprocate his feelings. The first eight episodes will likely follow the graphic novel's story from the beginning, though with some changes, as there are new characters.
Executive producer Patrick Walters said to Deadline, "'Heartstopper' is a show that celebrates individuality, promotes acceptance and above all puts a smile on your face. This cast does exactly that, bringing heart, humour and complexity to their roles."
Creator Alice Oseman also praised the cast, saying, "We've found an incredibly talented group of young actors who are all super passionate about bringing this story to life. I've been able to spend lots of time with them to talk about the characters, their arcs and their importance to the story, and I know that each actor will shine."