Dexter Season 9 Teaser Trailer Is Breaking The Internet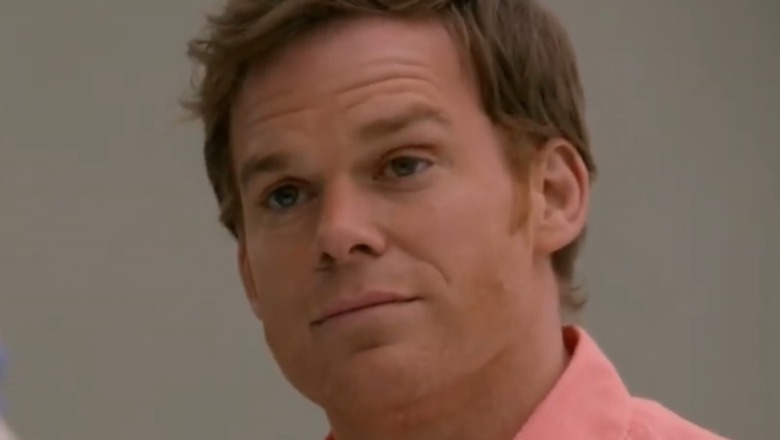 Showtime
A limited revival series of the Showtime hit "Dexter" has been in the works for a while and the network is now getting fans hyped by dropping a new teaser trailer. The latest preview is a short clip that is sure to wash the taste of that legendarily disappointing series finale right out of your mouth. Not only is Dexter Morgan (Michael C. Hall) back, but it appears that he's up to his old tricks.
On April 29, Showtime dropped a 30-second glimpse of the revival on their official Twitter account. While the song "Don't Let Me Be Misunderstood" plays in the background, the camera slowly moves along a snowy field with some barren trees, a far cry from Dexter's former home of Miami. We see a fire burning outside before coming in through the window of a cabin. It's then that a reflection forms in the glass, revealing a person wrapped in plastic writhing on the ground and Dexter's face staring out into the wintery day.
Dexter then turns to face the camera, smiles, and lifts his brow, complete with a twinkling sound effect. If there were any questions about whether or not this new installment would see Dexter leaving his old habits behind, it appears that question is now settled.
The clip is a teaser in the most literal sense of the word, as it gives viewers an idea of the setting and tone of the new season without providing any concrete details about the plot or characters. However, we do already know a thing or two about the upcoming revival that helps give the imagery a little more context.
What we know so far about the Dexter revival
Showtime
There isn't a ton of information about the plot of the "Dexter" revival series that's been released just yet, but we do know a few things about the show's new setting and characters. The latest installment will take place in a fictional town in upstate New York called Iron Lake (via TV Line), which tracks with the desolate snowy scenery in the recently released teaser trailer. Exactly how Dexter ended up there remains a mystery, though.
Thus far, Hall is the only actor from the original series who has been confirmed to be appearing in the revival. The other character's we've learned about are mostly citizens of Iron Lake. They include Angela Bishop (Julia Jones), the town's first Native American Chief of Police, her daughter Audrey (Johnny Sequoyah), and her colleague Logan (Alano Miller). Meanwhile, veteran actor and prolific voiceover artist Clancy Brown is set to play a man named Kurt Caldwell who has been described as Iron Lake's unofficial mayor and Dexter's latest nemesis.
As for how Dexter's presence in Iron Lake will affect all these characters, how the narrative of the series will play out, and who Dexter's latest victim in that teaser is, we're going to have to wait and see. The "Dexter" revival series is set to premiere on Showtime sometime this fall.