Is Netflix's Yasuke Based On A Real Person?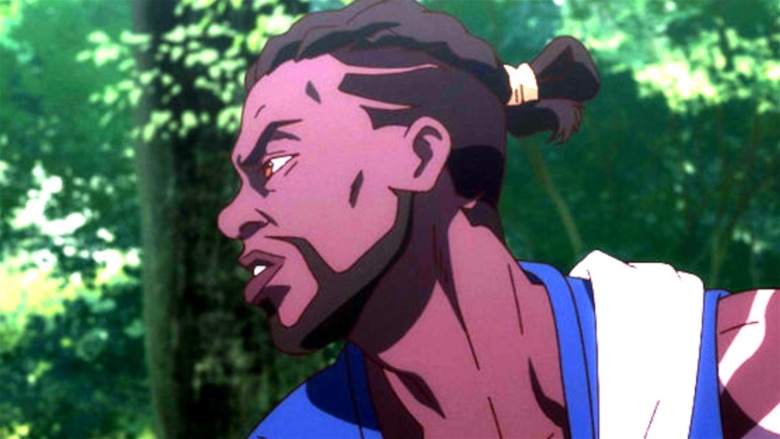 Netflix
Netflix just added another anime title to its ever-growing list of original content, and it's definitely one you should check out. Created by LeSean Thomas and animated by the Japanese studio MAPPA, the series is called "Yasuke" and is about a black samurai living in alternate-reality 16th century Japan. While the historical setting is rather accurate, the series openly embraces fantasy elements, with the plot centering around a young girl with mystical powers. The lead character, Yasuke, is the only black samurai in Japan who loyally serves a daimyo — or feudal warlord — named Oda Nobunaga until his master is taken down by a man named Yami no Daimyо̄. Attempting to move on and live a simple life after the loss, Yasuke becomes a boatman in a remote village. Soon enough, trouble finds him again when he meets a woman named Ichika who asks for his help protecting her daughter Saki, sick with magical powers. 
Academy Award-nominee LaKeith Stanfield ("Judas and the Black Messiah") voices the title character, while the rest of the cast includes Takehiro Hira, Maya Tanida, Darren Criss, and Ming-Na Wen from "The Mandalorian" in the English version, with Hira, Kiko Tamura, Shunsuke Kubozuka, Fusako Urabe, and Jun Soejima as Yasuke in the Japanese version. The anime series has six episodes in season 1, and there is no word yet on a second season. With a 92% on Rotten Tomatoes, critics note the complex dynamics of historical racism, sexism, and other issues at play in the series, with Kambole Campbell of Little White Lies calling it "an electrifying vision of a long-ignored legend."
While watching the new "Yasuke" series, there's one major question at the center of the anime — was Yasuke a real person?
Yasuke was an African samurai in the 1500s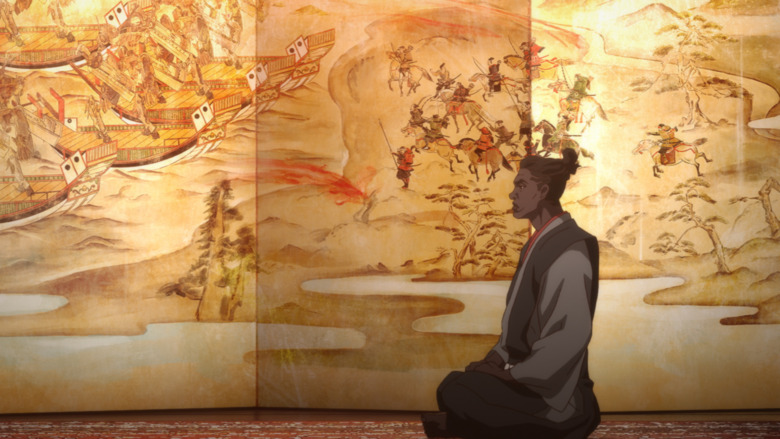 Netflix
The short answer to the question is that yes, Yasuke was a real person in history. The long answer is a bit more complicated, as accounts of his life are sparse and varied since it was so long ago. According to historians, Yasuke arrived in Japan in 1579 and was likely originally from Mozambique, though others guess he was from Ethiopia or Nigeria. Traveling with an Italian missionary, many people believe that Yasuke might have been the first African that warlord Nobunaga ever saw. Like the Netflix series portrays, Yasuke was a samurai who fought loyally for Nobunaga. He was present at the historic Honnō-ji Incident, when Nobunaga's general, Akechi Mitsuhide, betrayed and assassinated the warlord (via BBC). 
Some experts think that Yasuke was a slave, while others debate that. Filmmakers Floyd Webb and Deborah DeSnoo, who were working on a documentary about the figure in 2019, argue that "it would have been impossible for Yasuke to rise to the rank of a samurai in just a year without a warrior background," meaning he'd likely had training during his childhood (via an interview with BBC News). Yasuke was the first foreign-born person to be given the title of samurai, and he fought beside Nobunaga in many important battles. When the warlord's general betrayed him, Nobunaga asked Yasuke to decapitate him as part of the ritual sacrifice, seppuku, in a position of great trust and honor called kaishakunin (via "African Samurai" by Thomas Lockley). After this, Yasuke was exiled from Japan, and that's generally where the record of his story ends.
How much does Netflix's Yasuke anime take from history?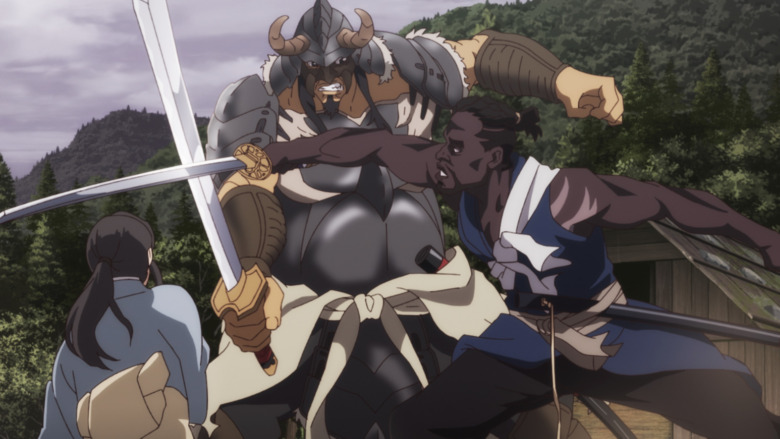 Netflix
Looking at the Netflix "Yasuke" series, it appears to follow the character through a fictional tale of what could've happened after his exile. After his historical adventures, the series' incarnation of Yasuke attempts to live a peaceful life without violence, though it doesn't last. He's drawn back into fighting and warlord factions through the young girl, Saki, who is being hunted for her power. Honestly, considering that little is known about Yasuke's life after his exile, it's entirely possible that he could've gone through on a similar journey of redemption, but without the magic and robots. Despite the fantasy and mechs that the anime genre is known for, the show's setting is heavily based off of 16th century feudal Japan in the midst of war, and it openly embraces the elements of samurais, warlords, and the daily life of citizens at the time. 
Surprisingly, there still hasn't been a movie made about the inspiring historical figure Yasuke. Back in 2019, it was announced that the late actor Chadwick Boseman was producing and planning to star in a film about the samurai's life, but there was no further word about the project before he passed in 2020 (via Deadline). A couple years before Boseman started developing his film, Lionsgate attempted to produce their own adaptation of Yasuke's life, called "Black Samurai," but clearly nothing came of it (Deadline). Hopefully the Netflix anime can spur others into action, so that fans of the show and the legendary figure can finally see Yasuke on the big screen.